Dimerix (ASX:DXB)
With over 26 million people in the US alone suffering from chronic kidney disease (CKD) and US$2.6 billion (AU$3.4BN) spent each year on late stage therapies, there are now several pharmaceutical and biotech companies looking to discover early stage solutions that tackle the problem head on.
Any company that can find a solution to the growing problem of CKD could be in a revenue generating box seat in this most serious of fights.
That is the position Dimerix (ASX:DXB) hopes to put itself in as it looks to complete its Phase II trials into a rare form of CKD known as focal segmental glomerulosclerosis (FSGS).
Recent positive results from 21 participants taking the DXB trial shows DXB's therapy is well tolerated with an encouraging safety profile.
This would suggest that DXB is not only on the right track to prove up its kidney disease solution, but is also edging closer to potentially attracting the eye of big pharma should its results continue to trend in a positive way.
Things look positive for DXB, especially as it is tracking in a similar vein to the $836.7 million capped NASDAQ listed Retrophin (NASDAQ:RTRX).
Retrophin also recently released positive Phase II results which caught the eye of investors in a major way…
The $17 million capped DXB is hoping its progress will have a similar impact over the coming months.
The information on this page should not be the only trigger for your investment decision. Click on the links below for a more in-depth and informed examination of the company. We strongly recommend you seek professional financial advice whenever making financial investment decisions.
With multi-million deals being done left right and centre in the CKD space, DXB's latest results show that it is not only onto something in terms of a solution to this serious health problem, but it is also tracking in a similar fashion to small companies like itself that have been acquired by big pharma.
And with several catalysts to come in the near term, DXB certainly has its eye on the big, potentially lucrative pharmaceutical picture.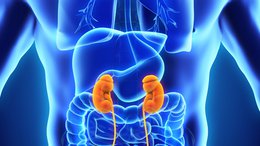 Positive Phase II Results: DXB on Track to Find Kidney Disease Solution
Oct 10, 2016
There could be a light at the end of the tunnel for chronic kidney disease sufferers, suffering from a rare form of the disease known as focal segmental glomerulosclerosis (FSGS). In fact several multi-million dollar companies in the space are dedicated to delivering life changing therapies to people living with chronic kidney disease with significant unmet medical needs.
Related Dimerix (ASX:DXB) articles