ASX Junior at the Forefront of Cancer Research Could be Set for a Blockbuster Year
PUBLISHED: 13-03-2018 10:00 a.m.
We live in a world in which cancer is still an inescapable reality. The World Health Organization estimates that 2015 saw almost 8.8 million lives lost to cancer world-wide, and anticipates the number of new cancer cases to increase by 70% over the next two decades.
There is no shortage of research and investment in drug therapies to combat cancer in its many forms. However, frontline drug therapies have traditionally been beset by drug resistance and reduced effectiveness, as well as serious side-effects.
Cutting edge research aims to better target drug therapies to improve outcomes for the patient — in terms of effectiveness in killing cancer cells, and reducing treatments' toxic side-effects.
At the forefront of the quest for better ways to combat cancer is a surprise player: an ASX biotech junior with some heavy cancer combating weaponry in its arsenal and plenty of near term catalysts in the pipeline.
This biotech appears to have cracked one of the holy grails of cancer research: it's currently in human clinical trials with not one, but two innovative drugs which 'turn off the switch' that would otherwise allow cancerous cells to grow via the important Akt and Ras pathways.
This is a space which has already attracted the attention of billion dollar companies, including US$3.41 billion-capped (A$4.37B) Loxo Oncology Inc (NASDAQ:LOXO), the US$3.5 billion Array Biopharma which onsold its cancer drug to LOXO and the US$3.79 billion capped Blueprint Medicines Corp (NASDAQ:BPMC).
In fact, one of the key people involved in the early development of the drug that helped LOXO to its valuation, is now one of the driving forces behind today's company.
Now, at the same time, it should be noted that this company represents a speculative investment and those considering this stock for their portfolio should seek professional financial advice before making a decision.
Trials of its first candidate (PTX200) in treating breast cancer, ovarian cancer and Acute Myeloid Leukaemia (AML), were well tolerated by patients, while effectively controlling or stabilising the disease.
Trial of its second drug candidate (PTX100) in solid tumours also delivered promising results.
It is worth noting that the work with RhoA mutations, in particular, presents this small cap with an important opportunity in a rare haematological niche that has high unmet need.
As developer of the only RhoA drug currently in the clinic (11 other offerings are as yet only in discovery or pre-clinical), this biotech has the jump on other developers.
There are plenty of catalysts to look forward to in 2018 as well:
final Phase 1b efficacy results from the breast cancer trial is to be announced in a matter of weeks (note, that any more than a 25% success rate would be seen as extremely positive);

the Acute Myeloid Leukemia (AML) Phase 1b trial is due for completion around mid-year; and

the anticipated completion of the ovarian cancer trial is due by the end of 2018.

There is an air of expectation surrounding this company. Here we've listed just three catalysts, but there are no less than eight to come for a company that has one of the deepest clinical pipelines in oncology on the ASX.
Add to that the RhoA opportunity, and the arsenal is beginning to look potent.
Just one of these catalysts could be a company maker.
Two drugs targeting different cancers via two different pathways is impressive; the success of either could be the making of a biotech success story as this company and its CEO work hard to develop a diverse portfolio.
Yet there is even more upside to this small cap. Valuable Orphan Drug designation has also been granted by the US FDA, conferring trial and market advantages to further buoy the company's development programmes. It has recently applied for, and been granted, a number of US and European patents, bolstering its intellectual property stocks. Potential licensing agreements are also in the offing.
The front-end risk-heavy and attrition-fraught stage of development (some $30-odd million spent on these programmes) is yesterday's news for the company which is now reaping the benefit from up-front work already undertaken, and still has plenty to look ahead to.
Introducing:

Prescient Therapeutics
ASX:PTX
Prescient Therapeutics (ASX:PTX) is a clinical stage oncology company developing novel drug therapies aimed at treating cancers which have become resistant to traditional chemotherapy.
It is a lucrative area to be operating in.
To give you just one example of the precedents already set for PTX in the event of successful results, Celator (NASDAQ:CPXX) soared to ~$780 million valuation on the back of positive Phase 3 data in AML in March 2016. It was then acquired by Jazz Pharmaceuticals in a $1.5 billion cash takeover.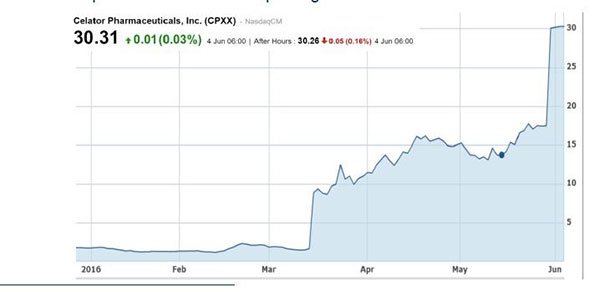 The past performance of this product is not and should not be taken as an indication of future performance. Caution should be exercised in assessing past performance. This product, like all other financial products, is subject to market forces and unpredictable events that may adversely affect future performance.
Interestingly, Professor Jeff Lancet was the principal investigator on the Celator trial. Professor Lancet is now leading PTX's AML trial and PTX will no doubt be looking for similar clinical success.
With that in mind, let's take a detailed look at what PTX is working on.
Throwing the switch
This biotech's big guns come in the form of novel drugs PTX-200 and PTX-100. These two drugs have been developed to precisely target two important pathways implicated in the growth and spread of cancer: the Akt and Ras pathways.
Akt and Ras are separate growth molecules found in cells which act as a switch. In normal cells the switch flicks sensibly between 'on' and 'off' as required, however in cancer cells the switch gets stuck 'on', causing the inordinate growth typical of cancer cells. The effect of PTX-200 on Akt, and PTX-100 on Ras, is to flick this switch 'off', with the result that, instead of continuing to grow, the cancer cell dies.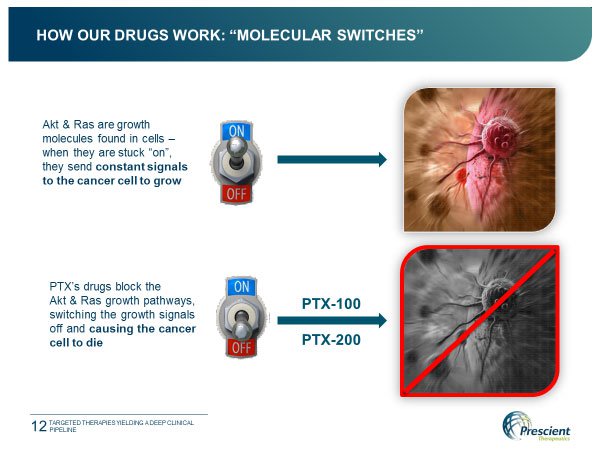 With three clinical trials well underway in the use of PTX-200 and another due to commence with PTX-100 to treat a range of cancers, PTX brings a deep clinical product pipeline to the table.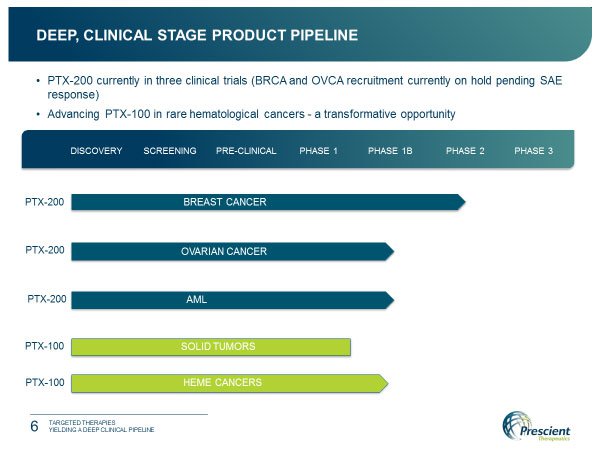 Inhibiting Akt
Akt is a tumour survival pathway that is key to the development of many cancers such as breast cancer, ovarian cancer, and leukaemias including AML.
Existing drug candidates targeting Akt are typically non-specific kinase inhibitors which cause off-target toxicity (side-effects).
Prescient's PTX-200 brings a break-through new mechanism to the inhibition of Akt which is more specific and less likely to produce side-effects.

This potent small molecule inhibitor is the focus of three of the PTX clinical trials currently underway.
The first trial is a Phase 2 study examining the effectiveness of PTX-200 in treating breast cancer patients at the prestigious Montefiore Cancer Center/Albert Einstein College of Medicine in New York and the H. Lee Moffitt Cancer Center in Tampa, Florida.
Also underway is a Phase 1b/2 trial evaluating PTX-200 as a therapy for relapse and refractory AML. This trial is being conducted at the Moffitt; Yale Cancer Center and Kansas University Cancer Center, all under the leadership of Professor Jeffrey Lancet MD. This follows the completion of a successful Phase 1 study in the same indication.
The third trial is a Phase 1b/2 trial of PTX-200 in combination with current standard of care carboplatin in treating patients with recurrent or platinum resistant ovarian cancer at the Moffitt.
Despite a setback in May 2017 when a serious adverse event (SAE) resulted in a clinical hold being placed upon the three trials, solid progress has been made with PTX-200 overall. As announced in December, each of these three clinical holds had been lifted by the end of 2017 after PTX met all of the FDA's requests to its complete satisfaction.
Bolstering PTX's intellectual property portfolio, three US patents and a European patent were granted during 2017. The company also secured a valuable Orphan Drug Designation by the US FDA for PTX-200 in the treatment of AML.
This was a significant milestone for PTX, conveying market exclusivity rights and the potential for accelerated review down the track.
PTX-100: First in Class
The Ras pathway is implicated in many cancers. A staggering three million new cancers involving Ras mutations are diagnosed worldwide each year.
The US National Cancer Institute (NCI) has recognised the priority of targeting Ras, promoting a major initiative to discover therapies for Ras mutant cancers.
Unfortunately, Ras has proven difficult to target directly. However there is more than one way to skin a cancer-causing protein, as PTX is proving with its first-in-class compound PTX-100.
PTX-100 does not target Ras directly, rather it disrupts the Ras pathway downstream, by blocking the cancer growth enzyme geranylgeranyl transferase (GGT-1), which is required by Rho, Rac and Ral, which are in turn required by Ras.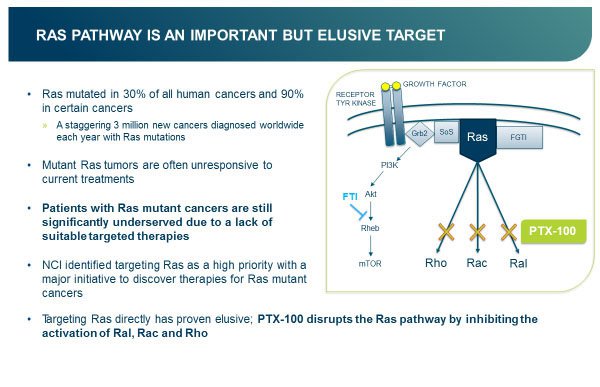 Prescient has completed a Phase 1 clinical trial of PTX-100 in solid tumours (mainly gastrointestinal tumours) conducted at Indiana and Penn Universities. This successful trial found that stable disease was achieved, while PTX-100 was well tolerated by patients.
As an unexpected corollary to this work, recently identified RhoA mutant lymphomas have provided a potentially transformative opportunity for the company.
These are rare diseases offering a poor prognosis, the result of which is that there is a lack of treatment options or drugs in development. Already in the clinic and being currently the most advanced drug targeting RhoA, PTX-100 has a valuable head start and is uniquely positioned to address the high level of unmet need in treating these diseases.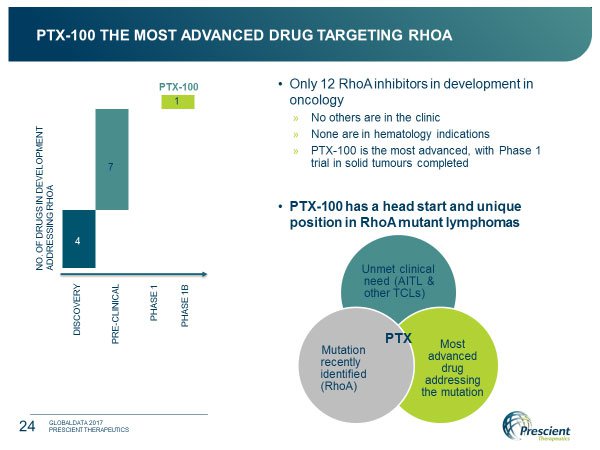 Prescient has now lodged a new patent application for PTX-100 in this area.
If Folotyn can do it?
A product that is on the market for similar indications is Folotyn, which was developed by Allos, shows another precedent in PTX's favour.
Allos was acquired by Spectrum Pharmaceuticals in a $206 million deal.
It isn't hard to see why when you consider that Folotyn, which is used to treat relapsed and refractory Peripheral T-cell lymphoma is currently priced at US$450,540 per patient per year.
Folotyn has an overall response rate of just 27% in a relatively small trial for which it gained regulatory approval.
This augers well for PTX, which has the potential for similar expedited development and approval pathways. Rather than being faced with huge registration studies and therefore being forced to out-license, PTX could develop the drug itself and, if successful, even have the option to commercialise it without a partner to keep a greater lion's share of the sales, just as Spectrum does with Folotyn.
Rare and small, a perfect match
Rare diseases like the RhoA mutant lymphomas can be big business for a smaller biotech like PTX.
Delivering a market that may be too small for Big Pharma, they can offer real advantages to smaller companies, including:
Smaller trials

Quicker development at lower cost

Regulator support, including potential expedited review

Guaranteed market exclusivity post approval – seven years in US, ten years in EU

Requiring fewer development resources, while offering the prospect of a niche with reduced competition, they can be an ideal venture for the right small cap biotech.
PTX will aggressively pursue its advantage in being on the spot with PTX-100 in clinical trial as a RhoA inhibitor at just the right moment in history.
What's in store for Prescient?
Over the next 12 months there is an abundance of catalysts for PTX. Any one of them could be transformative for the company. PTX has identified the following milestones in its clinical developments:
Removal of clinical hold on PTX-200 breast cancer trial (already achieved)

Final data on the PTX-200 Phase 1b/2 breast cancer trial

Manufacturing run of PTX-100 and additional inventory of PTX-200

Pre-clinical work in PTX-100 in RhoA mutant cancers

Completion of PTX-200 AML Phase 1b trial

Completion of PTX-200 ovarian cancer Phase 1b trial

Re-entering the clinic with PTX-100

Continuing to build awareness among investors, clinicians and corporates

With all this due within the coming year, it is tempting to suspect the best is yet to come for this junior biotech.
Yet there is still a long road ahead and investors should consider all publicly available information and take a cautious approach to their investment decision.
A quick look at the team
With a quality team at the helm, including chief scientific officer and co-inventor Professor Said Sebti who has just been named (for the second time) as one of the Top 20 Translational Researchers in the world by Nature Publishing Group, the momentum is evident.
Also on the team is Chief Medical Officer (CMO) Terry Chew who is behind five new drug applications, making PTX one of only two ASX biotechs with a CMO that has successfully approved drugs.
Mike Preigh has brought 20 drug candidates to IND and clinical development and was a vital cog in the Array Biopharma wheel for 10 years. As mentioned earlier Array developed the star drug now owned by LOXO. The VP-Operations, Claudia Gregorio-King, and VP-Clinical Operations, Mark Sonnemann, both have an abundance of experience in the management of pre-clinical and clinical research, regulatory and quality assurance.
This is a strong team, with an overall cast of six highly experienced medical professionals who have worked for big pharma and been instrumental in dozens of drug applications. The quality of this team shouldn't be underestimated and the bonus is they all see serious blue sky in what PTX is trying to achieve.
PTX at the cutting edge
Prescient recently presented at the Biotech ShowcaseTM Annual Conference in San Francisco, and clearly wants to be seen at the cutting edge of its field. Its program of clinical development ticks a lot of boxes for those looking to invest in a biotech: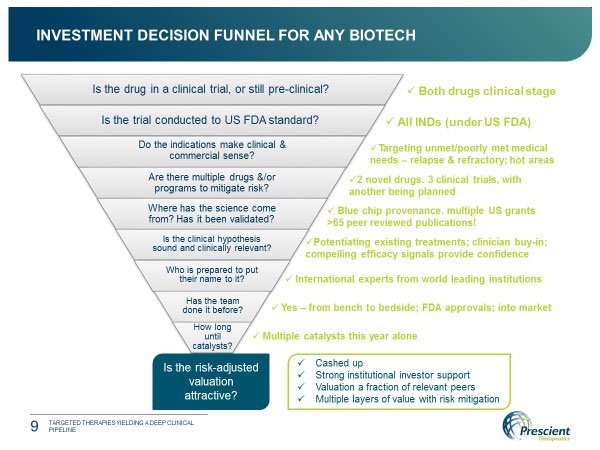 Moreover an overview of the comparative market valuations of PTX and its peers in Australia suggests some significant mispricing. The US would also see this $12.8 million capped company significantly underpriced.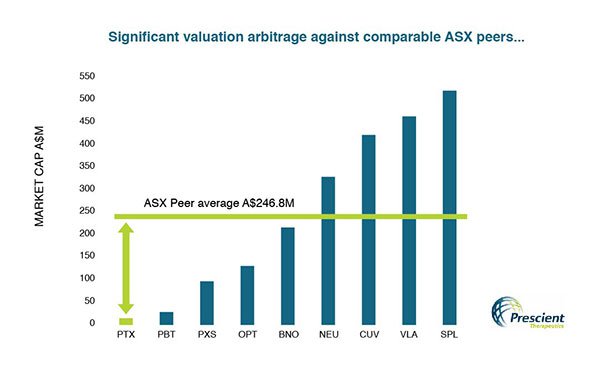 However, PTX still has some work to do to compare with big pharma, so take all publicly available advice into consideration and treat this investment with caution.
Expect healthy news flow for this biotech. With clinical trial and other developments for both PTX drugs providing potential share price catalysts, a culture of keen belief in its product, and a leadership team intent upon building its profile and reputation among clinicians and corporates, PTX will be one to watch.
---