ASX Med-Tech's Genetic Cancer Screening Enters China, Eyes Future Asian Growth
PUBLISHED: 08-04-2019 09:57 a.m.
One in every eight women will contract breast cancer in her lifetime, yet not all women's chances of contracting the disease are equal.
Some will have a strong family history of the disease, around 15% of all cases: a BRCA gene mutation being present in around half of those cases. The remainder — and majority — have little or no hereditary link to breast cancer. It is caused by a woman's genetic disposition and is also influenced by environmental factors — obesity, smoking and other outside issues.
The problem is all women are screened for breast cancer in the same intervals — whether they have a pre-disposition or not. That means of the one in eight women that will get breast cancer, seven will be over-screened and one will be under-screened. The result being higher costs from over-screening and poorer patient outcomes for the under-screened.
For that reason, the implementation of targeted screening improves outcomes across the board.
Knowing whether a patient has pre-disposition to breast cancer, or any non-communicable disease, cuts the need for expensive, late-stage care, and allows for screening resources to be better targeted to individuals who are at increased risk.
The company I have for you today is developing several genetic disease risk prediction and assessment tools that enable individuals and physicians to proactively develop personalised health management plans.
Initially it's focusing on updating its breast cancer risk test, followed by a colorectal cancer test, then down the line prostate cancer, melanoma, type 2 diabetes and cardiovascular disease tests. The number of diabetes sufferers alone is expected to rise from 415 million to 642 million globally by 2040. That's just one very large total addressable market that this company is targeting.
Now consider that global healthcare spending is expected to reach US$8.7 trillion by 2020 and you begin to understand the impact this company's tools could have.
The company already boasts significant success as an early-stage biotech with its clinically validated assessment test for non-hereditary breast cancer, which was the first of its kind to evaluate risk for sporadic breast cancer.
Now, it is strategically expanding into China, where cancer is the leading cause of death, with an eye on the wider Asian preventative health market. This comes at an ideal time as the Chinese Government implements 'Healthy China 2030', its comprehensive healthcare plan for 1.5 billion people.
Following well established Chinese support of preventative medicine, the Chinese government is embracing disease prevention as a means of controlling costs, and it's in a position where it can enforce compliance with its preventive healthcare protocols.
The company has accepted an invitation to join the Hainan Resort Software Community (HRSC) Free Trade Zone, a Chinese state owned enterprise, which delivers a host of benefits including significant tax benefits, subsidies and investment and it will "dramatically" fast-track its pathway to sales. This Hainan Free Trade Zone delivers significant tax benefits, subsidies and investment, and protects IP.
Plus, as announced today, the company has established an important MoU with a major player in the US biomedical research industry to bring its current and future polygenic risk tests to the US market .
The company's health management tools, that deliver better patient outcomes and lower treatment costs, along with its ability to form effective partnerships, has sparked my interest, and I'd wager that it's just a matter of time before the wider market takes note.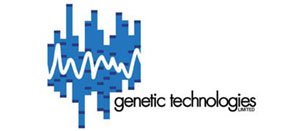 Genetic Technologies
ASX:GTG
Market capitalisation: $18.5 million
Share price: 0.7 cents
Here's why I like it..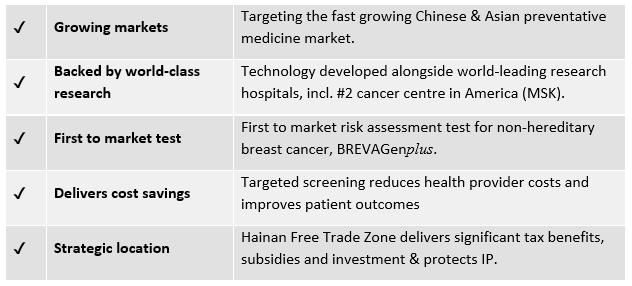 Genetic Technologies (ASX:GTG) is a provider of world-leading genetic risk assessment test products.
Its genetic tests can be used to predict an individual's risk of developing disease, meaning that screening and other healthcare resources can be directed to people most at risk. This allows for early intervention and less costly treatment.
The company's lead product, BREVAGenplus®, is a first to market risk assessment test for non-hereditary breast cancer.
The clinically validated tool gives a clearer picture of a woman's breast cancer risk allowing for better targeted diagnostic screening to deliver improved patient and cost outcomes.
This is a significant target market as 85% of breast cancer cases are non-hereditary, or sporadic. Instead, they are caused by a woman's genetic makeup combined with environmental factors.
The remaining 15% are hereditary and of that 15%, around half are caused by BRCA1 / BRCA2 mutations, and the remainder having an unknown cause.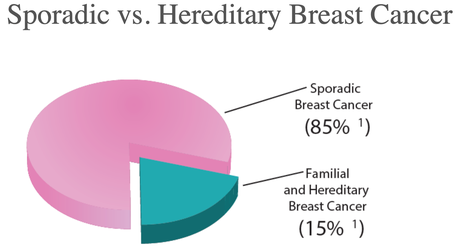 This non-hereditary, or sporadic, breast cancer can come as an unexpected shock. It often develops without warning, so it is even more important to identify risk factors so that preventative steps can be taken.
GTG's BREVAGenplus test covers all non-BRCA related cancers, that is, ~95% of all breast cancers. And when supplemented with BRCA testing, it covers ~100% of women.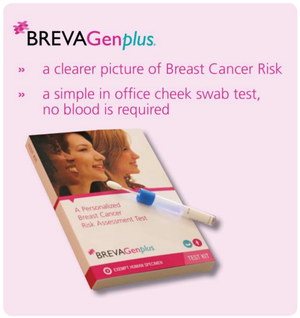 BREVAGenplus looks for differences in your patient's DNA known as Single Nucleotide Polymorphisms (SNPs). Because certain SNPs are associated with breast cancer, analysing them can help predict a patient's chances of developing breast cancer.
And unlike other screening tools which are largely based on Caucasians, BREVAGenplus is validated in African American, Hispanic, and Caucasian women age 35 years or older.
A patient's DNA is collected via a simple cheek swab and measures their genetic markers. These are then combined with clinical markers to provide an accurate risk assessment.
As cancer is the leading cause of death in China, which sees 4.3 million new cancer cases and 2.8 million cancer deaths every year, it is no surprise that GTG is taking its health management tools and R&D expertise into the Asian market.
Chinese expansion
The figures above – 4.3 million new cancer cases and 2.8 million cancer deaths every year – are expected to keep rising largely due to its aging population, physical inactivity, and an excessive calorie intake.
Facts like these have spurred the Chinese Government to adopt its Healthy China 2030 initiative to tackle high morbidity from non-communicable diseases. This comes as China's healthcare system faces looming challenges, such as caring for a rapidly ageing population, and the rising burden of public and private healthcare spending.
Last September, GTG was formally invited to establish its planned market entry into China via the Hainan Resort Software Community (HRSC) Free Trade Zone initiative.
The Hainan Provincial Government has established this world-class technology zone in Hainan and GTG is one of only a few medical technology invitees to date, gaining access to the initiative's Medical Pilot Zone.
This initiative brings together best-in-class medical care, physicians, treatments, technology and cutting-edge medical product development via a mix of government institutions and local and foreign companies.
Approved companies can take advantage of significant tax benefits, subsidies and investment as the Hainan Free Trade Zone allows foreign companies to safely introduce IP and repatriate profits.
Clearly, there are major benefits on offer here, topped off with access to the US$800 billion-plus Chinese healthcare market.
That offer was taken up by GTG in March, via its 100% owned subsidiary HAGT, and will see it work to introduce its world-class genetic risk assessment tests to the Chinese market.
The HRSC will support the company's Chinese market entry through the provision of a range of services, such as assistance in obtaining China FDA approval for its growing portfolio of genetic risk assessment tests, Chinese corporate registry support, office space in the Free Trade Zone precinct and free staff accommodation.
GTG is also entitled to marketing assistance, providing a link with government sectors, hospitals and other Chinese based health enterprises.
The HRSC will help in dramatically fast-tracking the 'pathway to sales' process and allow for significant tax benefits, subsidies, and facilitated investment.

The initiative is likely to include GTG partnering with Chinese health and medical distribution companies and China FDA accredited genetic testing laboratory operations.
Through the agreement, the Hainan Provincial Government team will help GTG find appropriate collaboration partners in mainland China. It's a significant step to advance the adoption of genetic risk assessment tests in China and in due course other parts of Asia.
The news was widely reported across a number of media outlets: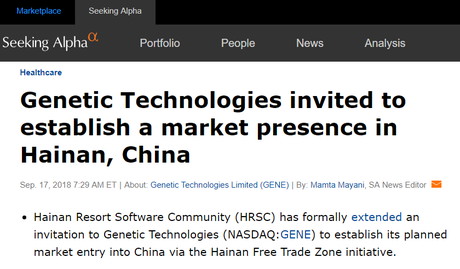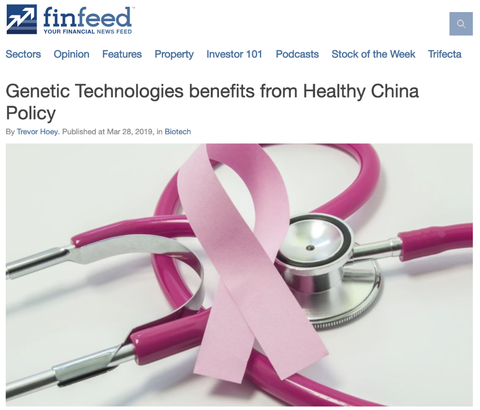 The move into China should provide several catalysts for the company, but another catalyst is on the horizon as GTG beefs up its range of assessment tools.
Colorectal screening
In addition to its breast cancer risk assessment tool, GTG is also set to release a colorectal cancer screening tool: a world-first polygenic risk test for colon cancer.
Colon cancer is the third leading cause of cancer death in the US and Australia. Over 97,000 new cases were diagnosed in 2018 in the US, while more than 15,000 Australians are diagnosed with colon cancer every year.
Here are the survival rates: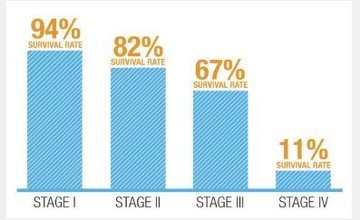 Through early detection and removal of cancerous polyps most mortality cases are preventable. However, with existing methods of detection, including home screening, being unpleasant and confronting there is only 40% participation rate in current screening methods including Australia's national Bowel Cancer Screening Program.
A non-invasive, easy-to-use cheek swab is likely to be well received and therefore carry over to tangible positive health outcomes. Especially as your doctor receives a full report of the results.
GTG's risk assessment tool for colorectal cancer is expected to be announced to market any day now. CEO Paul Kaisen confirmed with me that the science is all sorted and set to go, and the product should be available shortly with just the packaging details to be finalised.
MoU to bring polygenic risk tests to the US market
GTG today announced that it has established an important MoU with a major player in the US biomedical research industry.
The agreement is with TGen, an Arizona-based, not-for-profit biomedical research institute dedicated to conducting ground-breaking research with life-changing results. The group examines the genetic components of common and complex diseases, including cancer, neurological disorders, infectious disease, and rare childhood disorders.
While the terms of the MoU are confidential, we know that GTG will work with TGen to develop a commercialisation strategy and infrastructure for a suite of polygenic risk tests to bring its current and developing future polygenic risk tests to the US market.
Partnerships with leading Cancer Institutes
In developing its tools, GTG works with world-leading research hospitals, universities and research organisations.
Melbourne University, which comes with world class expertise in population genetics, helped develop the breast cancer test and colorectal genetic screening tests.
As it strives to remain leading edge, GTG has research agreements in place with Memorial Sloan Kettering (MSK) and the University of Cambridge to help further develop and fine tune its technology. MSK is the world's oldest and largest cancer treatment and research institution and is the second ranking cancer hospital in the US. While the University of Cambridge's UK Institute is a world leading cancer biotech centre.
Significant screening opportunities in the near term
As demonstrated by the sharp rise of genetic testing kits for genealogy, nutrition and paternity — think AncestryDNA, 23andMe — consumers are willing to pay for genetic testing.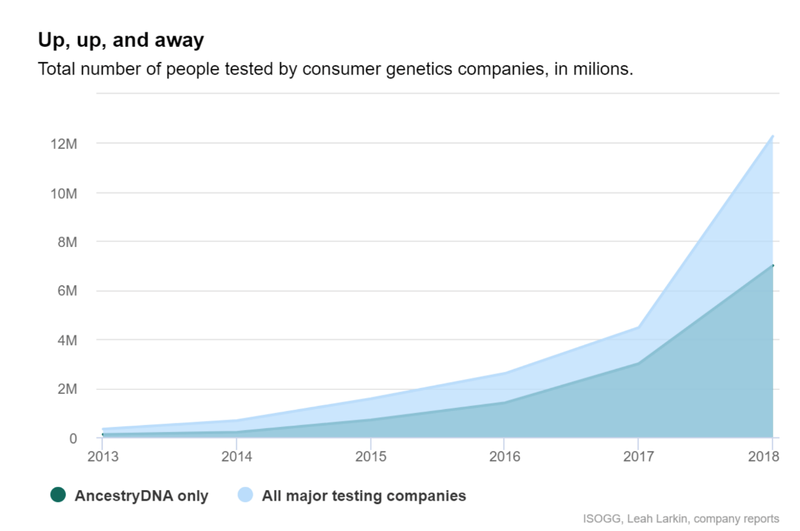 GTG is in a unique position to capitalise on this trend with first to-market tests validated and approved for use in a clinical setting and delivering real patient outcomes.
The company's lead product, BREVAGenplus, is first in its class as a clinically validated risk assessment test for non-hereditary breast cancer and its colorectal cancer risk assessment tool is almost here.
Following release of the colorectal cancer risk test, as you can see in the chart below, GTG has plans to apply its technology to a whole range of non-communicable diseases, including Type 2 diabetes, cardiovascular disease, prostate cancer, and melanoma.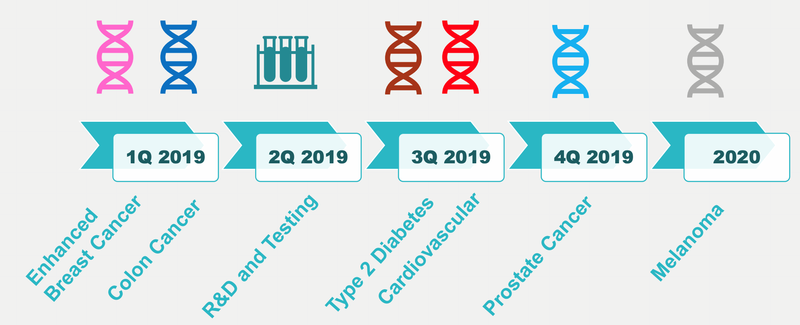 With its entrance into the huge Chinese market secured and with eyes on an expansion throughout Asia, there remains plenty of upside in this dual-listed biotech opportunity which remains capped at just $18.5 million.
---