ASX Stock to Launch on NASDAQ with Gut Busting Immunotherapy Products
PUBLISHED: 24-03-2017 09:52 a.m.
Today's $30 million capped ASX listed biotech player, which is in the process of listing on the NASDAQ, has thus far flown right under the radar of Australia's biotech landscape.
This scenario is likely to change, however, as this cutting edge company has chosen to take aim at the oral immunotherapy sector, with antibody products that target the human gut immune system.
When you consider the global immunotherapy drugs market is projected to reach US$201.52 billion by 2021 from US$108.41 billion in 2016, growing at a CAGR of 13.5% during the forecast period of 2016 to 2021, this is a substantial market to be targeting.
Think treatments for bacteria in the gastro-intestinal tract, fatty liver disease and 'Bali belly' and you will come to understand how important this company's technology platform and product pipeline could be in the management of these human health issues.
This company already has one marketed product, Travelan, which is sold over-the-counter and is generating millions in revenue right now.
Travelan provides proof of concept for its Oral Immune Technology Platform, but this company also has a pipeline of products at various stages of clinical and earlier development – which could prove to be the game changers for the company.
Travelan has been designed for the prevention of Travellers' Diarrhoea and comes in the form of a non-absorbable, safe product which is composed of anti-bacterial antibodies that work on the gut immune system and gut microbiome.
Travelan has been proven in clinical studies to offer over 90% protection against Travellers' Diarrhoea and has thus been labelled a major new breakthrough when travelling to high risk destinations.
The product is already wide-reaching, being marketed in Australia, Canada, China and the United States.
Now, before we go too far, it should be noted that this company represents a speculative investment and those considering this stock for their portfolio should seek professional financial advice before making a decision.
What ties this company's gameplan together is a focus on oral immunotherapy using polyclonal antibody products that target the human gut immune system.
The way this ASX company creates its polyclonal antibody products is of particular interest... the short answer is that it has something to do with cows.
For the long answer, read on through to the body of the article. We promise it's worth the wait.
The company's range of solutions come from one technology platform, that is almost infinitely scalable – the company sees potential to produce orally stable therapies for a wide range of conditions – diabetes, arthritis, IBS and infections.
In fact the more you read about it, the more the pipeline looks wide open in multiple directions.
Not only is there significant upside potentially right around the corner, there's also considerable near-term news flow opportunities:
Interim results and then final results of its Phase II study in NASH (NASH stands for Non-alcoholic steatohepatitis – the most extreme form of non-alcoholic fatty liver disease);
Results from various Mechanism of Action studies for its NASH drug;
And the Phase I/II trial results of its C. difficile treatment;
With any positive results sure to get investors' attention...
With all of this, a Big Pharma business transaction could be a reality by early 2018, or even towards the end of 2017.
The company will start its search for a partner or buyer of its fatty liver disease therapeutics once it receives Phase II interim results, expected by the US summer.
The company expects to attract keen interest from potential partners or suitors, especially in the wake of Allergan's [NYSE: AGN] recent US$1.7 billion purchase of Tobira Therapeutics [NASDAQ CM: TBRA], which was priced at a six times multiple of Tobira's previous closing trading price – and saw its market cap increase from US$89.2 million to US$725 million in one day.

The past performance of this product is not and should not be taken as an indication of future performance. Caution should be exercised in assessing past performance. This product, like all other financial products, is subject to market forces and unpredictable events that may adversely affect future performance.
This was despite Tobira's lead drug candidate, cenicriviroc, having met only one of two primary end points in its Phase II NASH (Non Alcoholic Steatohepatitis) clinical trial. Essentially, if you have NASH, you have inflammation and liver cell damage, along with fat in your liver.
To get an idea of how big a market we're looking at with NASH, here's a look some other recent deals in the space: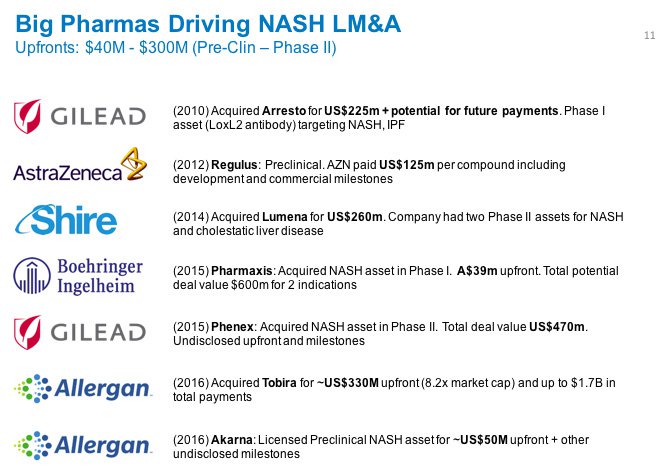 As you can see by the table above, large pharmaceutical companies are investing heavily in this area.
This augurs well for today's ASX listed company and its NASH portfolio, and the Phase II trial it recently confirmed has been fully recruited for.
Fatty liver diseases are seeing increasing rates of incidence as obesity and type-2 diabetes continues to increase worldwide, but there are no approved treatments for NASH – yet...
NASH is a ticking time bomb, and regulatory authorities like the FDA are desperate for an effective treatment of the disease.
Today's ASX listed (and soon to be NASDAQ listed) company is looking to step into the breach to provide a product that could have long lasting health benefits, as well as upside for its share price.
We think that might be our cue to introduce to you the company hoping to change immunotherapy treatments:

Immuron Limited
ASX:IMC
Immuron's (ASX:IMC) proprietary platform produces antibodies suited to treat a wide range of diseases including inflammatory-mediated and infectious diseases.
This platform provides the lowest cost and the fastest concept to clinical trials of any antibody programs in the industry.
The company is targeting a NASDAQ listing in the near term, and this will expose it to a vastly larger US pharmaceutical market – and obviously get this company onto a lot more deep-pocketed investors' radars – in preparation for hopefully a Big Pharma take over...
Recently, Chief Research Analyst from Van Leeuwenhock Research, Marcel Wijma MSC, analysed IMC, arriving at valuation of AUD $1.92 per share – 560% above IMC's current trading levels... So in terms of upside, there appears to be plenty of it to be had...

However, at the same time, analysts don't have a crystal ball, and make a number of assumptions when compiling these estimates which don't always come true – never invest on the back of an analyst valuation alone – use a range of factors to make an investment decision.
The following video gives you a brief account of what IMC does and why people are starting to take notice.
IMC is partnering with US military forces on its development programs – we are talking the US Army and US Navy...
IMC announced in June last year it had signed a shigella vaccine development agreement with the US Army – an R&D collaboration that drastically validates IMC's platform and its efforts developing anti-infective treatments.
This agreement was quickly followed by an agreement with the US Navy targeting e-coli and campylobacter.
The US Army and Navy are very interested what IMC are up to, as the bacteria infections the company is aiming to treat cost those organisations vast amounts of money – to treat, manage, and cover down time.
But hold up, we may be going a bit fast here. There's a lot of information to take in as this company has been extremely busy getting its therapeutics off the ground.
'Irons in the fire' doesn't begin to describe the potential opportunities and blue sky ahead.
Considering its current market cap of just $30.8 million and the fact it is still in clinical trials on two of its development assets, this is actually only the beginning of IMC's journey.
There's the broader context to consider.
As we stated above, one of IMC's peers in the NASH market, Tobira Therapeutics, was acquired by major pharmaceutical company Allergan – the proposed takeover bid price was $1.7 billion .
What does that look like from a Tobira shareholders' perspective?
Well, its market cap went from US$89.2 million to US$725 million in just one day. So you can probably work that out.
The past performance of this product is not and should not be taken as an indication of future performance. Caution should be exercised in assessing past performance. This product, like all other financial products, is subject to market forces and unpredictable events that may adversely affect future performance.
There's enormous room for growth in the NASH market estimated to be worth $35-$45 billion by 2025 – that much is clear.
When you add to this a highly marketable Travellers Diarrhoea product, an 'anti-infective' treatment for intestinal condition C. difficile in the works – with extensive therapeutic potential, as IMC looking into other 'mechanisms of action' – the company seems to have set up multiple scenarios for success.
So let's look at each of these in a bit more detail.
Ground-breaking treatment for multi-billion dollar NASH market
IMC's lead clinical asset, designed to treat NASH, is IMM-124E – which is currently in Phase II clinical trials.
In fact, it's not exclusively being tested for use in NASH, but also in ASH (alcoholic steatohepatitis) and paediatric NASH which is sadly on the rise.
The ASH and paediatric NASH trials are fully funded by the US National Institutes of Health (NIH) – saving cash for the company and shareholders in the process – it's also a major validation of the company's technology as the NIH only funds the most promising projects.
IMC believe that IMM-124E has the potential to be one of the backbone therapies for NASH patients, and see the condition as 'multi-factorial', meaning it will likely need to be controlled through several therapies.
Which also means plenty of room for multiple billion dollar drugs and therefore multiple billion dollar deals in this area.
The treatment differs from its competitors by intervening upstream on several pathways to reduce liver inflammation, whereas other treatments target a fewer number of pathways downstream in the course of the disease.
IMC's goal here is to arrive at a licensing transaction with a Big Pharma partner keen to get in on the NASH market – a hot area of investment right now.
It's not so surprising when you consider that NASH affects millions of people worldwide. Approximately 12-25% of people in the US have NAFLD (non-alcoholic fatty liver disease), and NASH specifically affects between 2 to 5% of people in the United States.
That's why Big Pharma is swooping in, keen to buy smaller players pushing innovative treatments through the pipeline.
And with the data IMC expect between now and the end of the year, that potentiality may be sooner rather than later...
Once it completes Phase II of its NASH clinical trials, IMC will be on the lookout for a partner or buyer for its fatty liver therapeutics.
Now, we mentioned an explanation involving a cow, so here it is as promised...
Most mammals transfer immunity from mother to young largely through the placenta.
Cows are different, however, and almost all the immunity is passed on through the colostrum (milk). When the calf is born, the mother excretes about 15L of colostrum which is full of antibodies and is vital to the survival of the calf.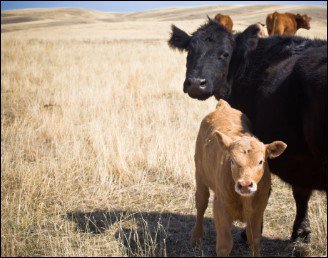 IMC has proprietary vaccines it uses to immunise cows which target specific bacteria, toxins or spores – so when it comes to calving time, the end result is colostrum that is full of antibodies it needs for its products.
In other words, the cows act as bio-reactors.
Instead of making its products in a factory, they are made 'in a cow' – which means this process results in very safe and effective products.
An anti-infective to tackle C. difficile – an infection that dissolves the gut
A second key clinical asset for IMC is its IMM-529 therapy which will start its Phase I/II clinical trials soon.
It works in quite a different way to IMM-124E, targeting a different bacteria which causes the condition known as C. difficile Infection (CDI).
CDI kills 30,000 people a year in the US. Once the infection sets in, it effectively dissolves the gut, and is often resistant to antibiotic treatment – which are known to kill the good as well as the bad microbiome in your gastro-intestinal tract.
Usually, in a healthy individual, the C. difficile bacteria will be dominated by the healthy microbiomes and excreted. But that's not always the case, and when the body's defences are not enough, there can be severe consequences.
If antibiotics are ineffective at getting it under control, the only last-resort option that currently exists is faecal matter therapy – a "poop pill" from a healthy person's faecal matter is administered to the patient.
IMC's proposed solution with its IMM-529 is to leave the microbiome alone, but only target the C. difficile bacteria, the toxin B it produces (and dissolves the gut) and the spores which are left behind by the bacteria. In effect, it has created a uniquely targeted designer drug with help from experts – in particular Microbiologist Dr Dena Lyras of Monash University, one of the world's foremost expert in C. difficile .
Its unique and promising efforts in this field got a write up in The Australian last week: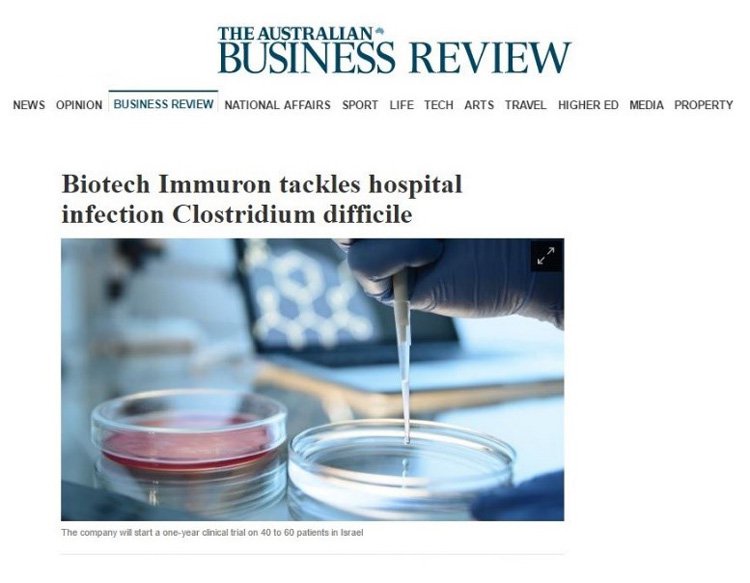 Yeah, this kind of headway on C. difficile is a pretty big deal.
IMC's most prominent competitor in this area is Seres Therapeutics.
Its drug failed Phase II last year and the company lost $1 billion in market capitalisation . When it announced just this month it was going to re-do its Phase II, it shot up over US$120 million in market cap in one day.
Check out the Seres' share price chart below to see what happened on the day it announced its new Phase II study in patients with recurrent C. difficile . Its market cap was around ~$370 million, and got as high as ~$500 million in response to the news: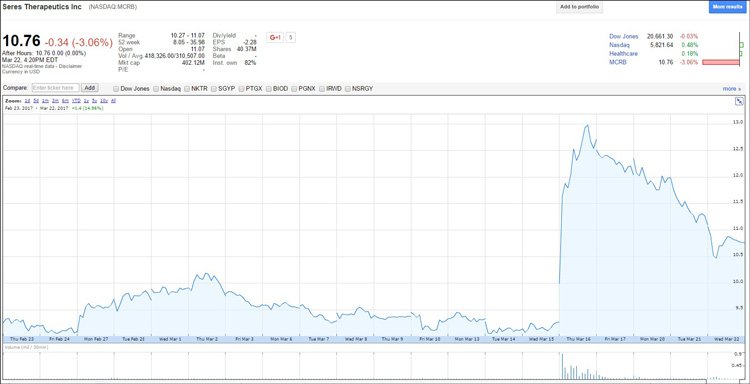 The past performance of this product is not and should not be taken as an indication of future performance. Caution should be exercised in assessing past performance. This product, like all other financial products, is subject to market forces and unpredictable events that may adversely affect future performance.
Remember – this is all on the NASDAQ – a much bigger market and we are talking valuations for Seres at many, many multiples of where IMC is sitting at today – just $30M AUD...
Seres' product does not target the toxin B and the spores, whereas IMC claim its IMM-529 does. This is backed up impressive by pre-clinical studies of IMM-529 conducted on mice: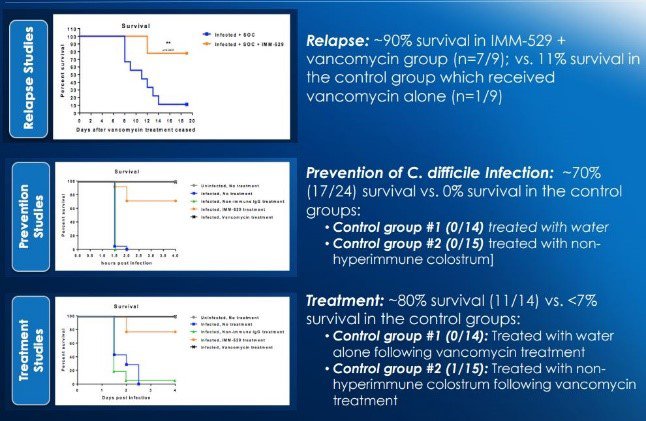 Human safety and efficacy results for IMC's C. difficile therapy will likely come through in early 2018. This drug could prove extremely valuable for the company, who are confident the treatment is very safe, so all it needs is efficacy data.
If the NASH plan for whatever reason didn't take off as the team expects, IMM-529 on its own could be a huge success for IMC, and perhaps garner a $1 billion valuation on its own.... We can only hope!
Of course, this product is in an early stage of development and if considering this stock for your portfolio you should take all public information into account and seek professional financial advice.
IMC's development gets a nudge from US Defence
Last year the company announced an R&D collaboration with the US Army and Navy to research the efficacy of IMC's technology on various bacteria that make soldiers sick in the field.
The focus is on Shigella, E-coli and Campylobacter, bacteria that can make people (and soldiers too!) very sick.
Shigella, which is a gram-negative bacteria, causes about 165 million cases of severe dysentery per year, resulting in one million deaths annually, mostly among children in the developing world (WHO: 2006). No approved vaccines currently exist for Shigella.
It is also a severe problem for the US Armed forces hence the keen interest in IMC's technology.
Through the collaboration, the US Army/Navy and IMC aim to develop therapeutics that can be utilised for both commercial and government use, all funded with funds from the US Armed forces!
It's another smart move by IMC to keep the balance books in check while awaiting a business transaction in the next 12 months...
Tackling travellers tummy woes – Travelan
We may have left the best till last... IMC already has a fully approved product on the market bringing in revenues at around $1 million annually: Travelan.
OTC product Travelan contains Hyperimmune Bovine Colostrum Powder, a source of antibodies that bind to Enterotoxigenic E. coli in the gastrointestinal tract, preventing them from attaching to the intestinal wall and causing symptoms like diarrhoea and digestive upset – you know, the kind people get when they say they have 'Bali Belly' or 'Delhi Belly'.
Here's a clearer look at how Travelan works:
The Hyperimmune Colostrum is developed under IMC's proprietary technology to create high amounts of antibodies to a range of E- Coli bacteria – these antibodies are present in normal colostrum, but in far smaller amounts.
The product, proven in studies to be highly effective, is sold in the US, Australia, Canada and China.
IMC's plans to secure more distribution agreements and bolster its marketing efforts could see the product raking in upwards of $20 million a year globally.
As you can see below, sales went up between 2015 and 2016 and distributor orders are getting bigger: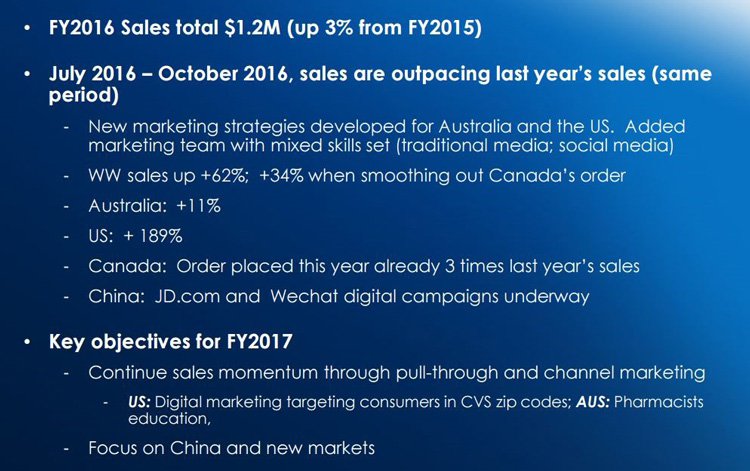 Not only are IMC looking to ramp up the marketing in existing markets, it has intentions to break into new ones.
This aspect of the company's game plan alone is worth paying attention to.
Even discounting its NASH portfolio and anti-infective treatment for C. difficile , the Travelan product on its own could be worth big bucks one day.
A corporate plan which includes NASDAQ
Thanks to some savvy strategizing, IMC is freed from many of the costs of trials through partnerships with government (e.g., NIH) and US Defence, and is being rewarded by money rolling in from Travelan sales.
It reported a cash position at $3.1 million as of 31 December, 2016. This compares to 12 months prior when the company's cash balance sat at just under $1 million...
Its next step on the business side of things is to list on the NASDAQ and gain access to a new audience – considering the US is a country where fatty liver diseases are especially prevalent, there could be considerable share price movement once IMC lands on the NASDAQ.
The company plans to raise up to US$17.25M in the US, with its shares to trade as American Depository Shares.
Not only will this likely help the company to raise capital and increase its liquidity, the move could also increase the global exposure to its products – including Travelan, which is already being launched across the country.
The company's Rights Issue last year provided needed funding to see IMC through to the next stage – if all goes to plan, a NASDAQ listing will be the next shot to the arm to see it through to a business transaction with Big Pharma.
This is of course speculative on our part and investors should seek professional financial advice if considering this stock for their portfolio.
The rough timeline looks like this: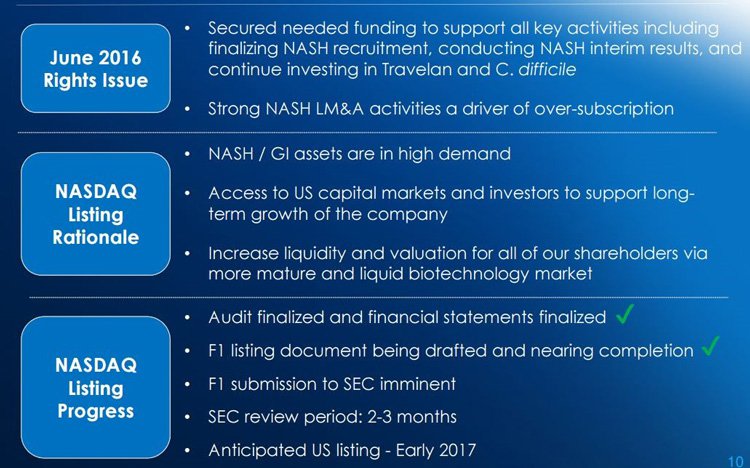 There's a lot we don't know about IMC's future just yet, but considering all the well laid plans it has, it seems like the company has a bright future ahead of it.
IMC's proprietary platform allows it to create anti-inflective and anti-inflammatory therapeutics which target any bacteria in the guts – many of which become very nasty diseases.
The gastro-intestinal balance of bacteria can contribute to all sorts of conditions: obesity, Parkinson's, mood disorders, potentially neurological conditions like autism.
Here's the range of conditions currently in the pipeline (and doesn't include Travelan, already out on the market as an effective preventative for E. Coli infection):
In the coming months, IMC will announce its likely debut on NASDAQ; its interim results for Phase II NASH trial; the results of additional Mechanism of Action studies in NASH; the top line results of its NASH Phase II trial; and, the results of its Phase I/II C. difficile trial.
In addition to the upcoming NASDAQ listing, here's the timeline of expected newsflow.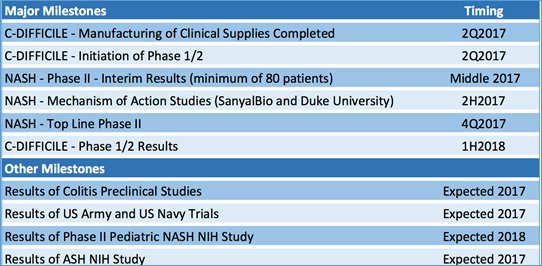 Taking the longer view, in the next 12 months, IMC could well be announcing a bank-rolling deal with a Big Pharma for its promising NASH portfolio, which would be very lucrative for its shareholders given the frenzy of deal activity in NASH...
Needless to say, we will be keeping a close eye on IMC over the coming months.
---