Aussie Medical Cannabis Market Opens Up: CPH Takes Early Mover Advantage
PUBLISHED: 01-03-2017 10:21 a.m.
Creso Pharma (ASX:CPH) is one company set to benefit from the Australian Federal Government's move this month to improve access to medical cannabis and grant import/export licenses.
Federal Health Minister Greg Hunt announced the change – that medical cannabis has now been approved for sale in Australia – and said the moves will make it far easier for patients to access the medication.
Ten years ago, such an announcement from a Federal minister would have caused a political hurricane... yet now it makes sense, and is in fact seen as a largely popular move.
Change may seem quick to those who are not classified as having chronic pain or who are terminally ill, but for many people who've been campaigning for these outcomes for a long time, it constitutes a slow, hard-fought win.
With the government's announcement, also comes significant news event for CPH.
On the list of the government's approved suppliers is Health House International Pty Ltd – who have been granted a federal import license, and who are CPH's exclusive facilitator in Australia.
By signing its first Australian Letter of Intent with Western Australian-based pharmacy, Health House International, for the import and sale of cannabis products in the Australian market, CPH is effectively expanding its Australian presence.
So while would-be competitors are scrambling to catch up, CPH is now in prime position to corner the medicinal cannabis market locally.
However, CPH is still in its early stages and investors should seek professional financial advice if considering this stock for their portfolio.
The agreement is a significant development for CPH as it opens up an additional revenue stream in a familiar market where there is political support for the use of cannabis related products in treating medical conditions.
Those with a valid prescription can possess and use medicinal cannabis products provided the supply has been authorised under the Therapeutic Goods Association and relevant state and territory legislation.
Patients will feel these changes within just eight weeks.
CPH has already established itself as a leader in cannabidiol (CBD) innovation. The group develops cannabis and hemp derived therapeutic grade CBD nutraceuticals and medical cannabis products with wide patient reach. Given its position, the timing of the Australian announcement couldn't be better.
In fact CPH has been working hard behind the scenes to capitalize on this very situation.
In just the last six weeks, as discussed CPH has secured a Letter of Intent with Health House International, appointed Professor Dr Felix Gutzwiller, a former Member of Parliament in the Swiss Federal government to the CPH Scientific Advisory Board. Professor Gutzwiller is an international expert and icon in public health, and made significant headway in both the animal health market and the mental health market in Switzerland.
With that in mind, it seems like a good time to check back in on this promising medical cannabis play: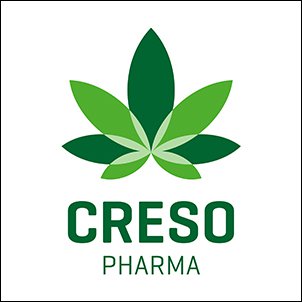 Creso Pharma
ASX:CPH, FWB:1X8
The more we look at Creso Pharma (ASX:CPH), the more its medicinal cannabis play adds up.
You can read about CPH and its past achievements in the following articles:
The more positive news CPH releases, the better it looks for the company to really capture a significant segment of the medicinal cannabis market.
The good news for CPH is that things are only just getting started for the medicinal cannabis industry in Australia. That being the case, for a young ASX-listed biotech looking to corner the cannabis market as it breaks in Australia (and beyond), there's a few items you'd want ticked off your list ASAP... to take advantage of legalisation.
CPH has already ticked a number of boxes, having formed key relationships, developed a diverse range of products at varying but promising points on their retail journey and implemented a great team of advisors and leaders in the field.
Now, with a medicinal cannabis-friendly government in Australia, CPH has the key ingredients and a broad range of products in human and pet care to really take an early mover advantage stranglehold on the market.
So let's have a look at what legalisation of medicinal cannabis in Australia means for CPH.
CPH welcomes Federal Government medical marijuana moves
The biggest news that should prick investors' ears when it comes to CPH is the announcement from Federal Health Minister Greg Hunt regarding legislative changes that improve access to medicinal cannabis and grant import/export licenses to suppliers.
The changes flagged by the government allow the authorisation of imported medicinal cannabis from international sources to boost domestic supply.
This is a boon of the Australian market, as while we're keenly awaiting domestic supply to get going... all reports point to a mismatch between supply and demand – we just are not making enough of the stuff for the current market.
CPH can swoop in here with its existing product range and could quickly start generating revenues.
Yet, how quickly this can happen is yet to be determined, so investors should seek professional financial advice about CPH before making an investment decision.
Here's a bit of the coverage of the Federal Government's announcement: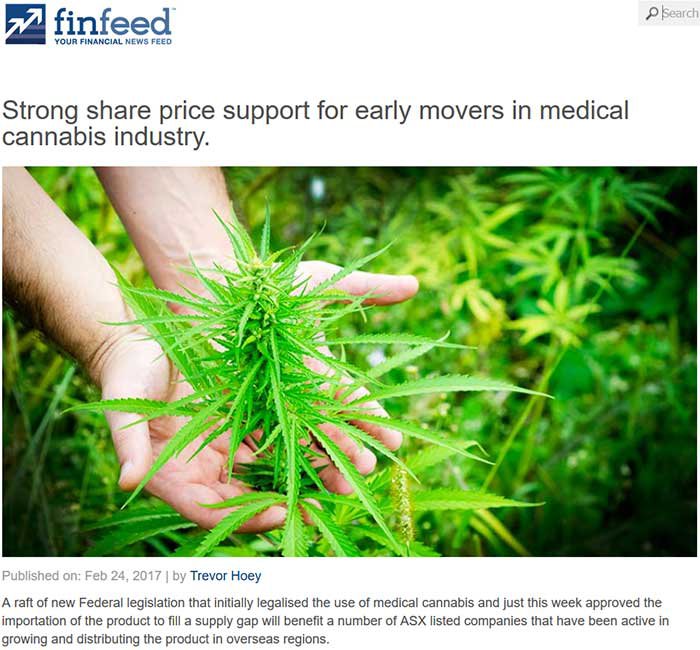 The legal changes state that medicinal cannabis will be more widely available within just two months. The pace is quickening now for this long-awaited movement, and CPH has plenty of fuel in the tank to match the speed...
In the last few weeks in NSW, the Opposition introduced a bill to State Parliament to decriminalise medical cannabis. The bill aims to allow medically certified sufferers to carry small amounts of cannabis of up to 15 grams.
NSW has already begun trialling medicinal cannabis for cancer sufferers and children with epilepsy... the media coverage has been intense for the last 6-12 months with plenty of debate but a lot of support for the changes.
Currently only a limited amount of medicinal cannabis is being produced here... so you can take an educated guess that's about to change.
And no doubt there will be companies who will be benefit: companies that have put in the hard yards making deals and developing products like CPH.
Investors have already picked up on this story and there's been several CBD or medical cannabis related stocks rising in anticipation of more news... particularly those companies most equipped to export into the Australian market.
In response to this announcement, CPH shares hit an intraday high of 28.5 cents over the previous week, representing a gain of 20% over the last week.
By Monday this week shares in CPH had surged 45%, partly on the back of the government's announcement and partly due to the Letter of Intent with Health House International for the import and sale of cannabis products.
First LOI with Health House International
CPH recently announced it had expanded its Australian presence with its first Australian letter of intent with Western Australian-based pharmacy, Health House International.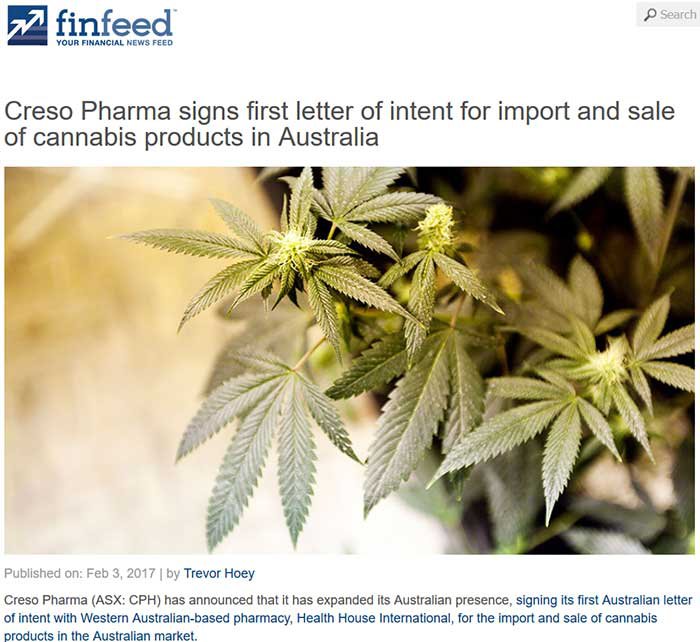 This LOI relates to the import and sale of cannabis products in the Australian market – great timing, we reckon...
The agreement made big news in and of itself, and that was before the Federal Minister for Health announced the national improvements to medicinal cannabis access.
Once the product has been imported, Health House will then look to distribute products to Australian patients that can buy medical cannabis under the new Australian laws via its west-Australian based pharmacy... including clinical trial programs initiated by Medical Cannabis Research Australia or other research institutions.
Among all of that more formal information, the long and short of it is – it's a good time to be CPH particularly as it enters new markets.
Penetrating mental health stress management market
On Valentines Day this year, CPH announced it had achieved solid progress with the first fully plant-based cannabidiol nutraceutical product that assists in the management of anxiety and stress.
Yes, that would be the anxiety and stress management industry that 2015 data indicates has a market worth US$3.5 billion.
CPH is expecting pilot production to commence in the second quarter of 2017 with the expectation of a full commercial launch of the product in the first half of 2018.
CPH's first CBD nutraceutical product will provide people with nutritional support to their endocannabinoid system to manage situations of everyday anxiety and stress. The body of evidence supporting CBD as an effective treatment in anxiety is particularly strong.
The endocannabinoid system regulates a number of physiological processes in humans such as cardiovascular, digestive, immune and nervous system functions. The health of individuals is dependent on the endocannabinoid system functioning at optimum levels.
CPH's product is designed to help individuals cope with situations of everyday stress – it's thought to be so safe and widely applicable, it will be available over-the-counter (OTC) without a doctor's prescription.
Animal care market offers large upside
Another interesting angle of CPH's business is in the animal health market. In mid-January, CPH announced that it and Greveling Holding BV were the first companies globally to be awarded European Union registration for two cannabidiol-based (CBD) proprietary formulation animal feed nutraceutical products.
This first mover advantage will help CPH capture a leading share of the global companion animal market with its CBD nutraceuticals and a leading market share of the hemp derived animal health market worldwide...
Again, how much of this market CPH is able to capture remains to be seen, so do your own research and take into account all available information with regard to this stock before making an investment decision.
To give themselves the best chance of exploiting the market on a global scale, CPH will target Switzerland, Europe, the Middle East, the Gulf region and Latin America in terms of working with commercialisation partners – and that market alone is estimated to be worth US$39.7 billion by the time we hit 2021.
New advisor adds weight to CPH's management
Swiss Professor Dr Felix Gutzwiller is the latest name to be added to the CPH brand, just this month being added to the Scientific Advisory Board.
Not only does this add significant weight in terms of scientific, medical and political sway – Gutzwiller holds the title of MD at the University of Basel, an MPH of the Harvard School of Public Health, Dr. PH of the John Hopkins University School of Hygiene and Public Health, and Professor of Social and Preventative Medicine at the University of Zurich from 1988-2013 – it also strengthens the company's already significant presence in Switzerland...
The move should give the company a handy boost particularly when it comes to marketing innovative therapeutics – something Gutzwiller has specialised in previously... and if you weren't convinced already, he also has a record of 16 years of a successful political career.
Professor Gutzwiller was an elected member of the Swiss Parliament (National Council and Council of States)...
So persuasion and awareness raising is likely his forte.
Making a move on the market
It seems CPH has lined all its ducks in a row and is about to make a move both in the nutraceuticals and in the medicinal cannabis market, particularly now that the market has opened up in Australia.
With products at hand, an import license for the import and sale of cannabis products in the Australian market, and a new advisor with serious political clout in a changing political climate, CPH could very well take a first mover advantage foothold in the Australian market.
The good times look to be continuing to roll on for CPH as this story is only just getting started.
---