Beating Cancer via Early Detection: ASX Stock Targeting Multiple Billion Dollar Markets
PUBLISHED: 04-04-2017 09:49 a.m.
If you are going to beat cancer, your best bet is to catch it early.
Of course, that's easier said than done.
By the time the symptoms of many cancers are appear a patient is often already in late stages of the disease. This is particularly true for lung cancer. And despite innovative new treatments hitting the market, failing to detect cancer early can still prove to be deadly.
The American Cancer Society estimates that by 2030, worldwide 21.6 million people will develop some form of cancer.
The critical factor to high survival rates in cancer is early detection.
The easiest, cheapest, and least invasive tests for cancer detection are blood tests. However, existing blood tests for cancer detection are often unreliable with poor sensitivity in detecting those with cancer and high false positive rates, causing cancer scares.
One ASX listed life sciences company is setting out to change this, and transform early cancer detection and prevention via the development of its diagnostic tests for early detection of cancer.
If successful, this company could be responsible for saving literally thousands, or even millions, of lives by commercialising its non-invasive cancer diagnostics in what is a US$101 billion global market.
Now, before we go too far, it should be noted that this company represents a speculative investment and those considering this stock for their portfolio should seek professional financial advice before making an investment decision.
The company is building a portfolio of cancer diagnostics for the screening, diagnosis and monitoring of cancer based on identifying protein biomarkers in the blood. Its three major areas of focus, with a combined market size of over $30 billion, include:
BARD1 Lung (its lead product) – a lung cancer test for which its preliminary studies show industry leading performance in a US$26 billion market;
BARD1 Ovarian – an ovarian cancer test catering to an unmet clinical need in a US$7 billion+ market; and
BARD1 Vaccine – a research-stage cancer vaccine project that is part of an immunotherapy collaboration with an Australian institution that could put its products into a US$3 billion+ market.
We should clarify here that BARD1 is a tumour suppressor gene and protein, working together with the better known BRCA1 in controlling the genetic integrity and cell proliferation. In cancer cells aberrant forms of BARD1 are produced that drive cancer cell proliferation but have lost the ability to maintain genome integrity.
We'll get into the nitty gritty of that shortly, suffice to say BARD1 is important in cancer diagnosis and treatment.
Currently in development, BARD1 tests are being developed as non-invasive, accurate and affordable blood tests for early detection of cancer to help save lives.
The company has strong patent protection covering its technology, products and uses extending to 2035.
With a strong leadership team in place that has international expertise in tumour biology, biomarker translation and commercialisation, this company is focused on developing fast-to-market diagnostics, with blue sky potential from its research-stage therapeutic program for unmet needs in cancer.
And with that in mind, it is seeking out major diagnostics, government and Big Pharma partners to help it along its commercialisation journey, with a particular eye on diagnostic markets across the USA, Europe and Australia.
Should it be able to commercialise in these regions, it may not be too long before this company has a highly positive impact on early cancer detection and prevention to improve cancer survival and prognosis.
It is certainly moving quickly to impact the market with upcoming results from its lung cancer study, appointment of an advisory board, publication of its Lung Cancer Proof of Concept study and commencement of clinical validation of its BARD1 Lung Cancer Test expected to happen before the end of the year.
So without further ado, let's introduce...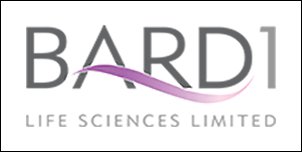 BARD1 Life Sciences Limited
ASX:BD1
BARD1 Life Sciences Ltd (ASX:BD1) is seeking to transform the early detection and prevention of cancer to help improve or ultimately save patients' lives.
Given the diagnostics market is estimated to reach $169 billion by 2020, it is a good space to be developing potentially lifesaving products.
Certainly the investor market has taken notice. To date, shareholders have proven to be very receptive to BD1's positive news flow.
Following two recent announcements to the market — one explaining that it had been granted a US Patent and the second detailed its ovarian cancer clinical study results – the share price rose by as much as 113% during the day, to close up 60%.

The past performance of this product is not and should not be taken as an indication of future performance. Caution should be exercised in assessing past performance. This product, like all other financial products, is subject to market forces and unpredictable events that may adversely affect future performance.
With further studies planned to commence and results due over the coming months for Ovarian Cancer and Lung Cancer studies, there is every chance that this news and positive results will have a similar market impact.
With a current market cap of just $28.4 million, BD1 has plenty of long term growth and upside ahead when compared to its peers: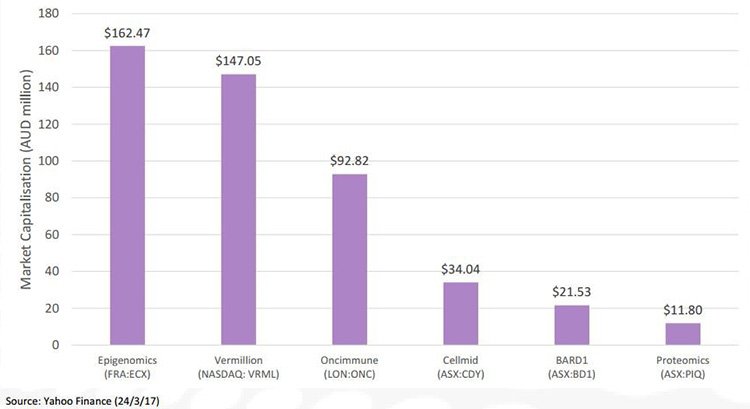 Note: BD1's currently capped at just over $28 million, we are hoping that the company will continue to catch up to its bigger peers as it progresses towards commercialisation and its ultimate goal of having a profound influence in reducing cancer deaths.
As stated, BD1 is researching a high-value pipeline of potential diagnostic and therapeutic products for multiple cancers including lung and ovarian cancers. Its technology can also be applied to other cancer types including breast, prostate and colorectal cancers.
Results to date have been impressive and if all progresses as planned, BD1 will bring a much needed tool to the global cancer diagnostics market that enables early detection of cancer to save people's lives.
So let's take a deeper look into this highly lucrative market.
Cancer Diagnostics Market
There are many types of cancer — the most common being lung, breast, colorectal, stomach, liver, prostate, and blood cancers.
These can be caused by internal factors like spontaneous cell mutations, gene mutations, and hormones, or by external factors like smoking, chemicals, alcohol, infectious agents and sun exposure.
The rising incidence of cancer and growing awareness around the disease, plus ageing populations, advancing technologies, and rising healthcare expenditure are driving growth of the global cancer diagnostics market.
That market was valued at US$101 billion in 2013, and is expected to reach US $168.6 billion by 2020.
That's a compound annual growth rate of 7.6%, that BD1 is looking to capitalise on.
Lung cancer is the largest segment, with a 26% share of the cancer diagnostics market, followed by breast and colorectal cancers. Ovarian cancer diagnostics makes up around 7.2% of the US$101 billion market.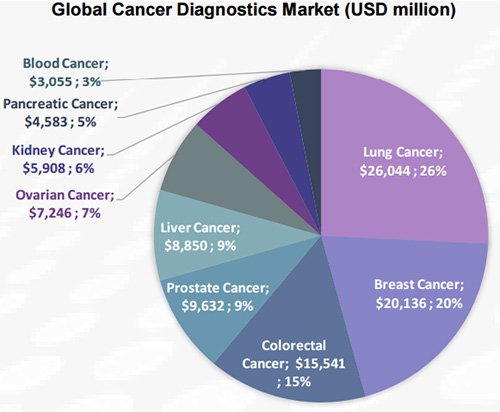 Imaging, including MRIs and CT scans, is the most common and widely used method of detection of most cancer types today. Blood tests to identify tumour biomarkers are not yet so widely utilised, but that market is expected to grow from US$11 billion in 2013 to US$18.1 billion by 2020.
Detection of highly sensitive and specific tumour markers help improve diagnosis, monitoring and prognosis of cancer. And if BD1 can provide an early stage cancer diagnostic tool, it would likely have widespread clinical adoption and patient acceptance around the world.
There's an unmet need for early diagnosis of lung cancer
Lung cancer is the most common cancer and leading cause of death from cancer worldwide, with an incidence of 1.82 million new cases each year and 1.59 million deaths.
If caught early, the likelihood of survival is greatly improved. If diagnosed in Stage 1, survival rates are 50%, compared to just 1% if diagnosed in Stage 4.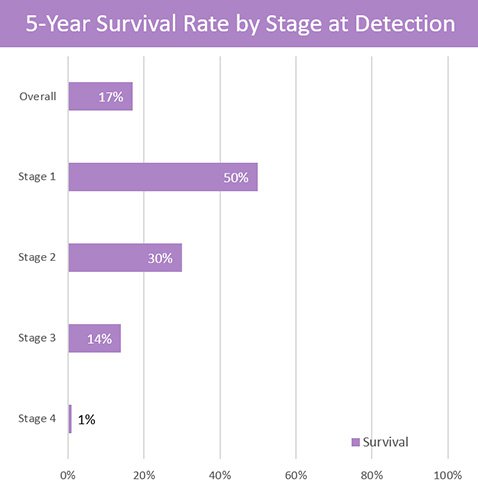 Due to so many cases of lung cancer being diagnosed at a later stage — after symptoms have appeared and when the prognosis is poor — the average five year survival rate is just 5.8% worldwide.
Currently only CT scans are approved for screening of lung cancer. In fact, there are no approved diagnostic blood tests for early detection of lung cancer.
Clearly there is need for affordable, accurate and reliable diagnostic tests for the early detection of lung cancer.
If lung cancer is detected early, five year survival rates improve 13-fold.
The BARD1 Lung Cancer Test could be the answer.
BD1's lead product involves a non-invasive blood test that detects BARD1 autoantibodies in the patient's blood. The individual biomarker measurements are then combined using a proprietary diagnostic algorithm that identifies the presence or absence of lung cancer.
The test can detect BARD1 autoantibodies released even from early-stage tumours, potentially making the test more accurate for screening of early-stage lung cancer.
BARD1 Lung Cancer Test offers potential advantages over other diagnostic methods:

This means that the BARD1 Lung Cancer Test could be used to screen for early detection of lung cancer in high-risk, asymptomatic individuals (meaning people without any symptoms). It could also be used as a diagnostic aid for detection of lung cancer in symptomatic individuals (those with a persistent cough, shortness of breath, or chest pain), or to confirm a suspicious CT scan.
BD1 is continuing to develop, optimise and validate the test, but so far, results indicate that the BARD1 Lung Cancer Test will have a sensitivity greater than 90% and false positives less than 10% for lung cancer, a great result for a potential screening test.
All this points to its huge potential to detect lung cancer early on so that treatment can begin before it is too late.
And this is something that is sure to catch the attention of government health departments across the world, which is one of the primary targets of BD1's commercialisation strategy.
Of course, the level of attraction BD1 can generate and convert to revenue is yet to determined, so if considering this stock for your portfolio you should take all public information into account and seek professional financial advice.
By identifying and treating cancer patients in early stages, not only are lives saved, but it can also save governments huge amounts of money.
For example, rather than waiting for symptoms of lung cancer to reveal themselves, health departments could encourage widespread testing for early stage lung cancer in high risk populations, say...older people that smoke.
But for these diagnostic tests to be widely taken up, it has to be worthwhile for governments so any statistically accurate and reliable early detection tool could pay off in spades.
Let's briefly delve into the science behind the BARD1 diagnostic tests...
The BARD1 protein is important for normal cell growth and tumour suppression. It forms a stable complex with the BRCA1 protein and has common and independent functions for DNA damage repair, cell growth regulation and apoptosis (the normal death of cells).
But in cancer cells, various abnormal BARD1 isoforms are expressed which are generated by alternate gene slicing. Importantly, different combinations of abnormal BARD1 proteins are specific depending on the type of cancer.
Here is a normal BARD1 protein...

And an example of a much shorter cancer BARD1 missing bits that makes it highly immunogenic...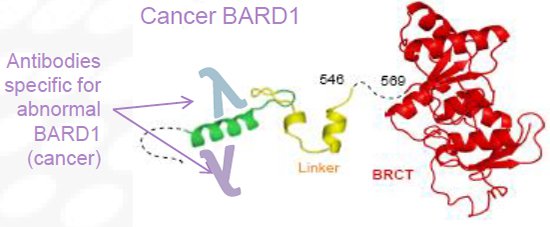 Abnormal BARD1 proteins are immunogenic and induce BARD1 autoantibodies that are present in early to late-stage cancers.
This makes BARD1 a potential diagnostic biomarker and therapeutic target for multiple cancers.
In addition to diagnosing cancer by detecting BARD1 proteins and autoantibodies in the blood, it is possible that a BARD1-based immunotherapy approach may be able to prevent or treat these same cancers – which would be a double whammy for BD1 if this is ever proven in the clinic.
BARD1 tests are ELISA (enzyme-linked immunosorbent assay) based blood tests that use different combinations of peptides to capture autoantibodies in the blood that are specific for the type of cancer.
BD1's proprietary diagnostic BARD1 algorithms combine the individual levels into a cancer score that identifies the presence or absence of a specific cancer.
US Patent granted:
BD1 Lung Cancer test set to enter the largest cancer diagnostics market.
In the United States, lung cancer is the second most common cancer and the leading cause of cancer death. The American Cancer Society (ACS) say that each year 222,500 new cases are diagnosed, and that in 2017 there will be around 155,870 deaths from the disease in that country.
It is also the largest geographic market for lung cancer diagnostics, valued at over US$15 billion in 2013, making the US an important market for BD1 to enter.
On March 23, BD1 announced that it had been granted a US Patent from the United States Patent and Trademark Office:

So far, so good.
The patent family protects the sequence of various BARD1 isoforms specific to lung and colorectal cancer, a method for detecting the presence of the specific BARD1 isoforms, and a method for treating and/or preventing lung cancer and colorectal cancer.
It provides protection for BD1's lead lung cancer diagnostic. Additionally, the company continues to progress four other patent families. These five patent families cover various BARD1 DNA and protein sequences, methods of diagnosis and treatment, and use in multiple cancers.
The following patents have been granted to BD1:
Truncated BARD1 protein and its diagnostic and therapeutic uses (US, JP)
BARD1 isoforms in lung and colorectal cancer and use thereof (US, JP, CN)
While the remaining three are pending (in US and various other markets):
Kits for detecting breast or ovarian cancer in a body fluid sample and use thereof
Lung Cancer Diagnosis
Novel non-coding RNA, cancer target and compounds for cancer treatment
Early stage diagnosis is key to surviving ovarian cancer
Just like lung cancer, the likelihood of death from ovarian cancer can be cut significantly if it is detected early.
With 239,000 new cases diagnosed and 152,000 deaths each year, ovarian cancer is the seventh most common cancer in women worldwide.
Early detection leads to significantly better outcomes with a 90% survival rate for cases diagnosed early.
A big problem is that 60% of all cases are diagnosed in late stages, with many women only diagnosed after symptoms appear, which can include an enlarged abdomen, a feeling of fullness, or abdominal pain. In those cases, late detection proves deadly for four in every ten women.
As ovarian cancer is more often than not detected in its late stages, the overall five year survival rate is just 45% in the US and 30% worldwide: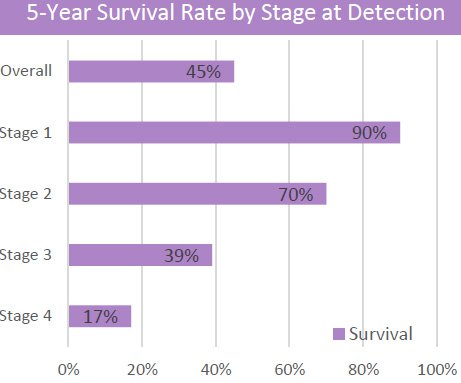 Women aged over 50 make up more than half of all cases, while those with a family history of the disease make up 15%. An early stage diagnostics test could be used to test these at risk groups and has the potential to diagnose the cancer early and lead to better survival rates.
Current testing methods are in limited use because they can be expensive, inaccurate or invasive. They include pelvic exams, transvaginal ultrasounds, or CT/MRI/PET imaging.
There are currently no blood tests to screen for ovarian cancer that have been approved, as they tend to have poor sensitivity and/or return high levels of false positives.
Ovarian cancer diagnostic test
Like the Lung Cancer test, the BARD1 Ovarian Cancer Test is a non-invasive ELISA-based blood test for early detection of ovarian cancer.
BD1 updated the market with news that results were in from the clinical study of BARD1 Ovarian Cancer Diagnostic Test on March 23, with overwhelmingly positive results...

On top of that, BD1's Ovarian Cancer Test detected all subtypes and stages of ovarian cancer with no statistically different performance between detecting early-stage and late-stage ovarian cancer. The study involved 348 samples — 200 women with ovarian cancer and 148 controls.
The test was shown to have high levels of accuracy across all stages of ovarian cancer. It demonstrated high specificity (87%) and high sensitivity (90%), with a high overall accuracy of 0.92 (ROC-AUC score).
Previous data from smaller scale studies had already established the proof of concept of the test with initial indications of high sensitivity and specificity. An earlier study , completed in September 2016, reported overall accuracy of 0.86. So the recently announced result with accuracy of 0.92 from an independent laboratory, improved on this result.
The results are highly promising and suggest that the test could offer a substantial improvement over existing ovarian cancer blood tests that use CA125 protein markers that have lower sensitivity and specificity, particularly for early-stage cancer. The test has the potential to greatly improve the accurate detection of cancer at all stages, with just few false positives.
BD1 now has plans for further studies to show if its BARD1 Ovarian Cancer Test can distinguish benign ovarian lesions and cancer.
It should be noted here that studies are in their early stages and a successful investment in this company is no guarantee – apply caution if considering this stock for their portfolio.
An evaluation of commercial instrument platforms is also on the cards as BD1 decide on the best platform for future clinical validation studies in testing large prospective cohorts in a clinical laboratory.
The following gives you an idea of what is in BD1's diagnostic pipeline:

Cancer vaccine program
On top of the growth expected in the global cancer diagnostics market, cancer therapeutics is a market poised for significant growth too.
Valued at US$78.2 billion in 2015, the market for cancer therapeutics is expected to reach US$111.9 billion by 2020, at a compound annual growth rate of 7.1%. Yet there is still an unmet clinical need for safer, more effective and targeted solutions to prevent and treat cancer.
To tap into that growth, BD1 is also busy progressing its research-stage Cancer Vaccine program for prevention or treatment of cancer.
Here's is what is in the cancer vaccine pipeline:

In 2016, the global cancer vaccines market was valued at US$3.5 billion in 2016 with plenty of room still to grow.
Diagnosing the immediate future
Governments are the ideal customers for BD1's tests, where they opt to put in place widespread screening programs to detect various cancers with the aim of reducing healthcare costs and saving lives.
There are two benefits to governments in doing this. It's a way to firstly save lives, and also to avoid the costs associated with advanced cancers including drawn out treatment or hospice care.
BD1's statistically accurate and reliable early detection tools have the potential to pay off big time for governments ... and if they are taken up on a large scale, will likely pay off for BD1 shareholders too.
The statistics don't lie – early diagnosis is a more effective way of avoiding cancer deaths than any late stage treatment method. So if results are as successful as initial tests suggest, BD1's diagnostic tests could prove highly valuable.
It seems there's plenty of blue sky ahead for this potential life saver, with a significant amount of news flow still to come over the next twelve months as it progresses towards clinical validation and commercialisation.
---