Blockbuster Results from IMC's NASH Liver Therapy Trials
PUBLISHED: 08-03-2018 10:00 a.m.
Australian microbiome biopharmaceutical company, Immuron Limited (ASX:IMC | NASDAQ:IMRN) continues to progress its oral immunotherapies, to supply solutions for a growing unmet need.
IMC is circling the oral immunotherapies market, particularly in the category of inflammatory-mediated and infectious diseases — an enormous market with seemingly endless potential.
Last time we checked in with IMC, the company had just expanded its collaboration with the US Department of Defence's Walter Reed Army Institute of Research (WRAIR) to develop an anti-infective human therapeutic.
It was also finalising the steps necessary to list on the NASDAQ as well as progressing steadily with preparations surrounding IMM-529 trials for treatment of Clostridium Difficile Infection (C. Difficile, or CDI) — a bacterium that can cause symptoms ranging from diarrhea to life-threatening inflammation of the colon.
The wheels were well and truly in motion across IMC's impressive array of clinical assets as well as its on-the-market therapeutic product, Travelan® for the prevention of travellers' diarrhea, which was delivering around $1 million in sales revenue to the small-cap at the time.
While impressive, these developments now seems like small fish compared with today's big catch...
Today, IMC is setting a new standard as far as 'positive developments' go, and it's about to blow the lid off its NASH (Non‐Alcoholic Steatohepatitis is a severe type of non-alcoholic fatty liver disease, characterised by the accumulation of fat in the liver) ambitions, while its recent IMM-124E trials have delivered highly promising results.
The results for IMC's NASH Phase II clinical study look the goods.
Topline results show significant improvement in liver injury and a significant reduction in blood levels of LPS — a known mediator of liver inflammation in patients with NASH.
Now, at the same time, it should be noted that this company represents a speculative investment and those considering this stock for their portfolio should seek professional financial advice before making a decision.
A total of 133 biopsy-proven NASH patients were enrolled into the study and were treated with either IMC's lead product candidate IMM-124E or placebo for six months. IMM-124E was proven to demonstrate excellent safety and tolerability, statistically significant reduction in LPS levels and serum ALT, reduced serum biomarkers of liver damage. Plus, IMM-124E is proven to stay safely within the GI tract, which means minimal flow-on side effects.
In fact, 63.3 per cent of patients treated with IMM-124E demonstrated a 15 per cent or greater decrease in serum LPS levels compared with only 35.5 per cent of patients showing a decrease for the placebo group.
You can read a more in-depth take on the results below, but to clarify what this means and why it's such good news for IMC, let's take a moment to define a key mechanism of action here — it has to do with LPS.
Lipopolysaccharides (LPS), also known as endotoxins, are large molecules consisting of a lipid and a polysaccharide, which are found in the outer membrane of gram-negative bacteria. Their presence in the body can cause inflammatory responses, which is why landing on a safe treatment that can lower LPS levels is considered a major win.
As an endotoxin that binds to several types of cells, LPS promotes the secretion of pro-inflammatory cytokines as well as nitric oxide and eicosanoids. In simple terms, high LPS levels can cause a cellular stress response.
How does this relate to NASH and the liver?
When the LPS bacteria dies or sheds, pro-inflammatory by-products of LPS enter the bloodstream... and trigger inflammation. This inflammation then causes injury to the liver and leads to the development of NASH.
Since the liver is right next to the intestines and stomach, it takes the biggest hit when the gut bacteria sheds LPS into the bloodstream. So by targeting certain gram-negative bacteria, which IMM-124E is designed to do, it can prevent the overflow of LPS into the liver.
That's the theory, anyway — but today's results go a long way towards proving it.
In fact, there's plenty of evidence coming through that proves up IMC's entire platform, and such market-moving news waits for no one...
Without further ado, let's get down to brass tacks with:

Immuron Limited
ASX:IMC
Small cap biotech, Immuron Limited's (ASX:IMC | NASDAQ:IMRN), is focused on the treatment of several gut mediated diseases in the realm of oral immunotherapies.
Its popular Travelan® product is already available for purchase, while the company's other immunotherapies — one designed to treat C. Difficile infection and another to treat NASH disease — are still in developmental stages.
What is unique about IMC's products all comes down to cows.
IMM-124E and IMC-529, as well as the already available Travelan, all are produced from bovine colostrum.
Cows are unique in that they pass on immunity to their young via their colostrum ('first milk'), packed full of antibodies and immune-boosting compounds. IMC has proprietary vaccines it uses to immunise cows to target specific bacteria, toxins or spore, which (at calving time) results in colostrum that's full of those particular antibodies.
The fact that IMC's products are made 'in a cow' rather than in a lab or factory is pretty amazing in and of itself, and also means that the product has an excellent safety profile.
IMC set to hash out a blockbuster treatment for NASH
The non-alcoholic fatty liver disease NASH, is an emerging health crisis impacting 3% to 5% of the US population with a 2% to 4% incidence globally. And it's the fastest growing cause of liver cancer and liver transplant in the US.
The increasing prevalence of NASH is attributed to the growing obesity epidemic and the disease is often diagnosed in patients who have diabetes, high cholesterol or high triglycerides.There is currently no approved treatment for NASH... something that IMC want to change.
Gut bacteria is a key driver of liver inflammation, including NASH, so a treatment with a high safety and tolerability profile that lowers inflammation is a game-changer.
The very positive results released by IMC show that its flagship IMM-124E candidate (made from bovine colostrum which targets NASH inflammation specifically) has demonstrated the following:
First-In Class Anti-LPS Mechanism of Action confirmed for IMM-124E
Results demonstrate excellent safety and tolerability
Statistically significant reduction in serum endotoxin/ Lipopolysaccharide (LPS) levels compared to placebo
Statistically significant reduction in mean serum ALT in patients with elevated pre-treatment ALT
Statistically significant Reduction of additional serum NASH biomarkers associated with liver damage – AST and CK-18
IMM-124E retained within the GI tract and not absorbed into the bloodstream, contributing to favourable safety profile
Anti-LPS mechanism of IMM-124E may have wider therapeutic applications beyond NASH
That's a whole lot of ticks in the 'blue sky' column with this latest news out of the $34.8 million-capped junior.
A key mechanism of action here, is the anti-LPS effects of IMM-124E. The links between elevated serum LPS and the development and worsening of liver injury and damage are well-known.
With IMM-124E showing efficacy as well as its exceptional safety profile, it is on track to become a first in class option to treat NASH.
This statement would be backed by its recent results which show 64.29% of patients treated with IMM-124E demonstrated a 15% or greater decrease in serum LPS levels compared with only 34.48% of patients showing a decrease for the placebo group, reaching statistical significance.
Furthermore, when comparing IMM-124E treated patients to patients who received the placebo, significantly more treated patients demonstrated a decrease in mean serum ALT by at least 30% (considered to be a clinically meaningful reduction), than placebo in patients with elevated pre-treatment ALT.
IMM-124E also demonstrated a strong positive trend in reducing ALT by 30% or more compared to the placebo group in all patients.
Similarly, treatment with IMM-124E showed a significant decrease in mean serum AST in the IMM-124E high dose compared to placebo. Additionally, AST demonstrated a statistical trend to reduce serum levels by 30% or more.
IMM-124E also showed a statistical significance to reduce serum CK-18 levels compared to placebo.
In the study, twice as many subjects treated with high dose IMM-124E demonstrated a 15% or greater decrease in serum CK-18 levels when compared to placebo, 38.89% versus 18.18% respectively.
In essence, and further to the safety profile, IMM-124E is not absorbed systemically into the blood stream.
These results are significant and could present significant upside for IMC.
Somewhere in the vicinity of 25% of the world's population is thought to have non-alcoholic fatty liver disease. If IMM-124E continues to pass the tests with flying colours, we could see a Big Pharma transaction of considerable size, and in the not too distant future...
However, this is not a fait accompli and IMC still has some work to do to compare with big pharma, so take all publicly available advice into consideration and treat this investment with caution.
As we've reported previously, big deals have occurred previously.
The latest trial also showed excellent tolerability profile of the drug at two doses (600mg and 1200mg). This opens the door for IMC to evaluate its impacts at higher doses and extended treatment periods down the track.
There's no doubt that today's news could open a truly mind-boggling number doors for IMC. Just to refresh your memory, the following table summarises the hundreds of millions of dollars in deals done in this space: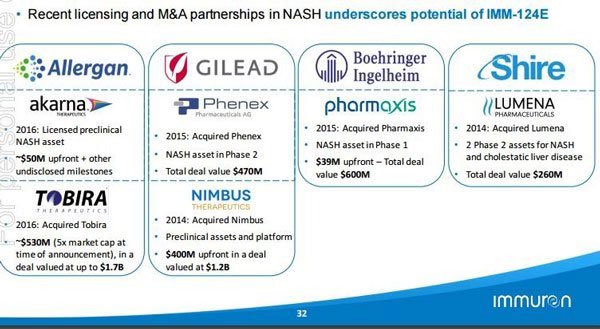 Beyond NASH, what are the possibilities for IMM-124E's anti-LPS effects?
Just to further state the case, LPS has implications reaching far beyond NASH treatments.
In fact, a growing body of literature is proving that LPS has effects on a huge number of diseases, which means a dramatically increased scope of potential applications for any safe and effective anti-LPS treatment, particularly one as easily administered as IMM-124E (it is the world's first oral LPS antagonist).
The low level inflammation in the body caused by a high level of LPS has been associated with a laundry list of chronic illnesses including:
Inflammatory bowel disease
It's difficult to even imagine the money changing hands across all of those treatment areas.
There's a mind-bogglingly large market to tap into if you can deliver a safe, easy to administer, and proven treatment option that can assist even half of the conditions listed above ... a fact that won't be lost on Big Pharma companies.
What's more, when you have a platform underpinning your ground-breaking treatment, and that platform can produce seemingly endless treatment options... what's there to do but prepare for lift-off?
Travelan® takes off with sales growth, plus a US Defense study
In February, IMC reported that its flagship product Travelan® brought in more than A$914,000 for the first six months of the 2018 financial year.
In the US, this was a 250% increase in sales year over year, coming in at A$335,000. In Australia, sales increased by 27% on the year for a total of A$579,000.
The news was reported in Finfeed:

Considering the trade marketing strategy currently underway for IMC's Travelan® product, it seems that management is confident it can continue along the same trajectory for the remainder of the 2018 financial year, and achieve the milestone of bringing in more than A$2 million in Travelan® annual sales for the first time.

While things continue to travel smoothly as far as its flagship commercial product goes, there's more to be excited about than just increasing revenues.
In January, IMC reported encouraging results of a Travelan® study, undertaken by the US Department of Defense and the Armed Forces Research Institute of Medical Sciences (AFRIMS) in Thailand.
The objective of the study?
To evaluate the product's ability to bind and react to infectious bacteria of interest to the US DoD, including Campylobacter, ETEC and Shigella infections in Southeast Asia (literally retrieved from infected personnel deployed in Bhutan, Cambodia, Nepal and Thailand).
Once again IMC has confirmation that it's onto winner, with results showing Travelan® was able to bind and was reactive to all 180 strains of bacteria tested by blot analysis. It showed particularly strong reactivity to 60 clinical isolates of personnel infected with ETEC and 60 personnel infected with Shigella.
When compared to the control, the study showed the ability of Travelan® to bind and potentially neutralise these bacteria, highlighting the broad-spectrum recognition of surface antigens on potentially debilitating and even life-threatening bacteria.
This is just one of three research projects that IMC is undertaking with the US Departmenet of Defence (DoD), and it plans to announce further results from the Department of Enteric Infections, US Naval Medical Research Center and the Department of Enteric Infections, Bacterial Diseases Branch, WRAIR in the coming months...
Clearly, government and organisational adoption of Travelan® would represent a significant revenue opportunity for IMC — which is already on track to be raking in $2 million in sales annually.
A prophylactic treatment against enteric diseases, specifically Shigella, is understandably a pretty high priority for the US Army. It is estimated that Shigella causes 80 –165 million cases of disease worldwide, resulting in 600,000 deaths each year and is particularly prevalent in both sub-Saharan Africa and South Asia.
Making a difference in C. Diff...
In the background, IMC continues to progress its IMM-529 candidate trials.
In August 2017 the company announced it was opening a clinical site to evaluate the safety and efficacy of the treatment for Clostridium Difficile Infection (CDI), at Hadassah Medical Centre. It's now in the recruitment phase for the trial which will evaluate the product compared to a placebo control — the first in-human clinical study for IMM-529.
The market-moving news was covered in Finfeed: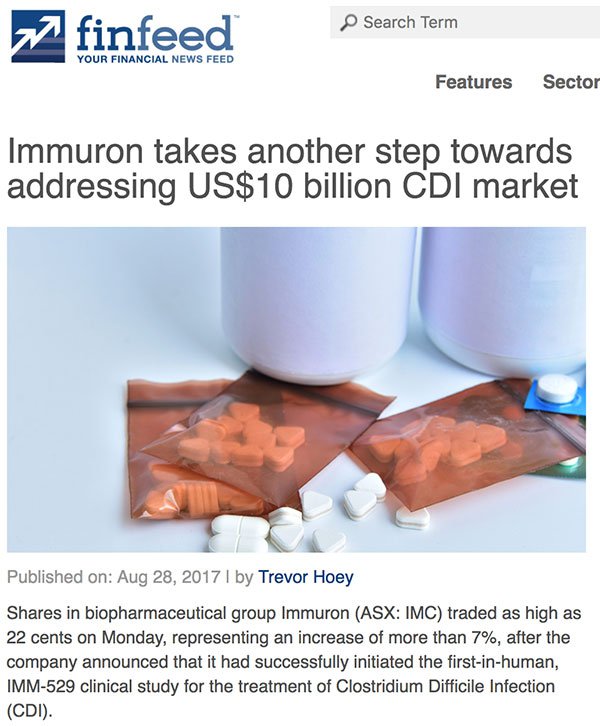 The candidate's 'one-of-a-kind' mechanism of action is designed to relieve the diseased gut of the infectious and toxic burden to allow the microbiome to recuperate and reinstate homeostasis.
This Phase 1/2 randomised, double-blind, placebo-control clinical study is designed to evaluate the safety and preliminary efficacy of IMC's IMM-529 drug product for the treatment of CDI.
CDI is major public health issue — 450,000 CDI cases are reported annually in the US, while the infection resulted in 29,300 deaths in the country in 2015.
And that means positioning IMC to tap into a significant addressable market where, currently, there's a true void in effective treatments. It is estimated the CDI causes an approximate annual economic burden of more than US$10 billion globally.
However, how much of this market IMC can tap into remains to be seen at this stage, so investors should seek professional financial advice for further information if considering his stock for their portfolio.
A look at IMC's books
As at 31 December, IMC held a reasonable $588,000 in cash. Then in January, it announced a very handy research and development tax concession refund... to the tune of A$2.6 million.
Combining those two amounts the company could have been assumed to be sitting on approximately $3 million in cash and owed funds, around the end of January.
Considering all the progress being made in R&D, and ongoing sales revenues from Travelan®, IMC's books are looking well balanced from an outsider's perspective.
Further, these are the figures after having invested more than A$4.6 million via research and development programs during the 2017 financial year... all towards IMM-124E, IMM-529 and Travelan®.
More cash means more clinical development, undertaken more rapidly, which is invaluable for an early stage biotech like IMC with several high-value pipeline programs on the go.
It seems the company's attractive position is again being recognised by shareholders, with its shares up a total of 44% over the last three months:

The past performance of this product is not and should not be taken as an indication of future performance. Caution should be exercised in assessing past performance. This product, like all other financial products, is subject to market forces and unpredictable events that may adversely affect future performance.
Final thoughts
With IMC's current progress, this is really one of those stories that writes itself.
Travelan® is travelan-ing very well revenues-wise and is now the subject of more studies for further uses by the US DoD.
IMC's potential NASH treatment IMM-124E has passed its latest trial with flying colours and has a broad array of potential across several major markets, plus progress is being made on its IMM-529 C. Difficile treatment asset.
'Full steam ahead' seems to be the only mode this biotech knows. At this rate, we look forward to seeing where this speedy small cap is by the time our next update rolls around.
---