Canadian Pot Stocks Light Up the TSX: Is MMJ Next?
PUBLISHED: 30-08-2016 10:32 a.m.
While MMJ PhytoTech (ASX:MMJ) has operations all around the globe, for its growing operations it has bunkered down in Canada and already established a solid base there.
There are several reasons for this: Canada has a more advanced growing industry than anywhere in the world; its TSX listed medical marijuana stocks are gaining traction on the market and regulations are well and truly opening up.
As such the rush into Canadian medical marijuana stocks on the TSX is in full swing. In fact Canada is expected to fully legalise and regulate marijuana in less than 2 years.
It is thus "game on" for an industry that currently only has 30 companies licensed to grow medical marijuana.
These licensed producers are currently supplying close to 70,000 Canadians, and are expected to continue to be the main source of quality-controlled cannabis for medical purposes.
They will now also be the only legal source of starting materials (seeds or plants) and interim supply to individuals who are registered with Health Canada to produce a limited amount of cannabis for their own medical purposes (or who have designated someone to produce for them).
MMJ is amongst those few companies with an all-important license – and the company has been buoyed by the encouraging signs of its peers.
Before we go too far, it should be noted that the continued growth of medical marijuana companies is somewhat dependent on future legislative measures, which are not always guaranteed to come through. If considering an investment in MMJ, you should seek professional financial advice.
$188M in equity deals have been done in Canada in the medical marijuana space since the end of March this year, with at least 4 of the licensed Canadian companies upsizing their valuation.
Tweed graduated from the TSX-Venture to the TSX, with a huge volume and a 15% jump as institutions who were not allowed to invest in the venture exchange jumped in to the company on market.
The past performance of this product is not and should not be taken as an indication of future performance. Caution should be exercised in assessing past performance. This product, like all other financial products, is subject to market forces and unpredictable events that may adversely affect future performance.
Meanwhile the $175M capped Aphria, a Health Canada Licensed Producer of medical cannabis products, is showing positive cash flow and strong revenue numbers.
MMJ is well advanced in its business strategy, is in on the ground floor of this emerging industry and has an eye to taking a major slice of the legal marijuana pie – and with no clear future leader as yet, there is ample opportunity for growth in this market.
This growth is expected to occur in both the medical cannabis and recreational sectors, with the implied total market value of the Canadian recreational market estimated at $5BN.
We will look at the broad market in more detail later, for now let's reintroduce...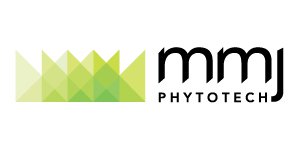 Since Health Canada issued its first cannabis license two and a half years ago, and has only issued 34 licenses to 30 companies since, one can assume this will be a very tightly regulated industry.
With a current market cap less than $50M, MMJ Phytotech (ASX:MMJ) is one of the smaller companies on the market, but it has big ambitions and the potential to be a significant commercial grower on limited capex.
Additionally, MMJ is pursuing two Phase II clinical trials on cannabis-based pharmaceuticals – and this is where MMJ's value proposition really starts to hit home.
Currently there are just two companies at this stage of clinical development: the sub $50M capped MMJ and the $2.6BN GW Pharmaceuticals (LSE:GWP), against which MMJ's Satipharm products stack up very well and even exceed GW's products in effectiveness.
Right now, MMJ is in a great spot to take advantage of two burgeoning markets in the cannabis wheelhouse, but it is in recreational supply where it could really make its mark due to the expansion of its growing facilities.
Since the last time we checked in, MMJ has done a deal to potentially boost production by 25-fold at its Canadian operation.
A binding Letter of Intent (LOI) with Cowichan Tribes to lease 13 acres of land directly adjacent to its Duncan Facility in Canada, would significantly expand MMJ's production capacity to potentially yield over 25,000kg a year of cannabis .
To give you an idea of how the market values that, TSX listed Aphria is capped at $231.4M CAD, and is currently producing just 2,500 kg per year .
And with Canadian Prime Minister Justin Trudeau pushing forward to legalise recreational use, Canada's Minister of Health outlined motivations and a timeline for legalizing and regulating marijuana to be drafted by April-May 2017.
That's somewhat of a boost to MMJ's plans.
Canada just established itself at the forefront of medical cannabis acceptance
Canada took another step toward its aim of legalising medical cannabis after Health Canada announced the new Access to Cannabis for Medical Purposes Regulations (ACMPR) .
These new regulations replace the Marihuana for Medical Purposes Regulations (MMPR) and came into force on August 24, 2016.
The ACMPR are being implemented as a result of the Federal Court ruling in the case of Allard v. Canada and will allow for reasonable access to cannabis for Canadians who have been authorized to use cannabis for medical purposes by their health care practitioner.
This is great news for the 30 companies who hold an MMPR (ACMPR) license already supplying the market. Some of these companies have had a great ride on the market lately. So how does the under $50M valued MMJ compare?
Here are share price charts showing the growth of the two biggest players in the market:
Canopy Growth (TSX:CGC) – Market Cap $444M CAD
It has been a significant rise for Canopy moving from circa $1.50 to $3.85 CAD in just a year. The rise can mostly be attributed to the fact that it was the first ever marijuana producer in North America to graduate to a major exchange, namely the TSX.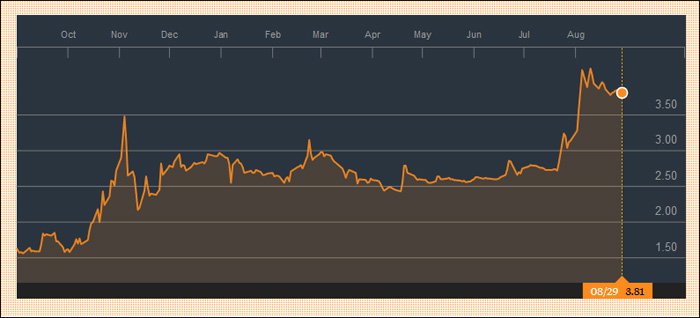 Source: Bloomberg
The past performance of this product is not and should not be taken as an indication of future performance. Caution should be exercised in assessing past performance. This product, like all other financial products, is subject to market forces and unpredictable events that may adversely affect future performance.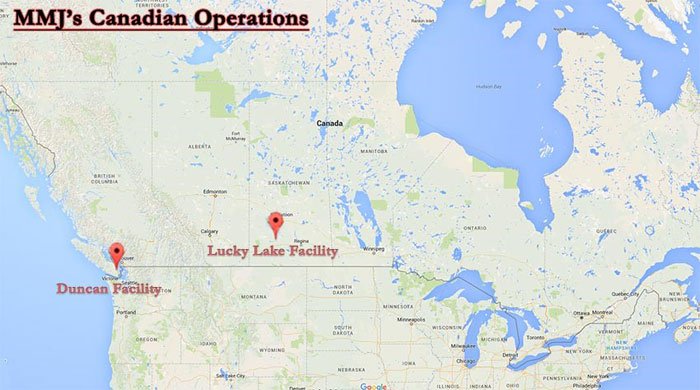 Aphria (TSX-V: APH) – Market Cap $222M CAD
Aphria is showing enormous growth in cash flow and revenue, and its share price has been responding, launching from well under $1 to as high as $2.60 recently: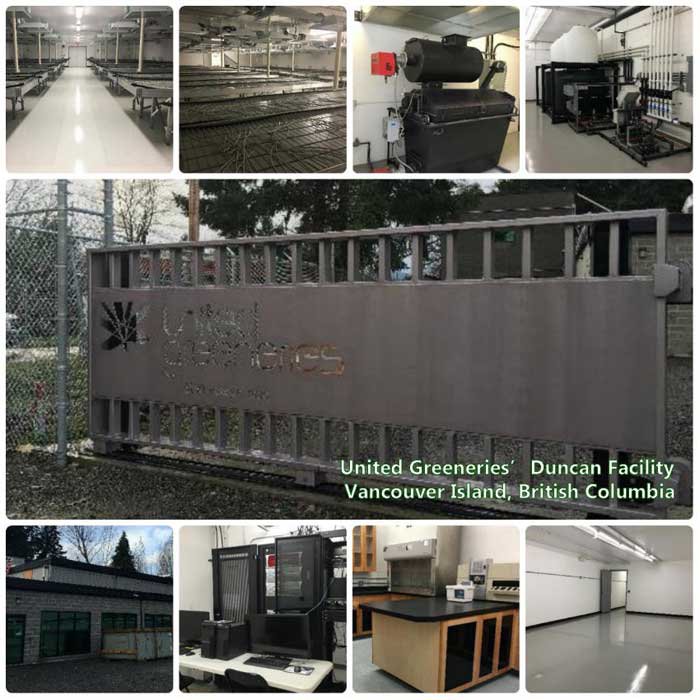 Source: Bloomberg
The past performance of these products are not and should not be taken as an indication of future performance. Caution should be exercised in assessing past performance. These products, like all other financial products, are subject to market forces and unpredictable events that may adversely affect future performance.
And like Canopy, a major factor in Aphria's boost was Canadian Health Minister Jane Philpott's announcement on April 20 this year at a United Nations General Assembly special session on drugs that Canada would introduce a legalization bill the following spring.
Another factor giving Aphria a significant uplift was that its licensed saleable output was increased to 2000 kilograms per year by Health Canada .
MMJ is following a similar path, however its LOI with Cowichan tribes could see it significantly exceed the $C231.4M capped Aphria's saleable output – remember with an extra 13 acres of land MMJ could output 25,000 kilos a year.
The medical marijuana industry is extremely bullish right now in Canada – all the other 9 public marijuana companies hit all-time highs and raised a combined $188M since the end of March.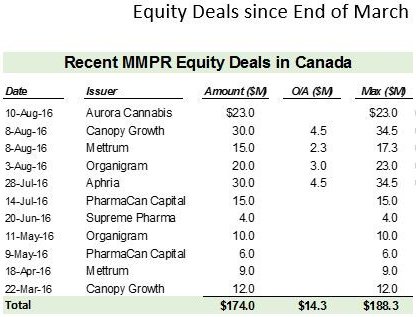 MMJ is currently capped at just $42.06M (based on a share price of 24 cents)... but it may not stay this way for long.
It could only be a matter of time before deep pocketed investors come searching for the next medical marijuana growth story, and they may find it in MMJ, which has a first mover advantage and a foothold in two sectors of the broader cannabis market: recreation and pharmaceutical.
Let's first look at the recreational sector.
The recreational cannabis market – a five billion dollar opportunity in Canada alone?
MMJ is well positioned to take advantage of a potentially lucrative recreational market, with some estimates predicting the market to be worth upwards of $5BN in Canada.
Legalisation of cannabis for recreational use is very much on the table in Canada, and is set to be introduced into as soon as early next year.
Health Canada is currently doing the rounds on the legislation, and a loose framework could be in place by November this year to allow restricted recreational use ahead of the potential full legalisation coming into play next year.
There is no guarantee that either event will happen though, or the market will grow to such a size. Always invest with caution when considering speculative stocks such as MMJ, and consider your own personal circumstances and risk profile before investing.
It is expected, however, that Licensed Producers (such as MMJ) will have a significant first-mover advantage in the space as early market suppliers – after all, they have their supply chains set up to produce on a mass scale.
According to Canada's Financial Post in writing about the recreational scene: "there are currently about 35,000 to 40,000 patients enrolled in Health Canada's medical marijuana program. The total market is worth perhaps $80M to $100M."
If recreational marijuana becomes legal, the potential customer base suddenly runs in the millions, and that is why the figures around the size of the recreational market start to become very high indeed. Dundee Capital Markets analyst Aaron Salz figures the market would then be worth up to $5BN.

The pharma market
Bloomberg, among others, have spelled out just how big the marijuana industry is right now. By focusing on the market caps of different companies separated by sector, you can see how the Pharma/Research market dominates:

So, the pharma/research sector is attracting a lot of investment and value – and this is a sector in which MMJ is very much a part of.
You can read about MMJ's full value chain in our previous articles MMJ now licensed to grow medical cannabis ; MMJ set to boost medical cannabis capacity by 1000%? ; Green light for medical cannabis in Australia: MMJ has first mover advantage ; MMJ's medical cannabis pill performs better than $A1.2 billion capped competitor .
You'll know having read these articles that MMJ's pharmaceutical game is strong.
The pharmaceutical arm of the business is being run out of MMJ's therapeutics subsidiary in Israel. The company has already released a CBD pill as a food supplement, but also under development (with clinical trials about to begin) is a CBD-based pill aimed at helping those with intractable epilepsy.
Roughly 100,000 children in the US suffer from the ailment and about 30% of drug therapies on the market are ineffective.
Luckily earlier this year, Phase I clinical trials on MMJ's CBD capsules demonstrated encouraging results versus giant GW Pharmaceutical's spray product – Sativex®.
What the below chart shows is that MMJ's pill releases more of its active ingredients quicker than GW's.
Just as a reminder, GW has a market cap of around £1.55 billion ...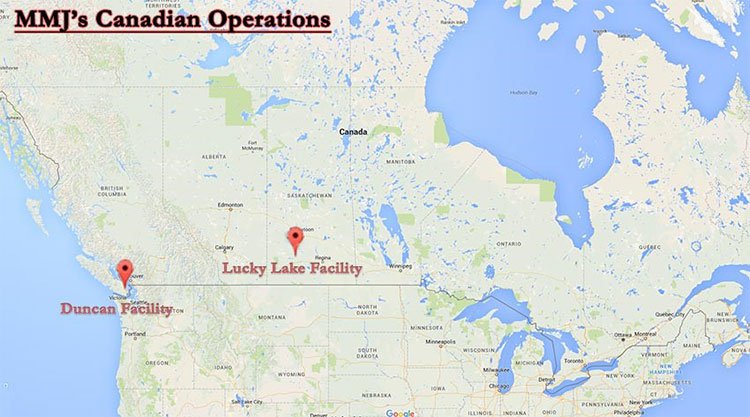 Suffice to say, a Phase II trial recently announced for Q4 could act as a major kick off point for a drug which has already proven to have positive characteristics against a major competitor in the space.
MMJ also recently announced a Phase II trial on a CBD-derived drug to treat spasticity related symptoms associated with multiple sclerosis patients .
It's simply firing on all clinical fronts right now and one of MMJ's major advantages is in the size of its growing facilities – which can be used to assist in those all important clinical trials.
Boosting production
In late June, MMJ bagged itself a license to grow medical cannabis at its state-of-the-art Duncan facility in British Columbia.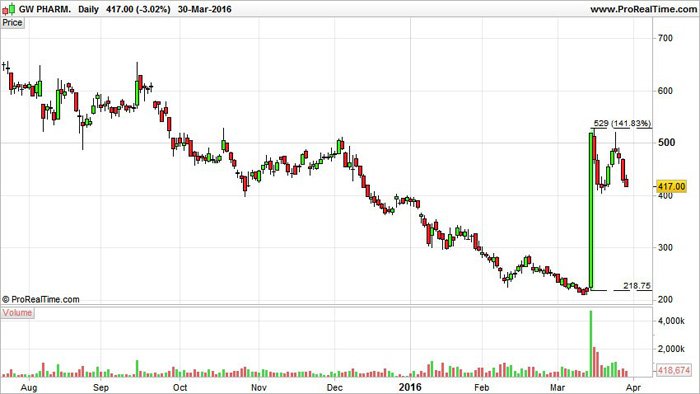 It means that MMJ is one of only a select few companies around the world to cultivate commercial quantities of cannabis in a federally regulated system.
In fact, of 1200 applications made to the Canadian regulator, 1000 have either been withdrawn or rejected.
Only 32 licenses have been granted since July 2013 – meaning MMJ is one of the few companies allowed in the game and certainly the only Australian-listed company given a license.
So, with license in hand, it went ahead and pulled off another game-changing deal.
MMJ signed a letter of intent with the Cowichan Tribes to lease 13 acres of land right next to the Duncan facility. While the lease is still under negotiation, the extra land is slated to be used for cultivation.
MMJ has agreed to pay Cowichan Tribes CAD$1000 per month until the expiry of the option agreement on 1 June 2017, or the entry into a lease agreement.
MMJ will also work with Cowichan Tribes to identify any employment opportunities at current or expanded operations for Cowichan community members.
Here's the headline: MMJ estimates the extra land could support up to 10 acres of greenhouse production space per year – or an extra 25,000kg of cannabis production.
That is 25 times MMJ's current production capacity .
Investors should note that it's only a letter of intent at this stage, and there is no absolute guarantee MMJ will be able to expand its production like this. Always invest with caution and do your own research when looking at speculative stocks such as MMJ.
The land has been vacant for several years, but was previously used for commercial greenhouse growing operations – and MMJ is borrowing from a well-established playbook here.
The $235M capped Aphria Inc. (CVE:APH) and Tweed Farms Inc., for example have followed this path.
The former has a 350,000 sq. ft. greenhouse in the heart of the Niagara region.
By adopting this approach, MMJ expects capital costs to be much lower than with traditional indoor cannabis cultivation facilities.
Should the deal come off, MMJ would be able to boost its production and tap the rapidly growing US and Canadian markets right when they're starting to heat up.
We've spoken a lot about Canadian regulations and the recreational market there thus far, but let's not forget it's not just Canada where medical cannabis is starting to gain traction...
South of the border
Legal cannabis sales are set to hit $7.1BN in the US this year on the back of a relaxation in regulation surrounding medical cannabis use.
Considering both the medical and recreational market is tipped to be worth a staggering $40BN , it's a sector that's growing every day.
In fact, medical cannabis in the US has become so popular that the pharmaceutical sector is starting to go after it lock, stock.
According to a study released in the Health Affairs journal , a causal link has been found between the level of legalisation of medical cannabis and the lowering of prescriptions for drugs.
The study found that in the 17 states with a medical-marijuana law in place by 2013, prescriptions for painkillers and other classes of drugs fell sharply compared with states that did not have a medical-marijuana law.
This chart published by the Washington Post shows that the drop is stark.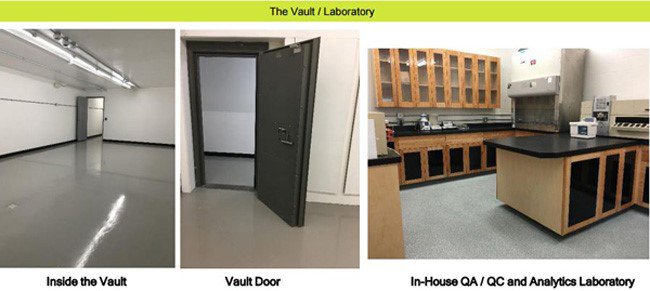 In states where medical cannabis was legal, the average doctor prescribed 265 fewer doses of anti-depressants each year for instance.
Cue big pharmaceutical companies doing things like funding research of anti-cannabis academics, and funnelling cash to groups which oppose medical cannabis.
The message here is that the medical and recreational market has some serious momentum in both Canada and the US.
What a great time to be taking your production to a whole other level...
The final word
MMJ has clearly identified a market opportunity here and has started to go after it with ferocity.
It knows that it has a historic one in a generation opportunity to chase a first-mover advantage in a sector which could be anything.
The medical cannabis sector has been growing at an enormous pace, but should the recreational market also be opened up – who's to tell how big this market could become.
It's not hard to see the cannabis sector becoming as big as the alcohol sector.
Conservative estimates put the recreational market at $5B to $10B, meanwhile Canadians will spend $21-$23BN on alcohol this year, while public beer brewing companies trade at 2.0x – 6.0x revenue.
With TSX listed medical marijuana stocks increasingly gaining the markets attention, MMJ appear to be armed with the complete package, and on the cusp of something big.
---