Cannabis Gets Cosmetic Makeover: ASX Shell with Imminent Acquisition into $270BN Industry
PUBLISHED: 11-11-2015 09:54 a.m.
If you think cannabis is only about getting high, think again.
This is an emerging industry, already with a multi-billion dollar reach and in which major US funds, high net worth investors and businesses are heavily invested.
But you can actually trace the history of commercial cannabis use back thousands of years.
From 5000 to 3000 BC the Yangshao economy in China was cannabis-driven. Archaeological evidence shows they wore hemp clothing, wove hemp, and produced hemp pottery.
In Egypt as far back as 2000BC ancient scrolls depict cannabis used as medicinal plants and was first documented to treat sore eyes and cataracts.
Fast forward to 1799 when the Emperor Napoleon got in on the act and brought the plant back to France from Egypt to investigate its pain relieving and sedative qualities.
Before it became a prohibited substance in the early 1900s, cannabis enjoyed 5000 years as a therapeutic plant of choice.
Today, the tide seems to be turning again, and as regulations across the globe open up, a medical cannabis market has emerged, with fast moving investors quick to take a position in agile companies ready to gain early market share.
Recently we were introduced to a company just weeks away from listing on the ASX, with a big point of difference.
Although this company has long term ambitions to create full Cannabis based Pharmaceutical Products (Cannabis based medicine), their first steps on this road is in the $270BN cosmetics industry.
In fact, you can already find cannabis extracts in shampoo and conditioner.
That's because these particular extracts only contain trace elements of THC, which for lighter, less intensive cosmetics, makes the path to regulatory approval less strenuous and speedier.
But what we really like about this company is that back in June it became the first ASX-listed vehicle to sign a €40M (A$62M) wholesale CBD offtake agreement , from its first CBD production in mid-2016.
Now, as a junior player in this market, we do suggest you do your research before considering this stock as an investment.
This company is scheduled to list on the ASX via a reverse takeover of an existing shell company on 16 November.
The company recently raised $2.7M and is now funded to fast track the process to complete the acquisition – and there are likely only a few more days before this shell trades before going off market...
The company has forecast first production and revenues for 2016, so who knows, you may soon be seeing their products in the cosmetics section of David Jones and Myer...
The big question is how high can this company go?
Introducing: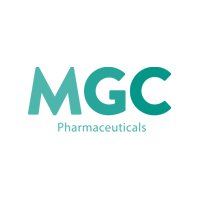 Erin Resources

ASX: ERI
Soon to Become

Erin Resources (ASX:ERI) is a former gold explorer that has turned away from commodities exploration, to focus on commodity commercialisation of an entirely different sort.
Courtesy of an imminent reverse takeover (RTO) of medical cannabis and cosmetics company MGC Pharmaceuticals, ERI will move into supplying high grade cannabidiol (CBD) – the non-psychoactive element of Medical Cannabis.
The stock is trading as ERI now, and we expect the company will soon go off the boards and re-appear as MGC once the acquisition is finalised by mid-November.
As CBD is the non-psychoactive element of cannabis, it is attractive to commercial operators, particularly those in in the US$270BN cosmetics industry .
Scientific and clinical studies indicate that CBD could be effective in easing symptoms of a wide range of difficult-to-control cosmetic and medical conditions, including: rheumatoid arthritis, psoriasis, diabetes, alcoholism, PTSD, epilepsy, antibiotic-resistant infections and neurological disorders.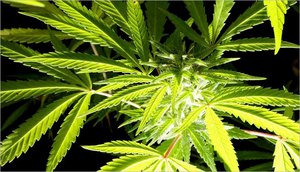 Back in May, ERI signed an option to acquire 100% of the issued capital in MGC Pharmaceuticals. The Company has since announced it exercised the option on 26 August 2015 for consideration of:
US$25,000 option exercise fee;
200,000,000 ordinary shares; and
100,000,000 performance shares that will convert to ordinary shares on generation of first revenues from sales of a commercial volume of cannabinoid resin or products.
ERI also has cash on hand after completing a successful capital raising of $2.7 million through options underwritten at $0.02 a share.
The company is thus funded to fast track its completion of the acquisition and commence operations.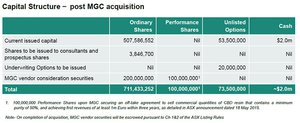 ERI can move quickly, and it has.
With global legislation towards cannabis use softening, whoever can grab a piece of the early action, has the best chance of establishing a dominant, long-term market position.
We've seen this before.
Here at The Next Biotech , we have already covered an ASX-listed company operating in the medical cannabis industry – MMJ PhytoTech (ASX:MMJ), and you can read about that company in the article Medical Cannabis First Mover: MMJ to Accelerate Australian Roll Out . MMJ focuses on developing medical cannabis products to be used directly in pharmaceuticals – and both ERI and MMJ offer significant potential in very large, yet different markets.
ERI is taking a different approach to MMJ by first focusing on cosmetics with high claims supports, and then leveraging the company to be the leading supplier of GMP (Good Manufacturing Practice) CBD to various industries, all the while engaging in a global agenda of research and development for CBD based Medicine.
MMJ listed on the ASX early this year to a rapturous reception and quadrupling of its share price on listing.
The past performance of this product is not and should not be taken as an indication of future performance. Caution should be exercised in assessing past performance. These products, like all other financial products, are subject to market forces and unpredictable events that may adversely affect future performance.
Can ERI repeat a similar feat when it re-lists as MGC Pharmaceuticals on 16 November?
ERI appeared on our radar because it's entering a market brimming with long-term commercial opportunities, generated by its world class management team and their industry contacts – you can find out more about this Company's team below.

Once the world rediscovers just how effective cannabis extracts can be, it's likely only a matter of time until cosmetic giants like Avon, L'Oréal and Estee Lauder step in to corner the market.
Could ERI one day be a takeover target for a cashed up cosmetics company with its early mover business model?
Of course, this is no guarantee though, and ERI is a speculative stock – it is best to seek professional advice before considering your investment options.
Why the shift in perception?
It seems businesses and legislatures have come to term with the fact that cannabis has properties that are commercially viable, socially acceptable, and therapeutically valuable.
In Australia medical cannabis is currently undergoing a conscious shift:

The end result is that Australia is quickly becoming a high growth market for medical cannabis with some reports claiming CBD-based medicines will be available in Australia as soon as next year .
ERI's plantations will be operational 24/7
Earlier this year, MGC (ERI) became the first Australian registered company to gain permission to grow, process, import and export an unlimited quantity of Cannabis Sativa L (hemp) and its products.
ERI followed this up by announcing plans to fast track commercialisation in Slovenia.
ERI plans to grow and extract CBD all year round which means having two sites, one above the equator in the Northern hemisphere and one below, in the Southern hemisphere. This will allow 365 days of production.
This aspect alone is expected to boost ERI's cash flow because each growing site can handle multiple harvests each year, and with coverage of both hemispheres, seamless supply can be ensured.
Why Slovenia?
In Slovenia it is legal to grow and extract Cannabis Sativa L , operating costs are low and the location is not far from the economic heartland of Europe, a huge market for ERI.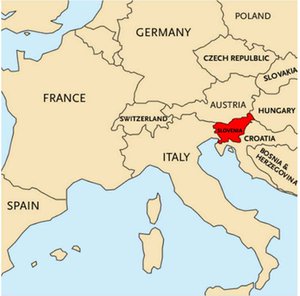 Slovenia will be the site for ERI's maiden crop, expected to be harvested in mid-2016.
ERI expects to break even within 12 months on the back of revenues in excess of $10M from first year sales.
ERI's other potential plantations will likely be located in Namibia or Australia and will be brought online in 2016, ready for harvesting in 2017.
Focused on quality and able to deliver quantity
ERI has a three-pronged strategy for making its medical cannabis business commercially viable.
Firstly, it is to take control of the entire supply chain including growing, harvesting and processing.
Secondly, it is to produce a unique strain of CBD that is of better quality compared to its peers, this is by adopting and adhering to a high level of QC and QA – pharmaceutical standards.
And thirdly, it is to grow all year round in open-air plantations which are more cost-efficient than indoor growing facilities that require additional capital expenditure on climate control.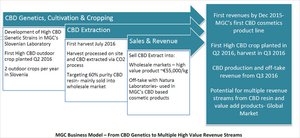 The good news is that ERI's veteran team has managed to garner an edge for this soon-to-be ASX-listed grower.
ERI holds unique genetics consisting of an exclusive strain of 'Cannabis Sativa' which comprises of very low THC content below 0.3% and a very high CBD content above 10%.
Just to put that in perspective, the highest CBD concentration currently being achieved in the industry is around 2%.
Cannabis Sativa is otherwise known as an Active Pharmaceutical Ingredient (API).
An API's grade compounds are products that other pharmaceutical companies buy – these are highly valuable and are traded at prices upwards of $350,000/kg...
ERI's plan is to ultimately become a self-funded product developer and distributor of APIs.
With a superior product in its corner, ERI plans to take full commercial advantage...
ERI's cosmetics product range
A full line of more than 50 products are set to be rolled out in the first half of next year including facial creams, eye serums, soaps, toners and cleansing milks.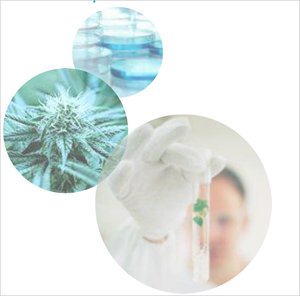 In the interim, while its own plantations are being geared up, ERI will sell a smaller 15 product range amounting to 7500 units by the end of this year, for a total value of $500,000. In order to do this, ERI will source its CBD from other companies while finalising clinical trials of its own products.
ERI has submitted over 50 formulas for the 2 nd phase of product trials (currently ongoing) which includes human volunteers.
After results have been assessed the 3 rd stage of trials requires ERI to finalise its product for evaluation and approval for widespread sale to the public.
ERI expects to have all its trials completed and stamped before the end of 2016, which is great timing because...
...ERI is due to collect its first proprietary harvest in mid-2016 which will enable the company to establish its own supply chain – a major milestone that will likely improve ERI's commercial performance over time.
If clinical trials go to plan, and ERI's harvest comes in as expected, the company will be a fully-fledged CBD supplier in production with an offtake already signed.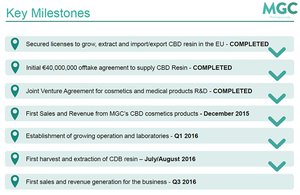 A $62M offtake agreement is already in the bag; ERI just needs to commence production in 2016
Earlier this year, ERI completed a capital raising of $2.7M through a fully underwritten conversion of its listed options. ERI issued a total of 135.5 million shares at $0.02 per share and now has over $2.0M in cash on hand to fast track the new entity towards recording its first revenues.
Considering that ERI plans to produce high grade CBD for use in cosmetics, it stands to reason its cornerstone offtake agreement was with a company that already manufactures cosmetics based on CBD.
MGC Pharmaceuticals became the first ASX-listed vehicle to sign a €40M (A$62M) wholesale offtake agreement for cannabis back in June.
In the agreement, Natura Laboratories will buy a minimum of 300kg of CBD resin per year at 60% purity or above, for a minimum of four years.
Not only can that, but its processing facility in Slovenia can also accommodate produce from other growers which ERI can process for a royalty fee – this effectively adds revenue to ERI's bottom line regardless of its own growing schedule.
At current prices, 1kg of CBD resin fetches around AU$80,000 which means ERI can expect to earn around AU$25M annual revenue from sales. And whilst on the topic of $ per kg – the price of 1kg of gold is around A$70,000. In other words, CBD resin is right now more valuable than gold.
However there is no guarantee this will continue and the prices of CBD may fluctuate.
As part of the offtake agreement with Natura, ERI also entered into a JV agreement with a 51/49 split
An important piece of the supply puzzle for ERI was ensuring its product matched all required specifications and that the final consumer products would be of the highest marketable quality – this where the JV agreement with Natura comes in.
Natura has specific clinical expertise in plant-based chemical products that are developed for the cosmetics and medical industries. Natura already produces a number of cosmetics products for sale in international markets including creams, balms and oils.
The JV sees the two companies dovetailing on a number of elements to ensure high grade CBD is produced consistently, in ample quantities and is then processed correctly to produce the most effective (and premium) cosmetics products possible.
In essence, Natura will offtake all of ERI's produce and manufacture cosmetics which ERI will then sell online and via wholesale distributors.
ERI goes back to school
In another important partnership, ERI will work closely with the University of Sydney Business School on research and commercial opportunities in the Australian medical cannabis market.

The two parties will collaborate to evaluate the business case for hemp and CBD products to be sold in Australia. Through market demand surveys and analysis of the regulatory environment, MGC will be able to determine its level of entry into the domestic market.
This is a multi-year project and MGC will provide appropriately skilled staff to provide the university with the necessary support.
The University of Sydney has a history of high calibre research into different business segments and have projects with multiple partners across Australia and the Asian markets in banking, finance, agriculture and pharmaceutical segments.
Associate Professor Leanne Piggott, Director of Business Education at the University of Sydney Business School, has welcomed the collaboration saying that the development of new treatments for serious medical conditions such as epilepsy and cancer has broad benefits for the community and therefore a clear commercial strategy is required to enter the market and have a positive impact.
The collaboration will begin in early 2016.
The Team
As with all stocks that we cover on The Next Investors , we really do like to see a strong team behind a company before considering it.
With ERI we think this aspect is satisfied quite extensively.
The team has many years' experience in growing, processing, extracting and treating patients across the globe.
Source MGC Pharmaceuticals
Managing Director, Nativ Segev, was the CEO of Cann Pharmaceuticals, Israel's second largest medical cannabis company, with over of 1500 patients' cared for with medical cannabis every month.
Nativ led Cann Pharmaceuticals from the start-up stage through to a fully commercial profitable company.
Something he is looking to do again with MGC Pharmaceuticals.
As part of its operations, Cann Pharmaceuticals was involved in several studies and research projects, one of them a clinical test (Helsinki) on 75 kids from age of 9 to 16 with severe cases of epilepsy, which gave Nativ a taste for patient interaction and a focus for future pharmaceutical solutions derived from Cannabis.
MGC's head of Agronomy, Elad Segev, has years of experience growing medical cannabis around the world – under the most adverse of conditions. Bringing him to bear on Agronomy and Production ensures a consistent quality product and will enable us to maintain multiple grow sites in the future.
MGC's CTO, Roby Zomer, brings a wealth of experience from the Biofuels and Extraction fields, ensuring standards for Agriculture, Manufacturing and Laboratories Protocols are at pharmaceuticals level as other medicinal industries, focusing on achieving GMP and GAP accreditation.
The recent appointment of renowned cardiologist Dr. Ross Walker to lead the strategy and the newly established Strategic Advisory Board adds enormous credibility to the cause. Dr. Walker brings significant medical experience, media savvy and research experience.
His leadership will be invaluable and he has already commenced investigative studies into opportunities within Australia following the recent regulatory shift by the Federal government and Victoria to introduce laws to license growers. Dr. Ross will be responsible for working with regulators with the intention of establishing MGC as a licensed producer and distributor of medical cannabis to the local market.
His appointment begins on execution of the re-listing on 16 November.
The other key element in the team is Natura's Dr. Oded Genin.
The JV agreement with Natura brings his expertise to the fore and will help MGC develop premium cosmetic and dermatology products, given his past roles as Head Chemist at cosmetics giants Proctor & Gamble, Wella, Kordan Group and Elizabeth Arden.
ERI has formulated a strong executive team and established a solid partnership with Natura which includes mutual product development, an offtake agreement and future co-operation on improving the Company's cosmetics products.
One of ERI's specialities is a product that alleviates symptoms of Psoriasis
One of the biggest markets for CBD-based cosmetic products such as creams is the treatment of psoriasis.
Psoriasis is a chronic, autoimmune disease that affects the skin in a similar way to Eczema and currently, it is the most prevalent autoimmune disease in the U.S.
As many as 7.5 million Americans have psoriasis with a further 125 million around the globe (and growing). And that's just the cases that have been reported. Many people suffer from psoriasis and either do not report it or don't even realise they are affected.
This trend could soon change.
ERI has just completed the first stage of testing on its CBD based skin care formula, which has demonstrated excellent results in Psoriasis sufferers.
The results show that: in 93% of cases a visible improvement to the skin condition and over 70% sustained the improvement for up to 87 days after their last treatment.
The next stage of testing will commence shortly ahead of the final testing phase in Q1 2016.
This is being developed in addition to 15 CBD based cosmetic products set for commercial launch in over the coming months.
It forms a key part of ERI's forward plans to produce over-the-counter-products.
How high can the medical cannabis industry go?
The market for medical cannabis is like a loaded spring that's been kept down for far too long.
Despite being a burgeoning market, liberated by the removal of strict government regulation across the globe, medical cannabis is already worth $2.7 billion per year, estimated to top $14 billion a year in the US by 2020 before reaching $US500 billion a year globally once fully mature according to data from ArcView .
Combine this with the $270BN cosmetics sector, where MGC hope to make its mark before entering the pharmaceutical market, and you have a pretty powerful business plan. The cosmetics market is where MGC will make its first play by launching 50 products in the first half of 2016.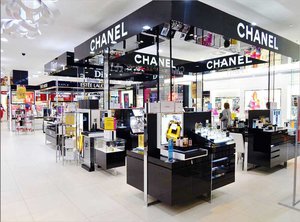 So how high can the medical cannabis industry rise?
At the moment, the US retail market for hemp based food and health and beauty products is estimated to be in excess of US$600 million in 2014 and growing at a rate of 25% per year.
As more states see the benefits of legalisation as opposed to criminalisation, we could potentially see these numbers rapidly grow.
And it won't just happen in the US.
In Australia, CBD was recently reclassified by the Therapeutic Goods Administration as a Schedule 4 substance , which opens the door for legislators to approve the right to produce medical cannabis in the coming months.
Marijuana myth and the cannabis reality
The age-old stereotype of new-age hipsters using marijuana to get high is simply outdated.
Nowadays, medical cannabis is about geo-engineering, agriculture, chemistry and economics.
ERI has put together a timely business that is leveraged to one of the most rapidly expanding market niches out there: biotechnology from medical cannabis.
ERI is an early mover in this space and due to its imminent RTO in just over a week's time will make its first foray via cosmetics and will then over time develop and add a wider range of CBD products including prescription-grade products that have yet to be developed and trialled.
Cannabis derivatives such as CBD and THC have excellent track records of treating a wide range of ailments without any side-effects or negative consequences – which means that eventually, people are more likely to turn to CBD creams rather than oral pills for the treatment of skin ailments and non-life threatening autoimmune/allergic conditions... and ERI will be front and centre to profit from this.
The US, Europe and Australia are slowly changing course with CBD products already on sale in 23 US states and likely to hit Australian stores sometime in 2016.
Anyone looking for a market sector that has true blue sky potential, medical cannabis with its wide ranging benefits in both medicine and cosmetics could be it as it is now being discovered after spending decades in government dungeons.
With the legalisation bandwagon now in motion, commercial opportunities opening up and people chomping at the bit for pain relief , ERI's reverse takeover of MGC Pharmaceuticals may just help investors find a high they've long been waiting for.
---