CDY Sales Up 72%: $100M Revenue Targets in Place
PUBLISHED: 14-09-2016 10:48 a.m.
Calendar year 2016 will go down as a dynamic period of growth in the life of Cellmid (ASX:CDY), a revenue generating life sciences company with lead programs in multiple disease indications and a consumer health business which has just come into its own in the last 12 months.
In fact since April, CDY has hit milestone after milestone and has thus seen its revenue growth jump by a healthy 60% to a total overall revenue figure of just over $4.5M in FY2016.
The most significant growth is coming from its consumer health division in Japan, with the burgeoning Australian division also increasing in numbers and a US distribution deal in July that is expected to accelerate sales of its hair loss products in FY2017.
Here's just a small snapshot of what CDY has achieved this year:
Record monthly sales for Advangen Japan of $575,000 in April
Launching the evolis® Professional salon range in Australia in June
New publication on CDY's antibodies in bone healing
Being featured on PharmaTelevision, the largest online industry channel
US distribution partnership for the evolis® hair loss products
Increasing sales by 72% in FY2016
Remember, however, that CDY is a small company and a speculative investment. This article should not be the sole influence of your investment decision in this stock. Seek professional financial advice for further information.
Based on its milestones and projected revenues, there is speculation that CDY's income could double next year. This is being fuelled by the company's ability to increase revenues before even launching into partnership with Colour Collective, a specialist in the launch of high-end hair brands in the US.
Part of Colour Collective's attraction to CDY was due to CDY's competitive advantage in the hair loss market: its products are formulated not just for men but women as well, effectively addressing another 50% of the market that currently isn't serviced by CDY's competitors.
Investors have recognised that CDY is a growth story in the making and the 25% increase in its share price since the start of the year is evidence of their interest. In the last six months, as important commercial developments have been achieved in the consumer healthcare business, CDY's share price has increased more than 40% while the S&P/ASX 200 healthcare index (XHJ) has only gained 10%. Have a look at the chart below and you'll gain insight into the current and potential trajectory of the company:
The past performance of this product is not and should not be taken as an indication of future performance. Caution should be exercised in assessing past performance. This product, like all other financial products, is subject to market forces and unpredictable events that may adversely affect future performance.
It is worth noting, however, that a retracement has occurred since July, creating an opportunity for investors.
This could be a sign of a possible re-rate, particularly given the potential for share price catalysts such as domestic and international expansion in its consumer health business.
Looking forward, CDY hopes to build a substantial salon distribution network of 1000 pharmacies and 400 salons by June 2017, build substantial distribution in the US and commence e-commerce sales, while launching other direct to consumer channels in 2017.
All in all CDY will be targeting $100M in revenues in the next five to seven years.
How will it do this?
Let's volumise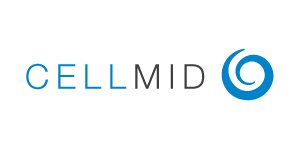 Cellmid's (ASX:CDY), wholly-owned subsidiaries develop and market innovative novel therapies for fibrotic diseases, cancer, diseases of the heart and hair loss. The Company also has a large portfolio of diagnostic assets that it has been out-licensing since 2009. Once of these licenses has started to generate royalty revenue.
Here is a snapshot of the business structure: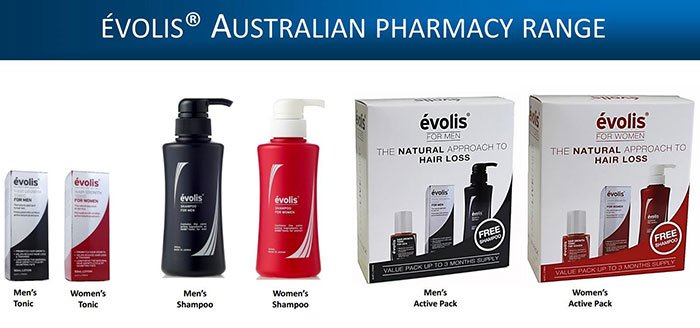 As indicated above though, it is the consumer health division that has been under the spotlight in 2016 as important developments have occurred throughout that business. The range of FGF5 inhibitor hair growth products owned and marketed by Advangen are category leaders; they are the first clinically validated topical hair growth products in 30 years. The Japanese subsidiary, Advangen Inc. (Japan) business, became profitable in FY2016, only two years after it was acquired by Cellmid.
Advangen Inc., has also generated record monthly sales of $575,000 in April and has continued its strong growth since. The overall sales growth was over 90% in the Japanese business.
The growth has been the result of sales through global online shopping network QVC (incidentally a company which is worth $9BN and generates billions of dollars in revenue) hair salons and private-labels with very apparent improved profitability.
The company will soon also open a trademark evolis® concept store in Tokyo.
In a canny move, CDY has also used the power of commercial television – beyond the shopping channels – to create awareness around its Advangen products, most notably evolis®. Here's Australian acting stalwart Paula Duncan talking about how evolis® has helped with her hair loss experiences.
And here's the panel on Studio 10 discussing evolis®, in what can only be described as a brilliant showcase for the evolis® range of products. It's an older ad, but it gives you an indication of just how well this product is being marketed.
CDY's consumer health division is expected to generate significant sales growth in the Australian pharmacy and salon market, while its e-commerce strategy should assist in boosting sales in China.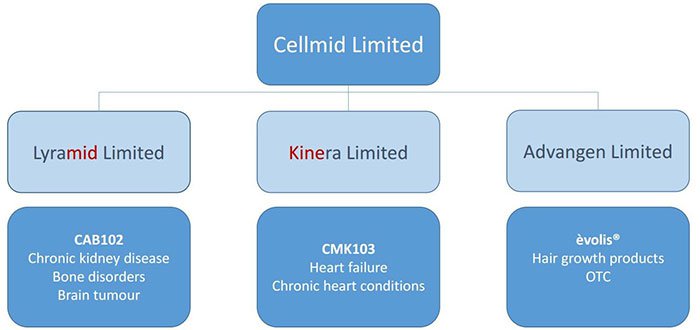 Arguably the most important development occurred in July when the company signed a distribution agreement with Colour Collective with a view to exploiting the US$3.5BN USA hair loss market.
The colour of money
The deal with Colour Collective was signed in late July and effectively provides CDY with an accelerated, direct route to the sales channels that have proved successful so far in Australia and Japan including direct access to e-commerce, retail and professional salons in the US with sales to commence in November 2016.
It is important to note here that the US is the single biggest market in the world for hair loss treatments with combined sales of about $3.5BN and that through both men's and women's products, evolis® could fit ideally in this market.
The Colour Collective distribution deal should have a significant impact on group revenues in fiscal 2017, building on the 72% increase in income in fiscal 2016.
Yet it is unclear how much of the US market CDY will be able to capture. As this is speculative, it is important to take a cautious approach to your investment decision.
Hair today, profits tomorrow
Having closed out FY2016 with cash of $2.5M and minimal debt of $700,000 (secured against an R&D tax credit), aside from growing its hair growth products, the company is well positioned to fund trials in its early stage projects, as well as invest in product rollout.
This includes projects for its bio-health and consumer divisions.
Looking at CDY's long-term revenue drivers, the company has a high value drug pipeline targeting conditions such as chronic kidney disease, bone disorders, brain tumours, chronic heart conditions and heart failure.
Just recently CDY had a major breakthrough, when it received a boost with more academic research backing its midkine (MK) antibody's potential in improving bone quality and fracture healing in osteoporosis models.
CDY's MK antibodies come under its Lyramid subsidiary. CDY has filed patent applications covering the use of MK antibodies for fracture healing and restoring bone loss due to osteoporosis.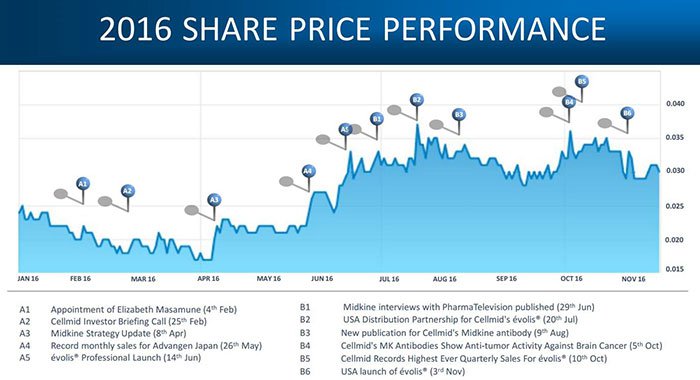 As is the case with most emerging biotech companies, taking these products from trial stage through to commercialisation requires significant funding, but CDY is in the enviable position of having Advangen, the consumer health business that is already generating revenues with the potential to boost cash flow in the near to medium-term.
It also has cash on the balance sheet and is looking at potentially increased income from the consumer healthcare business in fiscal 2017.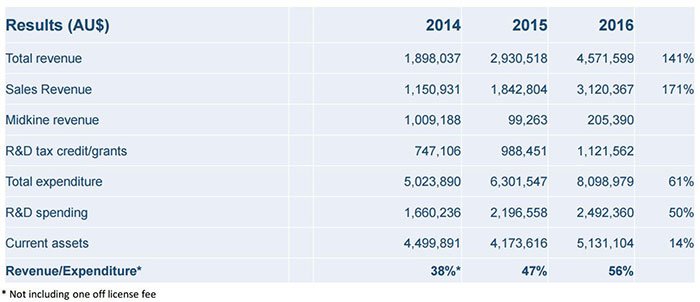 While management hasn't provided quantitative guidance regarding projected revenues in fiscal 2017, there is speculation that revenue could double given that the substantial increase achieved in 2016 wasn't assisted by any contribution from the immediately revenue accretive partnership with Colour Collective, a specialist in the launch of high-end hair brands in the US.
This is speculation at this time and the information should not be used as the sole basis for your investment decision. Apply caution to your decision if considering CDY for your portfolio.
The importance of the group's partnership with Colour Collective can't be emphasised enough given that the group has more than 40 years of combined experience in successfully launching and distributing brands in the US, Europe and Asia for companies such as Revlon and Unilever. Just in the last four years they launched over hair 140 products in the US.
Sales will commence in 2016 through e-commerce channels with distribution to high-end retail and other direct to consumer opportunities to follow.
CDY's advantage
It is important to understand the competitive advantage that CDY has in the hair loss market. Minoxidil based products cater mostly for men and have low efficacy rates, yet they account for more than 50% of the US topical market.
In contrast, Advangen's FGF5 inhibitor hair loss products use a completely novel active ingredient and are formulated for men and women, effectively addressing the other 50% of the market that currently isn't serviced by CDY's competitors.
Comments by Kerry Yates, former Revlon executive and director of marketing at Colour Collective underlined CDY's prospects of achieving exponential growth in the US as she said, "Given that minoxidil based products cater mostly for men, evolis® (Advangen's proprietary hair loss product) has much greater market potential in the hair loss segment alone, not to mention the rapidly growing anti-ageing hair care category."
Yates sees CDY's evolis® as a US$100 million plus brand in the US alone. Importantly, the product has the runs on the board from a clinical perspective with evidence of achieving a 75% reduction in hair loss and a 40% increase in follicle growth. This clinical validation through blinded placebo controlled studies is significant in terms of gaining acceptance in sophisticated markets.
Looking forward
There is much on the horizon for CDY. In addition to its subsidiaries developing potentially high value drugs in areas such as kidney and heart disease, this life sciences company is building global distribution for its evolis® branded hair loss products.
Immediate drivers of sale will be penetrating the US market, targeting $100M in revenue in just five to seven years there.
Meanwhile, it continues to grow sales through pharmacies in Australia, television shopping and salons in Japan and distribution partnerships in other countries.
With the numbers currently stacking up with 72% growth in sales and a jump of 60% total revenue, CDY continues to hit its milestones and is well on track to become a significant player in this $9BN global industry.
---