CPH has a Thirst for Bringing its Branded Cannabis Lifestyle Products to the World
PUBLISHED: 05-09-2018 09:49 a.m.
Creso Pharma's (ASX:CPH) global expansion plans have been given a boost today with the company announcing that it has finalised the branding for its range of cannabis terpenes infused Old Boy Mary Jane beers.
Samples of this Lifestyle cannabis product – being brought to market under the CLV Frontier Brands Pty Ltd joint venture – have already been sent to Europe, Israel and Australia.
It is an opportune time for CPH – which recently listed on the Frankfurt Stock Exchange under the ticker 1X8 – as the popularity of craft beers continues to surge. It will be following in the footsteps of brewing giants Constellation, Molson Coors which are investing heavily in developing cannabis-infused beverages.
Another drinks giant, Diageo, is also rumoured to be entering the field.
In Australia alone the craft beer market is worth $160 million. And there's a growing number of brewers and brewing entrepreneurs looking to add to the 150 plus microbreweries that currently make up that number.
IBIS has forecast that the craft beer industry will grow by 5% over the next five years.
According to a report by Grand View Research, Inc., the global craft beer market is expected to reach US$502.9 billion by 2025 on the back of rising demand for low alcohol by volume and flavoured beer.
Of course how much of this market CPH is able to attract remains to be seen, so investors should seek professional financial advice if considering this stock for their portfolio.
CPH has identified the craft beer market as a segment that could be extremely lucrative. However, craft beer is only one component of its Lifestyle product range.
As it looks to bring its cannabis terpenes infused alcoholic beverages to shelves, it is also shipping its terpene-enriched premium Swiss functional chocolate line to businesses across the world.
In partnership with Felchlin Switzerland, CPH's terpene-enriched functional MÒÁ brand of chocolate line is now in the hands of numerous businesses globally with the aim of bringing products to market by Q4 2018, just a few months from now.
CPH is in the process of discussing partnership agreements to enter the cannabis food and beverage market with several companies across Europe and the US.
Those discussions are expected to lead to partnerships with companies that already have market penetration. So, if it can pull off any of these deals, CPH will be well positioned to capitalise on this growing trend.
Now let's take a deeper look at what CPH has been up to since we last checked in on them in May.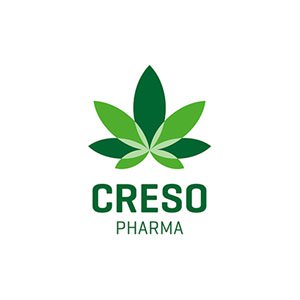 Creso Pharma
ASX:CPH, FWB:1X8
When we last caught up with Creso Pharma (ASX:CPH) in the article CPH Continues to Expand Global Footprint As it Moves Into Israeli Cannabis Market, it had just entered into a strategic agreement with Cohen Propagation Nurseries Limited to operate a medicinal cannabis growing facility in Israel.
The agreement gives CPH access to the Israeli medical cannabis market through high scale production greenhouses and operating farms with a total greenhouse capacity of 15.7 hectares.
Leading up to that JV, CPH was putting in place deals that have a direct impact on the announcement today that it is preparing to launch its cannabis infused Lifestyle products.
Those deals include:
The company has been preparing for this launch since June, when its partnership with LGC Capital and Baltic Beer Company Ltd, known as CLV Frontier Brands, had its first products ready for commercial launch.
Here's a look at CLV's brewing facility in Estonia: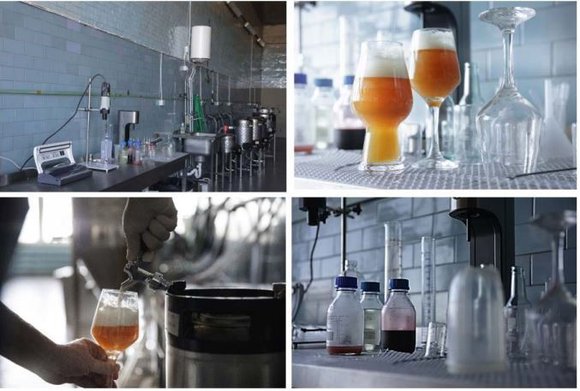 This is a state of the art R&D brewing facility that is being used to develop a range of beers and adult soft drinks. Once the drinks are ready to go to market, they will do so via CLV's brewing and bottling partners.
The first brand of the beers to be released is Old Boy Mary Jane.
An 'Old Boy' gets a lease of life
Given the global shift in sentiment towards cannabis-based products, consumers are becoming more and more comfortable with the idea that cannabis-infused food and beverage could in fact be a tasty treat.
Following legalisation across some US states and in Canada, several of the world-wide leaders in alcoholic beverages, including Molson Coors Brewing Co and Constellation Brands Inc. are investing heavily in developing cannabis-infused beverages.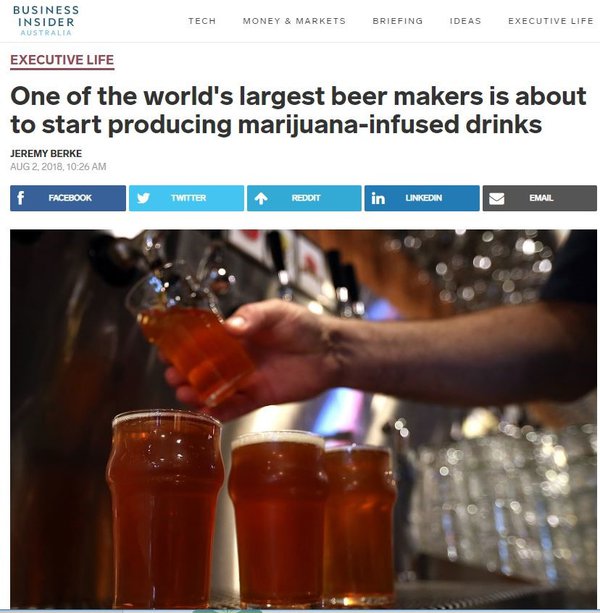 Diageo, one of the largest brewers in the world, is also rumoured to be entering the field. Diageo is responsible for brands such as Johnny Walker, Smirnoff and Guinness, so they know a thing or two about building a successful alcohol brand as well as tapping into market sentiment.
News of Diageo entering the cannabis drinks market via a potential joint venture with three Canadian cannabis producers had a positive effect on marijuana stock prices.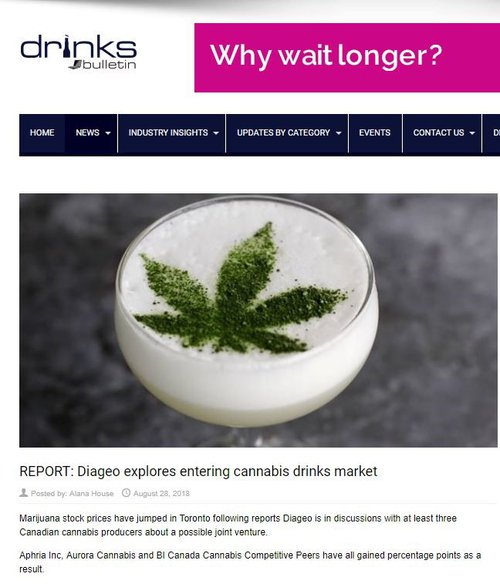 CPH, through CLV Brands, is looking to capitalise on this sentiment.
CLV Frontier Brands already has widespread commercialisation reach across numerous continents and intends to make full use of the networks of all three companies belonging to the JV for marketing and distribution.
Of course this will be done strictly in compliance with all local and international laws.
CLV is in discussions for distribution deals in Canada, where the interest in Diageo's move into the space is proof alone that a large consumer base with appetite for cannabis derived products exists.
This market will increase further once cannabis legalisation in Canada takes effect in October 2018.
Canada isn't the only market that CPH through CLV is tapping.
With branding finalised for its Old Boy Mary Jane beer, samples have also been sent to Europe, Israel and Australia.
Here's a look at the Old Boy Mary Jane website: obmj.beer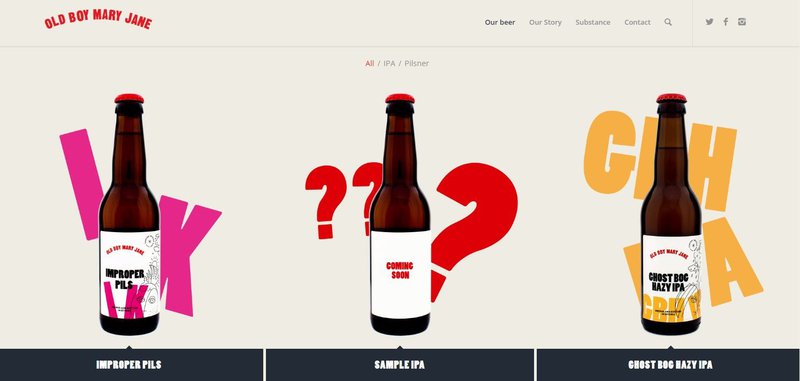 CLV Frontier Brands will launch its premium beverages in the United Kingdom on 2 October in conjunction with the London Boutique Bar Show (www.boutiquebarshow.com) which exclusively promotes new and high-quality drinks brands to the UK industry. The launch will be followed by a range of social media campaigns run by Rumpus PR in the UK. The PR company will take care of pre and post launch activity to ensure organic growth and awareness for the Old Boy Mary Jane brand.
CLV Frontier Brands will partner with Flagship Brands in the UK. Flagship Brands understand the UK market and have worked with various alcoholic drinks brands over the years, which should give CLV, not just a leg up in the industry, but a big advantage as it sell this new line of products to what is expected to be a highly receptive audience.
CLV will also launch OBMJ at the key beer show Bar Convent Berlin (www.barconvent.com/de) 8-10 in October which provides excellent exposure to the European bar scene.
Just remember though that CPH does remain a speculative stock and caution should be exercised when considering it for your portfolio.
CPH also tapping the sweet tooth
It's not just beer that is on CPH's radar. CPH has also entered the high-growth functional foods space which could also provide lucrative opportunities for more cannabis-infused products.
Think about this for a moment: in California 10% of total cannabis sales were edibles, which equates to over $180 million in sales.
It's not just a Californian phenomenon. Headlines such as this one below tell a broader tale:
Broadly in America, the non-flower edible market is estimated to be worth at least $3 billion, with sweets, drinks and baked goods making up 15% of that figure.
Here's an infographic produced by grizzle.com that looks at why profitability of edible oils and baked goods surpasses flowers: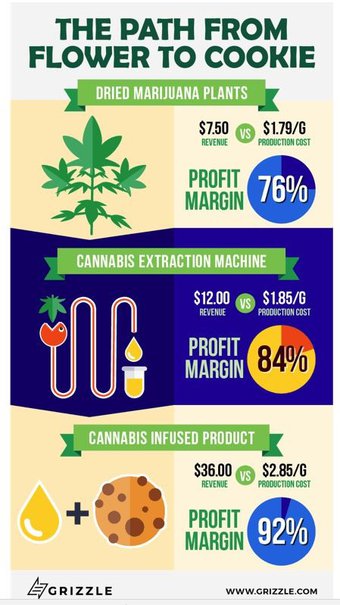 CPH's entrance into this market is via its Swiss premium functional chocolate products:

These are ultra-premium Swiss made chocolates that contains various cannabis terpene mixes. For those who don't know, a terpene is a fragrant essential oil that gives cannabis its distinct aroma and signature.
In partnership with Felchlin Switzerland, Creso's terpene-enriched functional MÒÁ line of chocolate brands is now in the hands of numerous businesses globally with the aim of bringing products to market by the fourth quarter of 2018. Felchlin is a high and genuine Swiss chocolate producer and operates in line with CPH's quality standards.
It should be noted that the terpenes CPH is using in the new chocolate products will carry the characteristic odour and fragrance of cannabis with the same taste and feel — but will not contain THC or CBD or any other cannabinoids.
Speaking of sweet products, CPH is also working on its first adult soft drink range also with the Baltic Beer Company, which will comprise a selection of juice-based drinks also containing various terpene blends.
Once recipe testing is completed, a newly created brand called GYPSY will be launched, with Gypsy Sparkling Water, Gypsy Adult Soft Drink and Gypsy Tonic Water to be launched shortly.
A quick note on cannaQIX®
Whilst this update is predominantly about CPH's Lifestyle range of products, it's worth a quick update on its Nutraceutical product line, namely cannaQIX, which is designed to help reduce stress and support mental and nervous functions in humans.
The nutraceutical market is the other market CPH has been heavily targeting lately. The global nutraceuticals industry now exceeds US$200 billion, so it's not hard to see why.
But again, it is difficult to determine how much of the market CPH will attract, so seek professional financial advice if considering this stock for your portfolio.
Back in early August, CPH strengthened its market position in Israel and the Middle East by signing a commercial agreement with SuperMedic (a sales and marketing organisation for food supplement products) to launch and commercialise its cannaQIX range of products.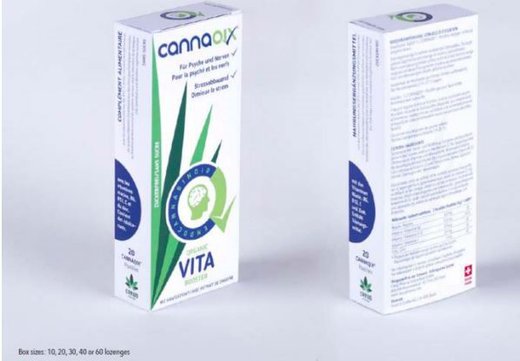 cannaQIX comes in a unique proprietary delivery formulation that contains organic, full spectrum hemp extract with CBD, vitamins and zinc. It is a safe and effective food supplement with broad market appeal that doesn't require medical prescriptions.
Following its commercialisation agreement in Israel it signed a further commercial agreement with Dr. A. & L. Schmidgall GmbH & Co KG of the Hedoga Group to commercialise cannaQIX in Austria and Northern European countries.
Through this agreement, CPH is in the box seat to fulfil its mission of expanding globally, quickly.
Finally, on the cannaQIX front, CPH has strengthened its market position in the UK through a commercial agreement with Pharmacare Europe.
Products will be commercialised under the Pharmacare umbrella brand Naturopathica, laying the grounds for its European presence. Pharmacare covers 10,000 points of sale in Europe alone, which opens doors in itself. However, this group also has touchpoints in Asia and America.
Given the increasing demand for nutraceuticals, CPH expects this to be a highly successful collaboration.
The final word
It is worth having a look at cannaQIX, because it indicates just how serious CPH is at expanding its entire range of product lines.
From Nutraceuticals to Therapeutics, to Animal Health and Topicals, CPH is working hard to commercialise a product range it believes can have a major impact in bringing the best of cannabis to better the lives of people and animals.
Now, as it enters the Lifestyle market with a range of edibles and beverages, it is opening up a whole world of food and beverage products from beer to chocolates that everyone can enjoy.
---