Game Changer? ASX Stock Reverse Engineering Cannabis Plants
PUBLISHED: 02-07-2019 10:02 a.m.
How do you create a virtual plant?
That's the question one ASX-listed, Israel-headquartered company asked itself and it looks to have the answer.
This life-sciences company is commercialising a first-of-its kind plant profiling technology used to reverse engineer rare or high value plants.
Its current focus is cannabis plants. The company is targeting the cannabis plant for re-engineering, creating a plant that has all the characteristics of the real thing, without the psychoactive and heavily regulated THC compound.
Seems like a great idea, especially at a time when cannabis, or cannabinoids (CBD) to be more specific, is on trend.
CBD market intelligence company, New Frontier, expects the CBD market to be worth $1.2 billion by 2020. That's just six months away and in the US, 25,500 acres were dedicated to growing hemp with 70% of that devoted to CBD.
CBD market intelligence company, New Frontier states: "The US CBD market is primed for expansive growth across its three primary sectors, hemp-derived CBD, marijuana-derived CBD and pharmaceutical CBD. We project that by 2022, each of these three sectors will account for approximately one third of the $1.9 billion total market."
More broadly, Grandview Research reports the legal marijuana market will be worth $66.3 billion by 2025, growing at a CAGR of 23.9%. Suffice to say, there is a lot of money being poured into the cannabis industry including food and pharmaceutical segments, so to be able to deliver an alternative product to market with all the same CBD benefits, but with the dangerous effects, could give a company one serious leg up.
Backed by a strong Research and Development team, the company has been focused on combining its terpene blends with cannabis-derived raw material to produce a variety of end products for a several market segments.
The company is focused on using terpenes, which gives cannabis its unique flavour and fragrance profile, to create products for medicinal purposes along with mass production of consumer products.
The company's products replicate fragrance, flavour and medicinal effects of 10 different strains of cannabis.
Segments include e-liquids, skin care lotions and inflammation lotions, local pain ointments, lip balms and edible sweets.
That's pretty much the growing cannabis market covered and this company already has several distribution agreements in place, with further orders in the pipeline.
It is already an active player in the vaping market (expected to be worth $47.1 billion by 2025) with its e-juice under white label products and today announced that it had received an order for 10,000 30ml bottles of electronic cigarette liquid (e-juice) following a successful test shipment of 500 bottles, which is the first part of a 450,000 bottle order signed in April 2019 – and Year 3 of this agreement is expected to a minimum of 5 million bottles in Year 3.
This ASX listed company has had a tough time on the market since its IPO in 2017, and has been sold down significantly.
However, now the company is gaining some momentum with sales orders, and is currently capped at just $3.2M with $1.7M in the bank as of March 31st, 2019. Which appears to look like a decent entry point given the potential market transforming qualities the company may possess.
Who is the company...?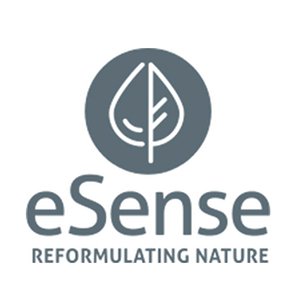 Market Capitalisation: $3.2 million
Share Price: $0.017
Here's why I like this company...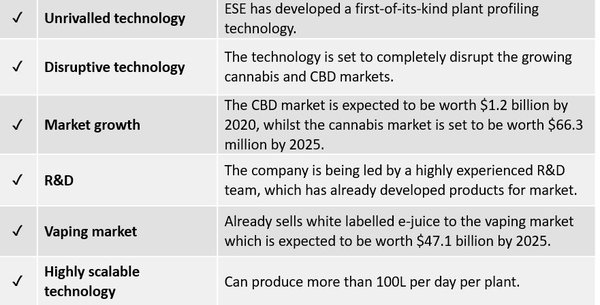 You can see in the chart below how ESE stacks up against its peers in the cannabis space on the ASX – its still relatively undiscovered and if it can string together continued sales momentum it would start growing: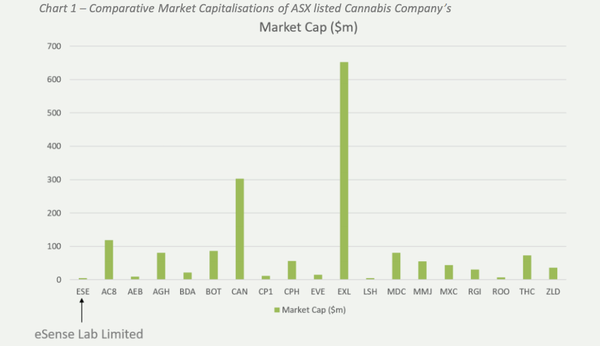 Here at the Next Biotech we wrote extensively about Creso Pharma (ASX: CPH) since that company's IPO – CPH recently got acquired for $122M by a larger TSX listed company.
We can't help but think the $3.2M capped ESE would one day have similar ambitions - once it proves up its business model and gets some runs on the board.
Planting the seeds for change
eSense-Lab Limited (ASX:ESE) is a life sciences company creating virtual plant-based products for medicinal and recreational consumption.
Here's a quick introduction to what the company does:
Its focus is on using terpenes to replicate the effects of cannabis, by taking out the high and leaving the medicinal benefits.
It has been hard at work since listing in February 2017, with its stated aim to "lead the market for re-engineering terpenes from a vast number of plants, and bringing products with medicinal or recreational benefits and great commercial value."
ESE applies cutting-edge technologies and disruptive techniques to reverse engineer rare or lucrative plants. The company deconstructs their chemical profiles and uses alternate natural products to then re-engineer and create the 'virtual plant.'
The result is a line of plant-based products with commercial and medicinal application, viable for multiple markets and mass consumer consumption.
Essentially ESE is using the power of terpenes to create its suite of unique products.
For those unfamiliar with terpenes, they are naturally occurring compounds (classified as phytochemicals) which account for the flavour and fragrance of plants.
Each plant has its own unique terpene profile and play a critical role in the defence mechanism of the plants protecting them from virus, bacteria and insects attack.
Which brings us to cannabis.
Cannabis is known for its various genetic strains comprising different terpene profiles which contribute to the unique aroma of each strain. The reconstructed terpene profile exactly replicates the flavour, fragrance and other desired characteristics of the targeted plant.
This is where ESE comes in as it conducts comprehensive cannabis terpene profiling and through reverse engineering techniques achieves various Cannabis 'virtual plants'.
It's a game changer for several reasons.
Cost reduction is just one benefit. The cost of production for 1 litre of a specific terpene extract can be as high as US$700,000. However, eSense-Lab can reproduce specific terpene extracts at a fraction of the cost (0.2-1%) depending on the plant. Furthermore, it can achieve consistency of products compared to conventional production, whilst standardised products have fewer impurities.
Not to mention, these products are completely legal and being sold in a framework where legislation in favour of cannabis products is just starting to change. So, in a sense, ESE has a head start in the market.
Going to market
ESE is working with a range of different partners to develop an array of CBD products, with 10 formulations already being sold.
Cannabis is the first plant being re-engineered into a virtual plant.
Why?
Well this graphic says it all: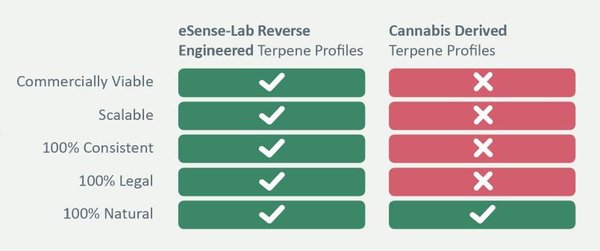 You can see the products below:

ESE will create oils, medicine, topical treatments, e-liquids, beverages, personalised medicine, cosmetics and food additives – such is the power of the cannabis plant.
The company already has agreements in place with third parties and is generating revenues.
Agreements are in place with growers and extraction manufacturers, as well as e-liquid and vape companies and cosmetics and food and beverage companies.
It is the global e-liquid and vape market where ESE is already having an impact.
This market is poised to reach approximately US$32.8 billion by 2021 and should grow to over $50 billion by 2025, equivalent to 10% of the tobacco market.
The following table indicates why the growth in e-cigarettes has been so significant: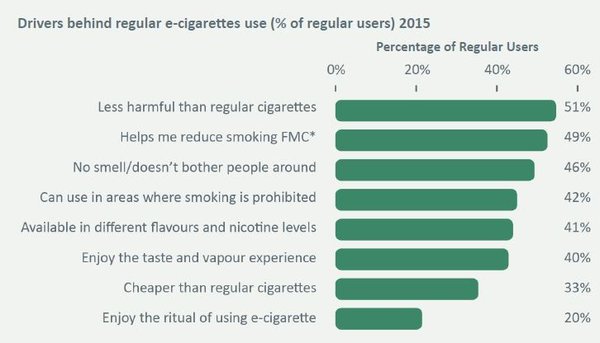 And here's a look at user growth, which is quite substantial:
Which brings us to ESE's latest news.
eSense's sales boost
ESE has received an order from North American partner VaporSpec Inc. for 10,000 30ml bottles of electronic cigarette liquid (e-juice) and follows a successful test shipment of 500 bottles.
The product will be marketed under VaporSpec's white label brand and distributed in the US vaping market.
After receiving and market testing the first shipment of 500 bottles, VaporSpec is continuing to fulfil orders for more e-juice as per the multi-year agreement signed between e-Sense and VaporSpec.
The initial deal was signed in February following three months of negotiations, with Vaporsec agreeing to distribute several different e-juice products in the US and Canada.
The agreement was for minimum annual quantities rising from 450,000 bottles in the first year to five million bottles in year three of the agreement.
However, there are signs that eSense has only just dipped its toe in the water in what is already a huge market.
As stated, the e-liquids industry is a fast growing multi-billion dollar market that is expected to increase by approximately 50% to US$50 billion between 2021 and 2025.
Which is why commercialisation activities with UK based E-Quits are also important.
E-Quits, one of the largest companies operating in the UK e-liquid market, successfully concluded a six month pilot program before agreeing to an additional order of the company's Super Lemon Haze Mix.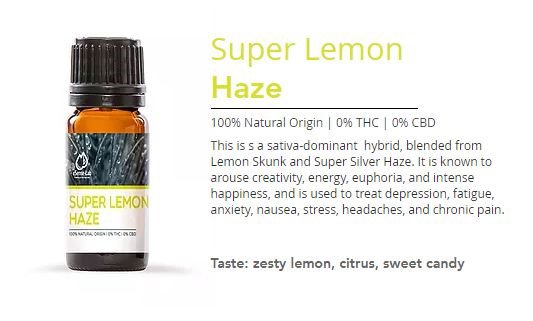 You can see all of e-Sense's strains here.
eSense is making excellent progress on the commercialisation side of the business, following the implementation of a cost rationalisation plan that would streamline corporate and administrative expenditure, whilst reallocating funds to other areas including commercialisation and R&D.
This move has enabled the company to reduce expenditure, whilst focusing on product development which should lead to greater revenues and, in time, profits.
The final word
eSense is primed for growth across the US and the UK, with products already being distributed.
Its R&D team is in full flight and the company is in serious negotiations with cannabis growers, e-liquid suppliers, wellness, cosmetics and vitamin companies.
The world is essentially ESE's oyster in a market that will be worth tens of billions of dollars in the near future.
---