Green Light for Medical Cannabis in Australia: MMJ has First Mover Advantage
PUBLISHED: 04-03-2016 09:24 a.m.
If you haven't caught the news over the course of the previous week, Australia has moved to make the growth of medical cannabis legal and the medical cannabis commercial industry a reality .
Through newly minted legislation, the Federal government has opened up the possibility of a cultivation-to-product business developing on our shores.
It's a panacea for patients, who have often lacked the ability to source key pain-relieving drugs from overseas.
It could also be the final piece of the puzzle to allow MMJ PhytoTech (ASX:MMJ)'s plans to reach the mainstream pharmaceutical industry.
There's certainly a serendipity between current legislative moves and MMJ's advances in this field.
While MMJ has been building an international vertically integrated business, local investors have only caught glimpses of the story.
However with headlines being generated around the country (and around the world) – interest in the medical cannabis industry is starting to boom.
What would a medical cannabis industry look like in Australia?
And what would a company that has just completed a $5 million capital raising at 24 cents per share to institutional investors be able to do with this industry revolution?
MMJ has the potential to be a first mover in the space.
However we should note that MMJ is still an early stage company in a rapidly evolving market, so apply natural caution like you should to any investment.
Indeed, MMJ is moving quickly. Its oral pill has performed very well in its Phase 1 clinical trial , it is on the verge of production in Canada, and late last year it bagged its first wholesale deal for its Satipharm CBD (cannabidiol) pill.
MMJ is full steam ahead now in this evolving medical cannabis environment, with new doors being opened.
Could MMJ provide the blueprint for the medical cannabis industry in Australia?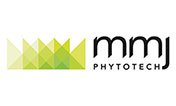 A new legitimacy
Remember the date – 24 February, 2016.
That is when the Australian parliament moved to legitimise medical cannabis in Australia, and nothing is going to be the same again.
The government passed, in quick time, legislation which essentially put Medical Cannabis (MC) into the same class as drugs such as morphine.
It means medical cannabis is no longer classed as an illicit drug; you could actually be prescribed medical cannabis by your local doctor.
It also means patients requiring medical cannabis treatment aren't treated as if they're criminals.
This is a big step forward in terms of the acceptance of the legitimacy of medical cannabis products.
The ability to source products locally is significant – with import from other countries often fraught with complications.
This legislation now provides a framework (although this is yet to be fully fleshed out) for product suppliers to establish operations in Australia.
This means a 'farm-to-pharma' player such as MMJ could theoretically open up shop in Australia.
Health minister Susan Ley said at the time that passing the legislation was a victory for patients who had lobbied so hard for change.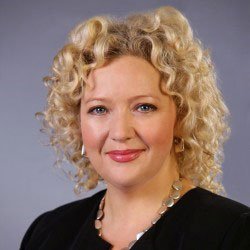 "This is an historic day for Australia and the many advocates who have fought long and hard to challenge the stigma around medicinal cannabis products so genuine patients are no longer treated as criminals," Ley said .
"This is the missing piece in a patient's treatment journey and will now see seamless access to locally-produced medicinal cannabis products from farm to pharmacy."
Ley's comments demonstrate that there is a groundswell of support for medical cannabis products in Australia – enough to influence government policy.
From a market perspective, this also demonstrates a demand for products.
While finding hard and fast stats on how many could benefit from medical cannabis products is a difficult task, the grassroots campaign demonstrates that the market may be huge.
What could MMJ build in Australia?
What's interesting here is that for a company which is listed on the Australian Securities Exchange, MMJ finally has a shot of operating in the local marketplace.
It has operations in Canada, Switzerland, and Israel but has never before been able to operate in its home country.
As an interesting point of note, a Federal Canadian Court is also changing legislation and will amend or replace the Marijuana for Medical Purposes Regulations (MMPR) in Canada within six months.
This will lift the prohibition of personal cultivation for patients with a prescription and free up the limitations to MC access by the MMPR.
MMJ believes this will result in a safer, stronger and more widely utilised Canadian MC system.
As you can see there is worldwide movement. So, what form could MMJ's involvement in Australia take?
MMJ sensed that the regulatory tide was turning in Australia back in October on the back of state-based moves such as that seen in Victoria, New South Wales, and Queensland.
It decided to appoint Piper Alderman to try and unpick the legislation and see what kind of role it could play in the Australian market.
The satisfying thing about MMJ's experience is that it has effectively built global operations across the whole value chain for medical cannabis.
We'll go into depth on its operations later, but having built growing and extraction facilities, medical manufacturing facilities and R&D operations – it is well placed to transplant experience into Australia.
It could set up the whole chain in Australia – gaining a first mover advantage as a vertically integrated player – but more likely it will take small steps at first.
MMJ has said it is thinking along these lines itself.
Talking to shareholders after the federal legislation announcement , it noted that the company intends to explore all available options with an intent to pursue its planned importation of Satipharm CBD capsules for national distribution with an Australian partner.
Its long term view is to broaden its product offering in line with the new legislation.
It's a pragmatic move.
While the company could go the whole hog and try to replicate its overseas experience within the one market – this would likely cost an arm and a leg.
Instead, it's starting out small, being adaptable to opportunities as they arise and then growing when the time is right.
MMJ recently completed a $5 million capital raising at 24c per share to institutional investors.
The fund will be used to accelerate the Company's entry into the Australian market and will be applied to facilitate MMJ's Israeli-based subsidiary Phytotech Therapeutics to pursue its planned Phase 2 clinical study, to test the efficacy of its exclusively licensed Pro-Nano-Liposheres oral capsule formulation for treating pain and spasticity in patients who suffer from multiple sclerosis.
These tests should have some bearing in Australia further down the track.
But to understand what MMJ could eventually build in Australia, you need to take a step back and take a look at what it's built overseas.
Vertically integrated
MMJ started life as two separate companies – MMJ Bioscience and PhytoTech.
What merging did was to essentially create a company that controlled the production of cannabis plants, the extraction of cannabidioil (or CBD – the active ingredient in MMJ's therapeutic products), the production of products with CBD in them, and the research and development of new products.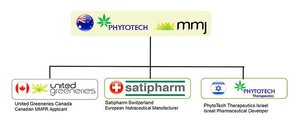 The company controls three subsidiaries, each with a particular role to play in the overarching 'Farm to Pharma' strategy.
United Greeneries
Canadian subsidiary United Greeneries is the business responsible for the cultivation of the cannabis plants from which the cannabidiol is extracted.
It turns out that without the THC, the cannabis plant is actually quite benign and offers up curative properties – exactly what MMJ is looking for.
At the moment, MMJ has two facilities under its purview, one at Lucky Lake on the east coast of Canada which is currently operating and a second facility in British Columbia.
Referred to as the Duncan Facility, the second facility is currently going through the regulatory inspections to become not just a place where it can extract CBD extracts, but rather to be able to supply dried medical cannabis to the market.
This is what it looks like inside: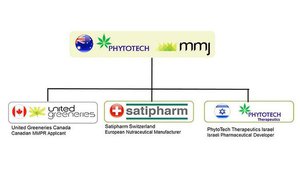 This is no hydroponic set-up in a garden shed, but a full-scale industrial operation with clean lab and extraction facilities.
As things stand, the Canadian authorities have completed a two-day inspection of the facility, with the approval set to come back within weeks.
If MMJ receives approval it will be able to supply dried cannabis products into the Canadian medical cannabis market.
This means that not only will MMJ be able to extract CBD to send it off to Switzerland, but also able to sell into the Canadian market.
Essentially, MMJ will be able to mix and match markets – selling into the Canadian market when domestic prices are high and export when domestic prices are low.
In any case, the option is there.
The grand vision for United Greeneries is to essentially have three facilities under its purview, with the third to take current production capabilities from its current base of close to 1000kg up to 12,000kg.
It's also at United Greeneries where MMJ plans on becoming a supplier to the world's medical cannabis revolution.
As more laws start to pass around the world allowing for medical products derived from medical cannabis to be produced, the active ingredients from cannabis plants will become more in demand.
These are ingredients such as Tetrahydrocannabinol, Tetrahydrocannabinolic Acid, Cannabidoil, and Cannabidiolic Acid.
These are expected to be key ingredients in medical products derived from medical cannabis, and they each do something slightly different.
At the moment though, there's a market shortage of these compounds.
The company has estimated that these ingredients could go for up to $350,000 per kilogram, and in some cases the company could produce up to 20kg per month. Not a bad side-line, that – if it all works out.
Satipharm
Satipharm is the Swiss outfit responsible for the manufacture and sale of MMJ's products into the market – and so plays a vital role.
It's here where the company manufactures and sells its first pill – the Satipharm pill.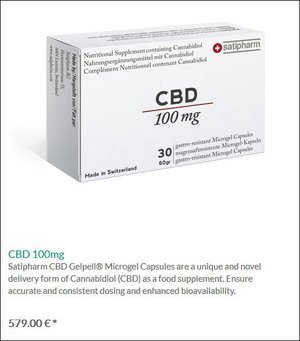 It's being sold over-the-counter in Europe (and also direct online ) as a dietary supplement pill which complies with all regulations, including food safety regulations.
It can legally be marketed in any country where CBD is not listed as a controlled substance.
While sales are in the initial phase, MMJ has managed to pull off a wholesale deal for marketing in the UK.
The fact it has a wholesale deal suggests that this isn't just a niche product, but the market weight is there to allow wholesale bulk deals to take place.
Sales have started of the pill, and it's starting to show up on MMJ's balance sheet as well.

This is still a very early stage company though, so the revenue is nowhere near approaching its outflows at this stage. Seek professional advice if considering MMJ for your portfolio.
That being said, any revenue this early in the piece is a welcome sign.
PhytoTech Therapeutics
This is where 'Generation Next' comes from.
Based in Israel, it's essentially the development arm of MMJ – focusing on R&D with a focus on developing new ways to administer cannabinoids to treat various medical conditions.
For a company which creates products, it's a lot better if you can unlock potential markets and patent treatments rather than try to chase the current trend.
The unit has entered into an exclusive research and licensing agreement with Yissum Research, which it recently extended, which gives it access to some of the finest minds in the space.
The unit is currently developing all sorts of products for patent, including a water-soluble solution which would essentially allow patients to add a CBD solution to a glass of water.
Much better than smoking it – if you're after purely medical effects...
It's also the unit responsible for entering clinical trials for a pill it's developing aimed at bringing a pill to treat muscle spasticity and multiple sclerosis onto the market.
Phase 1 Trials now complete
One of the big things PhytoTech Therapeutics is testing at the moment is a CBD-based oral capsule which would help alleviate some of the pain and spasticity associated with multiple sclerosis.
The idea with the pills is that the CBD compound is bounded and protected in seamless natural gelatin pellets. The pellets are packed in hard gastro resistant capsules, or can be mixed in food like Yogurt for children and elderly people.
This could make a massive difference in the lives of those suffering with the disease – if they had a simple pill which could relieve them of some of the pain.
MMJ has wrapped up Phase 1 clinical trials for the pill – with it comparing favourably on key metrics against some of the closest comparable products on the market.
In fact, it is faster acting and has less side effects than the $653.2M pharma giant GW Pharmaceuticals' oral spray.
MMJ so far has two variants of the pill – one based on THC, and the other on CBD.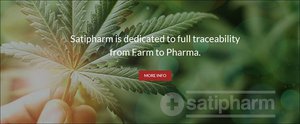 What the above graph shows is the bioavailability of THC in the plasma of subjects. As you can see with the two samples of the MMJ product, it is more available more quickly than Sativex.
When you're suffering in constant pain, one of the key things you want is for the pain relief to kick in quickly.
This is phase one only, so the results may not be reflected in the final product.
Meanwhile, it ran the same test for its CBD pill, and saw similar results.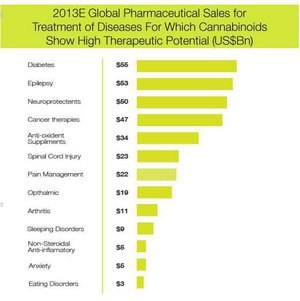 Again, MMJ's product kicks in a lot sooner. In fact, about three hours sooner.
It's worth noting that Sativex is a nasal spray, whereas MMJ's product is simply an orally administered pill.
The studies also found no unacceptable side effects, and showed that the pill was stable when stored at room temperature.
You can find further details on the Phase 1 clinical trial results here .
Fast forward to when MMJ jumps through all the hoops and the pill is finally available to the market.
Quite often pills of the sort MMJ is developing have to be stored in a fridge.
Now imagine the costs associated with shipping in a refrigerated ship container against just a regular shipping container.
Multiply that by scale, and all of a sudden you can start to see some real cost savings for MMJ and for potential retailers.
Another great thing about how the trials have been set up is that they comply with all US FDA (Food and Drug Administration) regulations for new drugs – meaning that if the drug makes it to market then it will have an easier time getting it to one of the biggest pharmaceutical markets in the world.
The FDA standard is also read as kind of the yardstick in terms of pharmaceuticals, meaning the product will more than likely be looked upon favourably when it makes it to other jurisdictions.
But, that's all further down in the pipeline.
This was a Phase 1 trial, so nothing to price into the stock at this stage.
MMJ is planning to undertake Phase 2 trials in the second half of 2016, with the ultimate goal of developing a variety of Medicinal Cannabis prescription drugs for several clinical indications.
Now, you may be wondering why MMJ chose to benchmark against Sativex.
Well, two reasons:
The first is that it's a well-known product in the space.
The second is that it's a tremendously successful product.
The following sales chart was pulled from GW Pharmaceutical's (the company which manufactures and sells Sativex) 2015 Annual Report.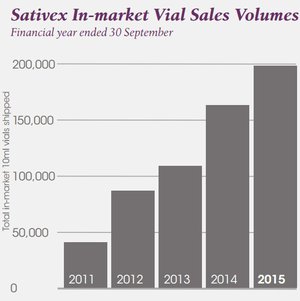 As you can see, there's been steady progress in sales.
The Savitex nasal spray is now approved in 28 countries around the world – and offers MMJ shareholders a bit of a roadmap in terms of market development.
Only, MMJ's product will be coming onto the market when it's already been well-conditioned to accept CBD-based treatments.
Now, remember that MMJ's pill was essentially faster-acting for patients.
So MMJ's pill will come in a form which is easier to administer, is faster-acting, and be delivered into a more mature market.
This is all based of a Phase 1 trial though, so be careful about pricing blue sky into what is essentially an early-stage company.
Growing acceptance
The thing about MMJ is that if were producing at full scale today – then its market would be somewhat limited.
It is, however, aiming to produce into a future market – one which is a lot more accepting of cannabis' role in medical treatments and otherwise is growing.
Already in the US more and more jurisdictions have made medical cannabis legal, with some recreational use also made legal.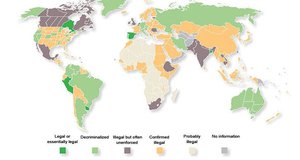 As you can see, there's an awful lot of green on that map – and it's growing all the time.
In fact, the US, as more and more states start to decriminalise, it could become an absolutely huge market.
MMJ estimates that the current medical cannabis market is worth $2 billion.
It has previously cited research from Green Wave Advisors , a research outfit trying to put numbers to the market potential that the market could potentially grow to $10-15 billion by 2020.
So in the US alone, MMJ is looking at a market with a compound annual growth rate of about 30%.
It all points to a growing acceptance of medical cannabis as a legitimate and lucrative pharmaceutical segment.
As more and more states in the US move to decriminalise cannabis for both medical and recreational use, the deals are flowing.
This chart, again from Green Wave, shows the value of deals in the space gathering steam over time.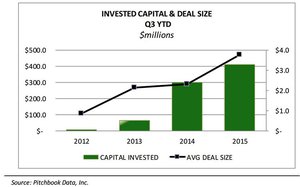 So while the discussion around MMJ so far has been about the size of the market and potential for profit – what hasn't been discussed is the going rate for a vertically integrated medical cannabis producer these days...
The final word
The legislative system is starting to catch up to the work being done by the likes of MMJ.
While the work so far from medical cannabis players has largely been left to the lab – there's growing signs that a commercial market is about to open up.
MMJ is at the forefront of that emerging force, and has laid the foundations of a successful play in the space.
It controls cultivation, extraction, product development, and R&D.
These are all the bedrocks of a successful pharmaceutical company.
This is still an early stage play though, so be aware of this and apply caution when considering this stock for your portfolio.
What MMJ's offering does demonstrate is the ability to go it alone; it has sown the seeds and is ready to scale up when the market dictates.
Furthermore, MMJ already has revenue in the book, so that could come sooner rather than later and it doesn't need a partner to come along and rescue it.
MMJ has built a business on its own terms, and the key question seems to be not if , but how big.
---