GTG Validates Cancer Tests As it Looks to Global Expansion
PUBLISHED: 14-05-2019 10:00 a.m.
Total expenditure across the healthcare industry is expected to reach over US$8 trillion by 2020, with that figure certain to rise in the future.
This has led to a plethora of companies seeking to carve their space in this market, but it's those who offer unique solutions of need that are most likely to succeed.
No greater need exists than cancer risk assessment solutions, where existing practices are often expensive to at risk patients.
Unsurprisingly, cancer is the second leading cause of death globally. It was responsible for an estimated 9.6 million deaths in 2018, which equates to around one in six fatalities. As a result the economic impact of cancer is also increasing, with the disease accounting for US$1.16 trillion of total healthcare in 2010.
Perhaps most importantly – only 26% of low to mid income countries having adequate services and/or infrastructure for treatment (which make up 70% of total cancer deaths).
What if there was a cost effective way for patients to assess their risk and seek treatment?
There is. Genetic Technologies (ASX:GTG | NASDAQ:GENE).
It was just last month that we explored this emerging med-tech player, which is developing an extensive suite of genetic disease risk predication and assessment tools that allow users to be proactive in their health management.
Among these are its industry leading breast and colorectal cancer risk tests. There are also future plans to develop test solutions for prostate cancer, melanoma, type 2 diabetes and cardiovascular disease.
As touched on in our first article for GTG, the company has already made strong progress on the commercialisation front, having inked key agreements to enter the Chinese and US markets.
These include a pivotal invitation to the Hainan Resort Software Community (HRSC) Free Trade Zone initiative – which will see GTG gain direct access to the US$800 billion plus Chinese healthcare market.
In addition, it has now successfully completed its ground-breaking flagship genetic risk tests – including a world first polygenic risk test for colorectal cancer – the third leading cause of cancer deaths in the US and Australia.
GTG's share price has since been up as much as 57%, but with first revenues not yet recorded and more products on the way, I believe it's just the beginning of this company's growth.
All the more reason to touch bases with...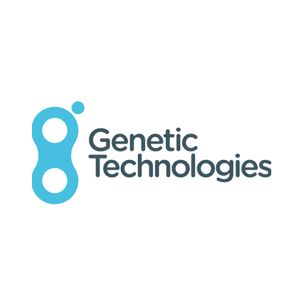 Genetic Technologies
ASX:GTG
Market capitalisation: A$29.8 million
Share price: $0.01
Here's why I like them: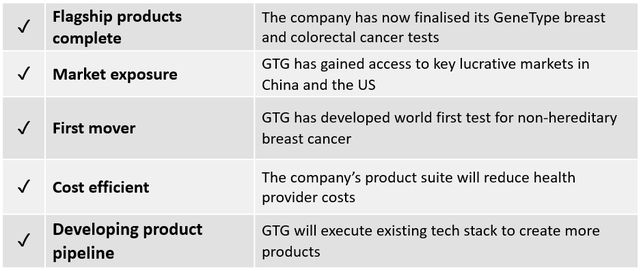 Cancer tests validated
GTG has now successfully completed and validated its cancer risk assessment tests for its two leading products GeneType for Breast Cancer (formerly known as its BREVAGenplus) and GeneType for Colorectal Cancer.
These products are the culmination of long-term research initiatives, which include ongoing collaboration with The University of Melbourne.
This is particular opportune timing for the company, as direct to consumer (DTC) genetic testing is on the rise. In 2018, as many people purchased consumer DNA tests in 2018 as in all prior years combined.
GTG's completion of GeneType was covered on Finfeed: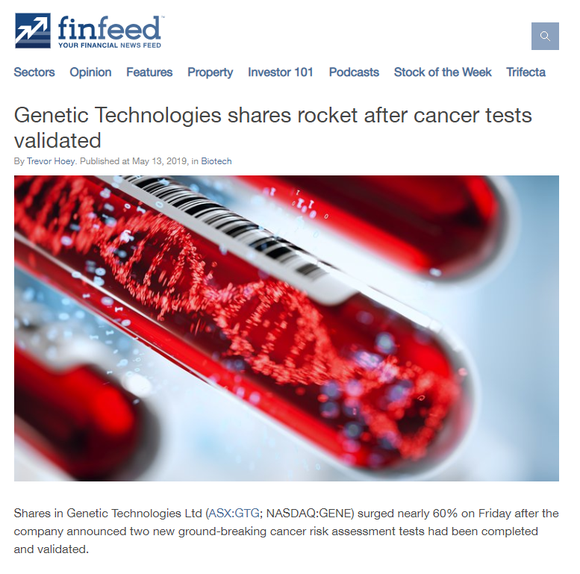 The announcement found strong support in the market, supporting the keen interest around the detection and treatment of both breast and colorectal cancer.
According to the World Health Organisation, breast cancer is the equal most common cause of cancer deaths (w/lung cancer) with over two million deaths per year.
Of all breast cancer cases only 10-15% are familiar or hereditary, meaning the remaining 85-90% are non-hereditary and/or sporadic.
Sporadic breast cancer is an unwelcome surprise that develops without warning. Because of this, being aware of the risk factors and staying proactive is key to identifying a potential diagnosis early.
GeneType
GeneType for Breast Cancer is incredibly important, because historical testing practices have focused on germline genetic mutations in BRCA1 and BRCA2.
While these tests are effective, the mutations are rare in the wider population and account for just 10%, or less, of all breast cancer cases.
The remaining 90% of cases can only be identified by other genetic and clinical markers common to the population. That's where GeneType comes in.
GeneType for Breast Cancer is an affordable, improved version of GTG's legacy BREVAGenplus offering.
The company has incorporated multiple additional clinical risk factors in its breast cancer test, which provides healthcare professionals and patients with a five year and lifetime risk assessment.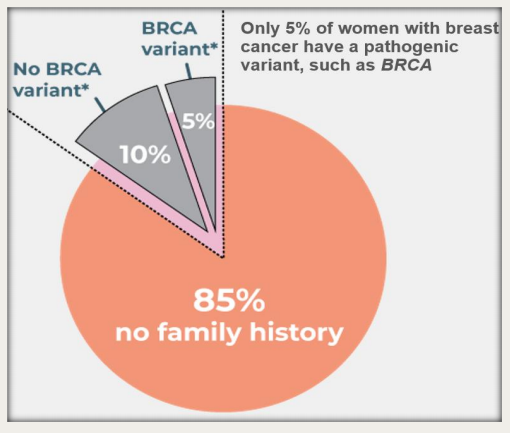 It looks for differences in the patient's DNA (also known as Single Nucleotide Polymorphisms or SNPs) and then compares it against genetic markers, breast density and family history.
Another added advantage of GeneType for Breast Cancer is that it is medically validated in African American, Hispanic and Caucasian women aged 35 years or older.
Similarly, GeneType for Colorectal Cancer is designed to fast track the adoption of colorectal cancer screening. Despite being the third most common cancer in the US, only two in three adults are performing appropriate screening and tests.
Unfortunately, most adults diagnosed with the disease show no family history of the disease, which is contributing to the rise in cases.
Over 97,000 fresh cases were diagnosed in the US for 2018 alone, while a further 15,000 Australians are diagnosed with colon cancer annually.
Early detection of this cancer is vital: survival rate drops from 92% at Stage I to just 67% by Stage III.
That's where GeneType for Colorectal Cancer comes in.
GeneType for Colorectal Cancer works by analysing a patient's DNA for 40+ SNPs that have been clinically validated in their association and contribution to colorectal cancer. Upon performing this assessment, the solution will provide each patient with a single polygenic risk score (PRS). This score is used to determine further action or risk reduction in the patient.
This is a superior offering to standard risk measurements which only incorporate clinical factors. In addition, the product is clinically validated for men and women 30 years and older and of Caucasian descent.
In summary, GTG's world-leading GeneType tests are:
Affordable – to ensure they become a key part of regular healthcare check-ups
Unlike any other genetic test available
A key tool in early diagnosis and effective treatment
Patent protected: IP is supported by a strong global patent portfolio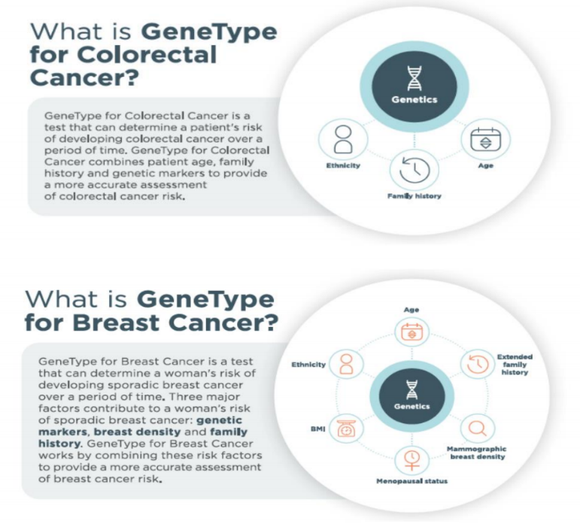 With GeneType now complete, the company will turn its full attention to commercialisation of the products.
Here's how it will achieve first revenues...
Commercialisation near
As I mentioned at the beginning of this update, GTG has showcased impressive strategic acumen, progressing several agreements that see it well placed to cash in.
Its planned expansion into China is the most notable of these.
China is one of the most cancer stricken nations in the world – it registers 4.3 million new cancer cases and 2.8 million cancer deaths every year, and that number is growing.
In September 2018, GTG was formally invited to establish its market entry into China, via the revered Hainan Resort Software Community (HRSC) Free Trade Zone initiative.
The HRSC is a major component in the Chinese Government's Healthy China 2030 initiative, which is designed to combat high morbidity from non-infectious diseases.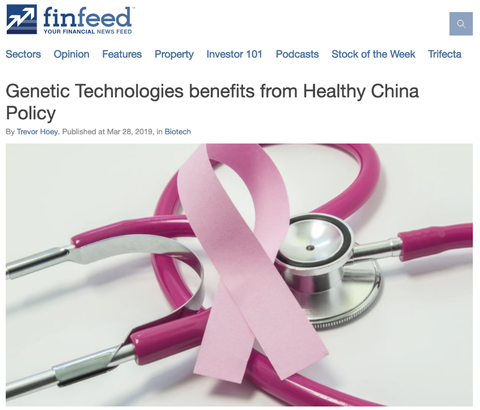 This is a major coup for the company, as it is one of the few med-tech members to date and has, as a result, gained access to the initiative's Medical Pilot Zone and China's US$800 billion plus healthcare market (the second largest in the world).
The HRSC will support GTG's entry into China via a range of services, such as Chinese FDA approval, corporate support, free staff accommodation and more.
In addition, the HRSC allows GTG to safely extract profits from the region and will likely open up further avenues for the company to partner with Chinese FDA accredited medical distributors and labs.
The company expects to make further announcements around its agreement with the HSRC soon, but has recently confirmed its plans to deploy its GeneType product into the Chinese market via the initiative as soon as possible.
It's eyeing off the US too
If that wasn't impressive enough, GTG has also secured an avenue into the lucrative US market.
On 8 April, GTG announced a MoU (memorandum of understanding) between it and TGen, a leading figure in the US biomedical research industry.
While the full terms are unknown, TGen will work with the company on its GeneType for Colorectal Cancer product, including further R&D and a US commercialisation strategy.
The Arizona-based, not-for-profit institute is dedicated to creating ground-breaking research that changes lives and has since identified GTG's solutions as a logical fit moving forward.
But wait, there's more
In addition to its highly promising agreements with HRSC and TGen, GTG has been hard at work establishing relationships with prominent hospitals, research clinics and universities.
One such relationship is with the world renowned Melbourne of University (which I touched on earlier), a leading global genetic research institution.
It also has agreements in place with Memorial Sloan Kettering (MSK) – the largest (and oldest) private cancer centre in the world, and the University of Cambridge.
These agreements will see GTG work with the above to assess its current solution and make amendments or tweaks to its technology as required.
GeneType is just the beginning
While the development of its GeneType product is enough to warrant significant investor interest, there's more in the pipeline.
The company plans to adapt its current technology to create an extensive suite of affordable products, which include type 2 diabetes, prostate cancer and melanoma risk assessment tests. It provided an updated product roadmap in its most recent announcement, which can be seen below.

Capped at just A$29.8 million and with its clinically validated GeneType offering complete, commercialisation is now the aim of the game.
If GTG can secure market share in China and the US, recent share price activity could be the beginning of something much greater.
Because of this, I think it's just a matter of time before the wider market sees the true value in this stock.
---