Medical Cannabis Player MXC Hits First Retail Sales in US$460BN Cosmetics Market
PUBLISHED: 04-05-2016 09:48 a.m.
We've been highlighting the changing landscape in the medical cannabis industry for quite a while.
Forgotten for decades, cannabis is coming back as a soft medicine as governments the world over reconsider draconian drug enforcement policy that in hindsight, was throwing the baby out with the bathwater.
Restrictive government legislation is softening around the globe, including in Australia where history was made just weeks ago with medical cannabis being officially legalised.
Here's what Victoria's Premier Daniel Andrews had to say on Twitter:
First state in Australia. History made. #auspol #springst pic.twitter.com/lULuJdlb04
— Daniel Andrews (@DanielAndrewsMP) April 12, 2016
As government legislation works towards making medical cannabis a new commercial industry, opportunistic medical cannabis companies such as MGC Pharmaceuticals (ASX:MXC) are already moving to capitalise.
Working with its eyes on the horizon and its ears to the ground, MXC has delivered on its promise of first bringing cosmetic cannabis-based products to market as early as this year, while it also works hard to become a fully integrated medical cannabis company encompassing sales, distribution, growing, clinical trials in Australia and R&D including the development of an innovative medical cannabis delivery method known as Sipnose and clinical trials in Australia.
We will come to MXC's full integration play shortly, for now these are the cosmetic products launched in March:

Its business activity combined with commercial ambition has pushed MXC into the forefront of investor attention...
...and snagged MXC its very own ASX speeding ticket – an early indicator that this story is gaining traction amongst investors.
Remember, however that this is still an early stage play and investors should apply caution to any investment decision made with regard to this stock.
To further its clinical ambitions MXC recently executed a Binding Heads of Agreement to acquire Panax Pharma , a licensed Czech-based medical cannabis company with 1000m2 of growing space in the Vukoz Research Institute.
To make sure it has the funds to complete its stated aims, MXC has just closed a $5M capital raising to sophisticated and institutional investors , at 4.4 cents a share.
Retail investors in MXC, who are holders of the stock on the record date of 10 May, will also have the opportunity to participate in a company capital raise on the same terms as the sophisticated investors via a Priority Rights Offer (PRO).
This offer includes one free attaching listed option for every three ordinary shares applied for, exercisable at 6.5c on or before 30 June 2019. Given the record date is 10 May, this means those investors new to the company will be still be able to participate in the PRO.
MXC is seeking to raise up to $2M via the PRO, but could see oversubscriptions of a further $0.5M. Given the heavy support from institutions and sophisticated investors, and the success MXC has seen so far, this may well occur.
It is evident then that MXC is moving rapidly, with momentum reflected in its share price. Since our previous article on MXC, First Revenues from MXC's Cannabidiol Cosmetics Line Imminent , the stock has been up as high as 100%.
The past performance of this product is not and should not be taken as an indication of future performance. Caution should be exercised in assessing past performance. This product, like all other financial products, is subject to market forces and unpredictable events that may adversely affect future performance.
The following table gives you an idea of MXC's achievements so far: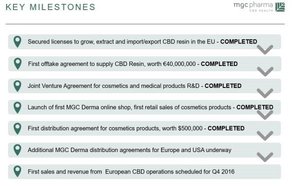 With early stage CBD products already on store shelves, and plans to develop high-grade medical cannabis growing operations advancing, MXC is well positioned to capture a decent chunk of the cosmetics and burgeoning medical cannabis markets...
Updating you on: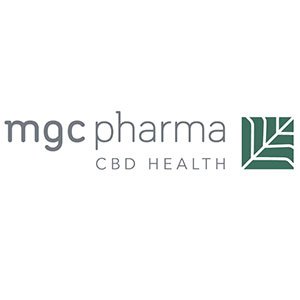 We first covered MGC Pharmaceuticals (ASX:MXC) late last year as it was going through a backdoor listing onto the ASX.
What caught our eye was the fact that MXC was the first ASX-listed company to sign a wholesale CBD offtake agreement for its product – to the value of AU$62M.
In our article, " Cannabis Gets Cosmetic Makeover: ASX Shell with Imminent Acquisition into $270BN Industry " we looked into why MXC is a compelling Australian medical cannabis play.
Six months on, and a lot has changed in the market landscape as well as with MXC's internal operations.
MXC has managed to deliver on its initial target of commercialising medical cannabis cosmetic products as early as 2016, and with that $62MN offtake in hand, MXC's commercial future is looking brighter than ever.
Here's what the market thinks of MXC – remember we first brought readers this story back in November last year, and since then the company has gone from strength to strength, posting gains of over 100%: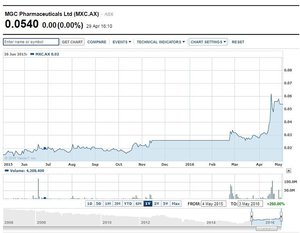 The past performance of this product is not and should not be taken as an indication of future performance. Caution should be exercised in assessing past performance. This product, like all other financial products, is subject to market forces and unpredictable events that may adversely affect future performance.
Could it be that the market is waking up to the potential of medical cannabis, especially at currently low valuations for companies such as MXC?
MXC would certainly hope so and we think there's a chance of more upside considering the strong demand for CBD products, and the multi billion global markets it stands on the precipice of.
For instance in cosmetics and creams, MXC has already found an early revenue source.
MXC's cosmetic products are currently available within the European Union and other countries where CBD cosmetics products are legally sold.
MXC already has a European sales and distribution deal in the bag with Czech Medical Herbs (CMH) which has more than 80 retail outlets in the Czech Republic, Poland and Hungary.
The deal is expected to bring in $500,000 of revenue for the company this year.
When MXC eventually branch out into other regions including Australia (once regulations permit), it will be well placed owing to its early foothold in the global $460BN cosmetic industry space.
To further strengthen that foothold, MXC recently launched its online cosmetics store www.mgcderma.com , giving Euro consumers and potentially other regions another avenue to purchase.
As you can see there is a growing appetite for CBD products.
Let's take a look at what the academics say...

A recent study into the Australian medical cannabis market revealed that the potential market size for medical cannabis pharma grade products in Australia will be A$100-150 million per annum, based on current market demand – and is "likely to continue to grow" according to the study. For CBD based cosmetics and other non-pharma grade products, the market is currently estimated to be in excess of $1b.
The White Paper, titled Medicinal Cannabis in Australia: Science, Regulation & Industry , was developed by the University of Sydney Business School's Community Placement Program, as part of a strategic partnership with MXC, who is angling to be at the forefront of research and regulatory change in the medical cannabis field.
The study is the first of its kind in Australia , commissioned to analyse the Australian medical cannabis industry and the potential commercial opportunities likely to emerge in the domestic market. One of its key findings was that the industry would need to produce 8000kg of medicinal cannabis per year to service current medicinal needs .
The White Paper concludes that "medicinal cannabis has the potential to help tens of thousands of patients suffering from a wide range of medicinal conditions such as Multiple Sclerosis, Epilepsy, Cancer and Chronic Pain".
It is important to note here that MXC's founder Nativ Segev's specific area of expertise is in the development of treatments for children suffering from severe epilepsy.
One of the White Paper's authors and also a member of MXC's advisory board, Dr. Ross Walker, says the medical cannabis cultivation could take on the same attributes as wine cultivation – and we all would be aware of the ubiquity of Australian wine around the globe, including ever climbing sales stats.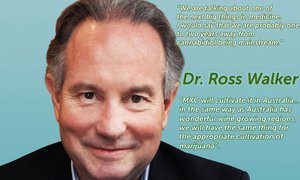 Despite being a better known market amongst consumers, liberated by the removal of strict government regulation across ever increasing swathes of the globe, medical cannabis is already worth US$2.7 billion per year, estimated to top $20 billion a year by 2020 before reaching $US500 billion a year globally once fully mature according to data from ArcView .
If added to the existing $460BN cosmetics sector, MXC's addressable market becomes vast.
MXC is starting off with soft cosmetic CBD products, but will eventually enter the pharmaceutical market further down the track and its pending acquisition of Panax puts it a further step forward on this journey.
Before we look at the Panax deal, let's just take a quick look at the current capital raise in more detail.
Money for CBD
MXC intends to raise AU$3.5M and a further $1.5 million in oversubscriptions in offer to institutional and sophisticated investors – $5 million overall.
The offer price per share of $0.044 is indicative of a 19% discount on the last traded price of $0.054, a 21.50% discount to the five day VWAP ($0.056) and a 17.30% discount to 20 day VWAP ($0.053).
And just to reiterate, retail investors in MXC, who are holders of the stock on the record date of 10 May, have the opportunity to participate in a company capital raise up to $2M (with potential oversubscriptions of a further $0.5M) on the same terms as the sophisticated investors via a Priority Rights Offer PRO. Investors new to the company still have the opportunity to participate in the PRO.
The funds raised will go towards the construction of the Slovenian CBD growing facility, completion of the Slovenian laboratory and CBD extraction facility, development of the Australian strategy, complete rollout of the Derma line of cosmetic products and to fund the Panax/Vukoz genetics and breeding research facilities.
The Panax view
As stated earlier, MXC has executed a binding Heads of Agreement (HOA) to acquire Czech-based medical cannabis company, PANAX Pharma .
Assuming due diligence is successfully completed, MXC will receive 25% equity issued up front and 55% equity issued for MXC's commitment to fund operating costs for the next year up to €700,000 (AU$1,021,080) for Panax.
Importantly, the deal gives MXC vital access to the Vukoz Production facility, a state of the art research and development facility run by the Czech government with a program to grow medical grade cannabis.
The medical cannabis license owned by Panax includes access to over 1000m2 of indoor growing space at the Vukoz facility – and its looking like it will be MXC's soon enough.
Here's what the facility looks like inside...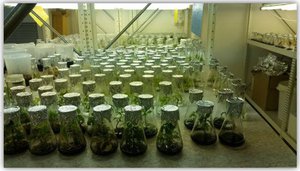 And here is an aerial view...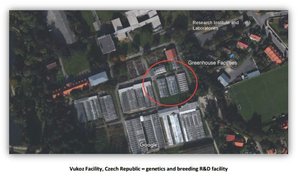 The research currently being conducted at Vukoz targets the development of high cannabidiol (CBD) and high THC strains. Once MXC has its hands on the license, the outcomes of the research will be utilised for MXC's growing operations and for use in the clinical trials of MXC's Derma Cosmetic products produced in Slovenia and targeting acne and psoriasis.
Under the terms of the deal MXC would also take and commercially utilise the waste biomass for the production of CBD extract.
Combined with a license for the import and export of medical cannabis this is a savvy move from MXC, especially when you consider the Vukoz facility has year-round growing cycles and anticipates being able to treat over 1400kg of medical cannabis biomass waste.
MXC estimates this waste can be processed into 90kg of CBD extract per year.
In short, this acquisition open up the door for MXC to produce a large variety of medical grade cannabis products and materials in Europe under the license agreements held by Panax.
As the broader market is building momentum, MXC is building its growing capacity
MXC plans to grow and extract CBD all year round which means having growing operations on a global scale.
The Panax license could be a major step in the right direction.
As we have mentioned in previous articles, MXC's first growing site is in Slovenia. Given recent legislative changes in Australia, MXC is also moving to establish medical cannabis growing operations Down Under.
This will most likely take some time, but could eventually serve as a price catalyst once brought online.
Having the capability to grow all year round could be a significant advantage for MXC and is expected to maximise cash flow given the larger crop yields MXC can expect to see.
The cost savings Slovenia offers is the reason MXC has located its growing facilities there, and current estimates suggest MXC will break even within 12 months, targeting $10m revenues in its first three years.
However this is speculation, and revenue targets here are no guarantee to eventuate, so apply caution to your investment decision.
SipNose: a feather in MXC's medical cannabis cap
One very interesting blue-sky aspect about MXC is its SipNose venture .
SipNose is a medical device developed by an Israeli therapeutics company that could revolutionise how drugs are ingested by patients.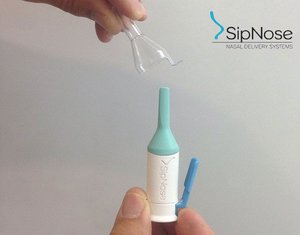 Normally drugs need to be absorbed into the bloodstream of a patient before making their way to the effective areas.
The device's delivery system is able to bypass the 'blood brain barrier' to deliver pharmaceuticals directly to the brain – leading to more effective treatment.
It opens up a new treatment option for diseases such as Alzheimer's, Parkinson's, and epilepsy.
The tandem combination will use MXC's product and SipNose's technology to potentially deliver a new way of ingesting medical cannabis.
Smoking and ingestible pills are not necessarily the best options for all patients, but a nasal spray with a proven safety record is applicable for everyone.
Going further, MXC's SipNose technology could be implemented (and sublicensed) to other pharma companies down the track.
The cosmetics market is where MXC has made its first commercial pitch by launching an initial range of 15 products
Scientific and clinical studies indicate that CBD could be effective in easing symptoms of a wide range of difficult-to-control cosmetic conditions.
As we noted earlier, MXC has earmarked an extensive line of more than 15 products to be rolled out during 2016 including facial creams, eye serums, soaps, toners and cleansing milks.
Here's that image of MXC's product line-up again:

MGC's Derma range is a set of cosmetic products that have been shown to provide anti-ageing, antioxidant and autoimmune benefits, and sales are now well under way.
To boost sales, MXC recently launched an online sales platform allowing consumers to purchase its range of Derma brand of products.
The store has already delivered its first retail sales, with the sales channel expected to accelerate product purchases by selling direct to consumers throughout the EU and other countries where the products can be legally sold.
In order to facilitate its consumer-facing distribution drive, MXC also signed a sales and distribution agreement with Czech Medical Herbs (CMH) to distribute MXC's Derma range in Europe. CMH has more than 80 retail outlets in the Czech Republic, Poland and Hungary.
The deal is expected to generate AU$500,000 in gross sales revenue and represents a retail value of over AU$1.5MN .
Again, this is an early stage play, so seek professional advice and base your investment decision on more than just industry numbers.
Starting with 15 and growing to 50
With its initial range up and running and being sold already, MXC is working on expanding its cosmetics range from 15 products to over 50 by the end of 2016.
This is another reassuring sign that MXC is on the right track and possibly another catalyst to keep an eye on later this year.
MXC has teamed up with Dr. Burstein Cosmetics to expand its MGC Derma range using MXC's high-grade CBD extract. The partnership has been classified as a joint-venture with MXC owning 51%.
Effectively, MGC Derma is MXC's cosmetics branch and will be used as a springboard into the much broader medical cannabis market that also includes powerful pharmaceutical products.
Offtake deal waiting to bear fruit
MXC became the first ASX-listed company to sign a CBD offtake agreement in June last year. The deal was signed with Natura Laboratories, amounting to €40M (AU$62M).
In the agreement, Natura Laboratories will buy a minimum of 300kg of CBD resin per year at 60% purity or above, for a minimum of four years.
In essence, Natura will offtake all of MXC's produce and manufacture cosmetics which MXC will then sell online and via wholesale distributors.
Recapping MXC's overarching strategy
MXC is determined to become a key part of the Australian medical cannabis industry, so let's take a quick look at its five-pillared local business strategy from here on in:
1. Obtain an Australian growing license
MXC intends to build a state-of-the-art growing facility in Australia following the recent legalisation of medical cannabis in Victoria. MXC says that it will focus on creating a viable pipeline for Australian-grown cannabis to be provided to Australian patients, with the potential for exporting surplus amounts into export markets. MXC's expertise and superior plant genetics should be a key diversifier and could lead to MXC developing higher grade produce in relation to its peers.
Medical marijuana farms may now become a staple of Australia's countryside with the first one up and running already: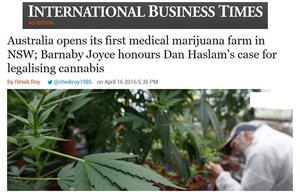 2. Extend clinical trial program in Australia
Once again, it's legislative change that has sparked MXC's interest in extending its Australian clinical trials. With medical cannabis now legal in Victoria, MXC intends to clone its successful Israeli-based clinical trial programme over in Australia to further diversify its global positioning.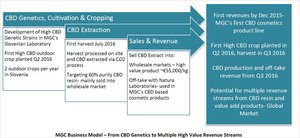 3. Develop leadership role in Australian cannabis industry
MXC successfully collaborated with Sydney University on its White paper on medical cannabis and wants to go further by becoming an industry-leader in shaping future government regulation. Medical cannabis is still an infant by industry standards so by spearheading its development, MXC hopes to take the commercial lead in this niche. There's also the real possibility of MXC making strategic acquisitions in the space to help secure early market share.
4. Pursue further university-backed research collaborations
Collaborating on research with top-end universities presents both tangible and intangible benefits.
For one, further research helps MXC to better develop its own product, but also, helps MXC to build a strong reputation in the industry. This element is possibly the most important given the early-stage nature of medical cannabis in Australia. Becoming an industry-forming thought-leader working hand-in-hand with government officials and research labs is an excellent place to be for the $43MN-capped MXC.
Furthermore, MXC intends to develop "a unique data bank " which will be the first of its kind in the medical cannabis space.

5. Expand cosmetic products distribution channels
Something MXC is already doing in earnest. Later this year, MXC will roll out its expanded CBD cosmetics range into parts of the Asia/Pacific region following its roll-out into Europe.
With its strategy securely fastened, MXC is on a path to commercialising medical cannabis
The public attitude towards cannabis is changing, and companies that take an early stake in the development of this new biotech niche could reap substantial windfalls when the sluggish mainstream/Big Pharma market looks to join the bandwagon over the coming years.
MXC has put together a timely strategy that is leveraged to one of the most rapidly expanding market niches out there – medical cannabis.
Commencing with softer cosmetic products initially, MXC plan to move into growing high grade medical cannabis.
If MXC can sustain its development, it will be one of the first companies in Australia to be developing pharmaceutical-grade cannabis products including both CBD and THC.
But in the meantime, it has already kick-started sales of its cosmetics range into an industry valued at $460BN.
For anyone looking for a market sector that has true blue sky potential, medical cannabis could be it.
---