MMJ Now Licensed to Grow Medical Cannabis
PUBLISHED: 05-07-2016 11:15 a.m.
There are just 32 companies in Canada that have a license to grow medical cannabis – and MMJ PhytoTech, Ltd (ASX:MMJ) has just officially joined their ranks – the first ASX listed company to do so.
A licence to grow medicinal cannabis is not easy to get your hands on in Canada – over 1200 companies have tried, and over 1000 have failed or given up – indicating the stringent nature of the country's health regulators.
That's why companies that do have a license to grow, are valued highly by the market:
Mettrum Health Corp, a Canadian licensed grower, is capped at $86M CAD;
Aphria Inc, is also licensed, and is capped at $112M CAD;
Canopy Growth Corp has one too – its capped at over $240M CAD.
MMJ is currently capped at less than $40M AUD and has considerably more to its asset portfolio than just the grow operations.
As news of MMJ's licensing success spreads, there is a strong chance that MMJ will close the valuation gap between its Canadian cousins.
MMJ isn't content to just be a medical cannabis grower, this company has much higher ambitions in this multi-billion dollar nascent market.
The real money to be made in this industry is by supplying pharmaceutical grade products to market.
GW Pharmaceuticals, licensed in more than 25 countries for its Multiple Sclerosis treatment, Sativex, a cannabinoid medicine, is currently capped at $2.7 billion AUD.
That's over 65 times more than MMJ right now, and it points the path that MMJ is intent on following over the coming years...
The blue sky here is the possibility that MMJ can eclipse GW's valuation, especially since MMJ's lead product candidate demonstrated encouraging results relative to GW's on a number of key indicators, in MMJ's Phase I clinical trials.
Of course, like any speculative stock, it is early days here, and there is no guarantee of success. Professional financial advice should be sought if considering MMJ for your portfolio.
Phase II clinical trials are expected to take place in the coming months – serving up another major catalyst for this stock.
MMJ is already generating revenue from its Satipharm subsidiary via the sale of its oral CBD capsules in Europe, and with a new marketing strategy and key hires made, it's anticipated that revenues should be significantly bolstered.
For investors, this is important. Every dollar that MMJ can reinvest into internal capital projects means fewer shares issued to fund its future growth – a huge strategic and competitive advantage.
MMJ's "Farm to Pharma" strategy aims to make money from every step of the medical cannabis value chain – starting with growing, and moving up to high end, high margin pharmaceutical products.
MMJ has now de-risked the growing component of its business, and will thus be able to generate near term cash flow from both the production of medical cannabis and Satipharm sales.
As we indicated above, this cash can be used to fund the company's expansion plans and/or high value clinical trials that will be essential for the company to develop a pharmaceutical grade product.
There is plenty of news flow to come from MMJ in the near term.
MMJ has a second facility that is undergoing licensing right now, which could see it boost production capacity by 1000%.
Cannabis cultivation from its newly licensed facility in Duncan, British Columbia will commence shortly, with the first commercial crop available to consumers probably before the end of the year.
And as mentioned above, the company will be moving into Phase II clinical trials for its oral CBD capsules, which are already outperforming GW on a number of fronts.
Beyond Canada, as global regulations increasingly open up, MMJ is well positioned to climb the multi-billion dollar medical cannabis value ladder before our eyes: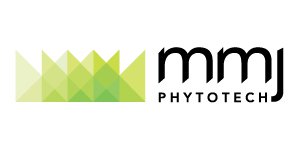 So where is the money to be made in medical cannabis?
The below Bloomberg chart from last year spells it out quite clearly.
The combined market cap of medical cannabis companies that are focused on pharmaceuticals and research was $1.5 billion USD, and this doesn't include GW Pharmaceuticals, currently capped at around $2.7 billion AUD.
The cannabis producers as a group are the next highest valued, at $645 million USD.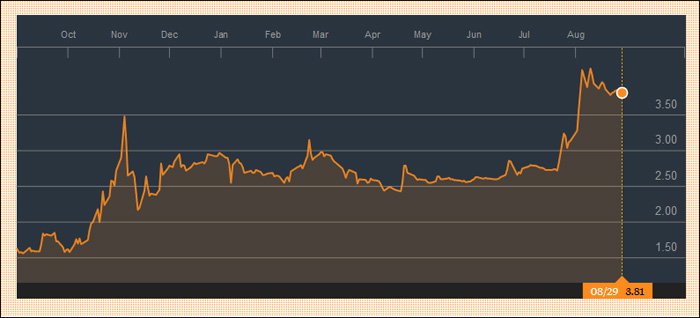 MMJ Phytotech (ASX:MMJ), currently capped at less than $40 million AUD, is intent on getting into the pharmaceuticals market as quickly as possible, and should the company be successful, investors would expect returns of many multiples from today's levels.
But in the meantime, MMJ is going to need to generate some revenue to fund expansion plans and to build out its massive first mover opportunities.
MMJ is delivering on what the company terms the 'Farm to Pharma' strategy and through it the company seeks to maximise revenue potential whilst providing a stable supply of Medical Cannabis (MC) for the development and production of MC based Pharmaceuticals.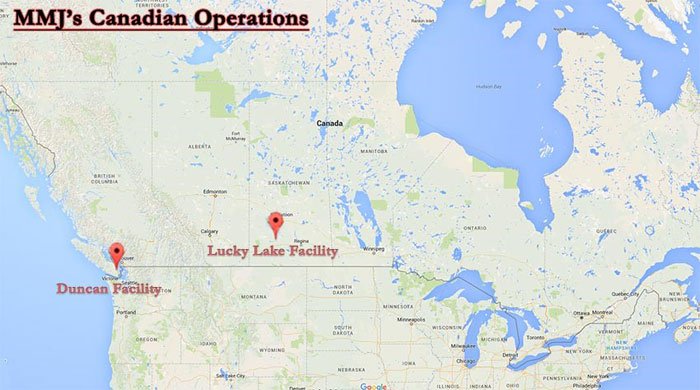 In order to deliver on its business model, the company has set up three wholly owned subsidiaries: United Greeneries, Satipharm and Phytotech Therapeutics. All play crucial roles in MMJ's operations and value proposition.
Based in Canada, United Greeneries is the cannabis producing arm of the business, and this is where the Duncan and Lucky Lake facilities are held.
MMJ's Swiss subsidiary, Satipharm , is already bringing in sales from its proprietary gastro-resistant cannabidiol (CBD) Gelpell Microgel Capsules – and MMJ is looking to bolster these revenues significantly with a strong marketing strategy currently being deployed.
Beyond the CBD capsules, the intention of Satipharm is also to supply CBD based extracts, oils and other pills to the marketplace.
Then there's PhytoTech Therapeutics .
This is MMJ's scientific research arm based in Israel, which is focused on developing pharmaceutical products for administering cannabinoids to treat various clinical indications.
PhytoTech Therapeutics is the subsidiary that the company is banking on to deliver a global pharmaceutical winner derived from medical cannabis.
Results from phase I clinical trials on MMJ's CBD capsules demonstrated encouraging results versus GW Pharmaceutical's product – Sativex®. MMJ will initiate phase II clinical trials shortly.
If MMJ can license this product for medical use, it would be a huge result for the company. Needless to say, by that time, MMJ would be valued much higher than today.
For those that want to dig a little deeper into MMJ, you can find out more by reading the following articles:
MMJ Set to Boost Medical Cannabis Production Capacity by 1000%
Medical Cannabis First Mover: MMJ to Accelerate Australian Roll Out
MMJ's Medical Cannabis Pill Performs better than AU$1.2BN Capped Competitor
The story continues to grow, however, and the latest news from Canada could be about to make a big impact on the company's valuation.
MMJ PhytoTech is now a licensed medical cannabis producer
With the announcement of its wholly-owned subsidiary United Greeneries receiving approval from Health Canada to be an authorised Licensed Producer of medical cannabis, MMJ has hit a major milestone.
The approval sees MMJ become the first Australian-based company to receive a Canadian medical cannabis cultivation license, and one of a select group of companies globally with the capacity to commercially cultivate medicinal grade cannabis.
Cultivation of pharmaceutical grade cannabis will take place at MMJ's Duncan Facility located in British Columbia, under the Marihuana for Medical Purposes Regulations (MMPR).
The Duncan Facility will allow MMJ to realise near-term revenues generated from the sale of its medical cannabis within Canada, and potential exports to other regulated medical cannabis markets.
Here's a look at the Duncan Facility Cultivation area: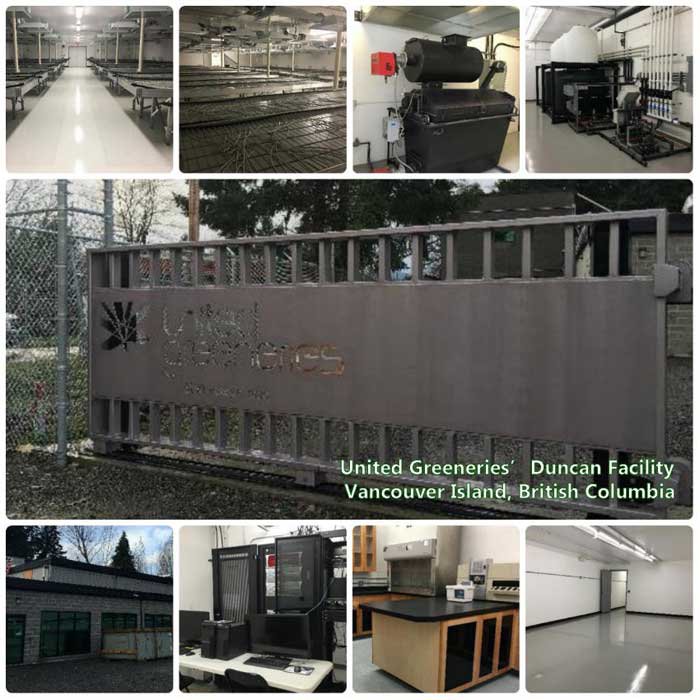 MMJ will now focus on fast tracking the cultivation and production of medical cannabis at the Duncan Facility, whilst identical license approval is in progress for MMJ's other, much larger, facility in Lucky Lake (which we'll come to shortly).
This is no small feat by MMJ, and is the result of years of work, and millions of dollars in previous investment.
A license is a glowing endorsement from Health Canada of MMJ's facilities and regulatory oversight. There have been in excess of 1,200 MMPR applications, with almost 1,000 rejected or withdrawn, so MMJ has joined a select few.
The Duncan license positions MMJ as a leading supplier of medical cannabis to existing Canadian markets, the potential wider recreational market, and provides a platform for the development of MMJ's pharmaceutical grade products into key growth markets including Europe, North America and Australia as these markets open up.
Canada's recreational market is worth $5 billion
With legalisation for the recreational use of marijuana in Canada set to be introduced early in 2017 , the market size is estimated to be worth $5 billion – MMJ is poised to capitalise on this massive opportunity.
Health Canada has just instated a task force to assist with the design of a new regulatory framework for restricted recreational access to marijuana by November 2016.
It is expected that current Licensed Producers under the MMPR, which includes MMJ, will have a significant first mover advantage in the new recreational market as early stage suppliers.
Should the laws be passed as expected, MMJ could be well positioned to immediately begin supplying the multi-billion dollar market with marijuana sourced from its Duncan facility.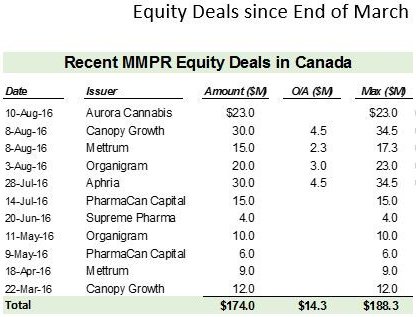 Legal marijuana sales this year are set to hit $7.1 billion in the United States – which gives you an idea of how quickly the market uptake is since the first laws were passed in Colorado , with sales to the public beginning 1 January 2014.
Imagine the demand growth if other states or countries begin passing similar laws...
The marijuana industry for both medical and recreational use in the US alone is tipped to reach $40 billion in the next five to ten years, with the global market for marijuana already at a staggering $141 billion.
Governments seeing the potential tax revenues generated from medical marijuana are likely to continue loosening laws surrounding the industry.
According to Canada's Financial Post in writing about the recreational scen e : "there are currently about 35,000 to 40,000 patients enrolled in Health Canada's medical marijuana program. The total market is worth perhaps $80 million to $100 million. If recreational pot becomes legal, the potential customer base suddenly runs in the millions. Dundee Capital Markets analyst Aaron Salz figures the market would then be worth up to $5 billion ."

A peak into the Duncan growing Facility
Located in Duncan, British Colombia on the west coast of Canada, MMJ's 10,000 ft 2 production facility and laboratory is well equipped following a $2.2m facility upgrade in 2015.
The latest MMPR approval follows on from the facility receiving a pre-license inspection from Health Canada in February of 2016.
News on the production capacity of the Duncan Facility of dried cannabis per annum is expected shortly, with the first crop set to be harvested in the coming months and the finished product to be available for sale and export shortly after – every step of the way will serve as a catalyst for MMJ's share price.
At the same time, this doesn't necessarily mean an investment in MMJ will be successful – always do your own research and invest with the appropriate level of caution.
This is where the cannabis will be grown in the cultivation area: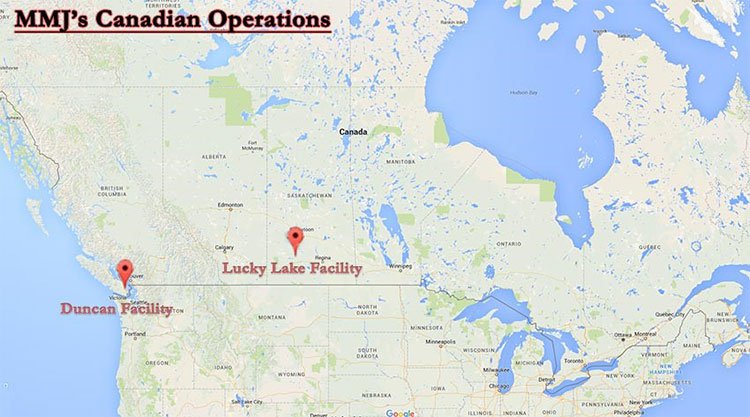 Technology will be used to ensure optimal growing conditions and repeatable harvest results: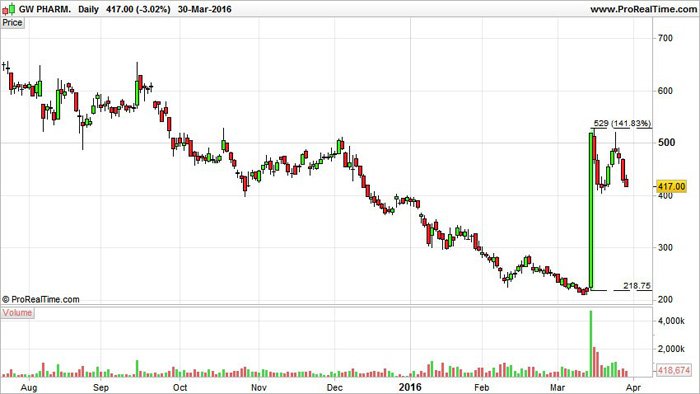 The Duncan facility even hosts a high security vault to keep the gold green safe along with a lab for on-site testing: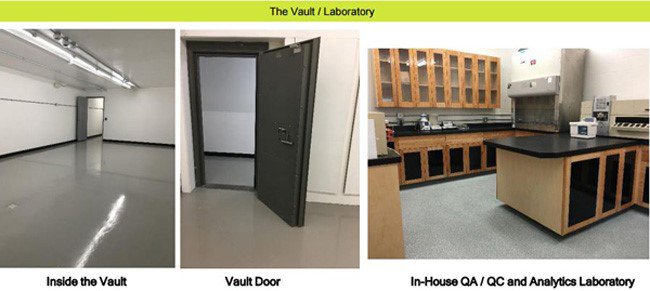 So as you can see above, the Duncan facility is fully equipped and ready to begin the process of growing and selling medicinal cannabis.
Lucky Lake Facility – a second growing license for MMJ around the corner?
The second production facility owned by MMJ is located in Lucky Lake, Saskatchewan and is currently going through the MMPR approval process to join Duncan as a licensed producing facility in Canada.
With the MMPR license approved at the Duncan Facility, surely it is only a matter of time until the Lucky Lake Facility gets the go ahead.
The Lucky Lake Facility is anticipated to have a production capacity of 12,000kg a year , which once integrated with the Duncan facility will see MMJ's production capacity to jump by 1000% , from the current production capacity of 1,000kg.

The 62,000 ft 2 modern agricultural facility at Lucky Lake provides MMJ with some serious scalability – up to +800,000 ft 2 total capacity, twelve times what is currently on offer.
This means the Lucky Lake facility has the potential to produce a total 132,000 kg of dried cannabis a year.
With both the Duncan and Lucky Lake facilities to the company's name, should market or demand quickly open up for MMJ, the company is well equipped to meet these supply demands.
Experts to drive expansion
Since we last checked in with MMJ, the company has appointed two leading industry players to help drive expansion: Stanislav Sologubov as Chief Executive Officer of Satipharm Switzerland and John Hollister as a strategic pharmaceutical consultant.
The pair will help drive MMJ's expansion into key European markets, whilst also pushing progress in Canada.
Sologubov has a proven track record of delivering sales growth and has extensive industry knowledge and contacts developed from over 15 years' experience working with global healthcare companies including Johnson & Johnson and Bausch + Lomb.
His focus will be on MMJ's market presence in Europe and he is tasked with establishing a significant cash flow stream from its Swiss based subsidiary (Satipharm), which will ultimately fund MMJ's clinical development and pharmaceutical processing initiatives.
Initially, Sologubov's primary focus will be on growing Satipharm's Gelpell® Gastro-Resistant Microgel CBD Oral capsule sales in Europe.
John Hollister also brings vast experience to the leadership team, with more than 25 years' experience as a healthcare industry executive working for large pharmaceutical, biotechnology and medical device companies.
Hollister has extensive experience in various stages of the commercialisation process with products in healthcare and will act as a consultant for MMJ to provide framework on pharmaceutical manufacturing across key business divisions in Canada, Israel and Switzerland.
Growing the Satipharm revenue stream will contribute to the funding of clinical trials for MMJ, and given the right team is now in place, we would expect this to really pick up the pace over the coming quarters.
Into the clinic
As we touched on before, the company has already completed Phase I trials of its oral capsules.
These trials showed that MMJ's product demonstrated encouraging results on a number of fronts when compared to market leader GW's capsules – remember GW is currently capped at around $2.7 billion AUD.
MMJ's Phase I trial was undertaken at the Souravsky Medical Clinical Research Center in Israel, through a single-centre, multi-arm, randomised, crossover study. The study assessed the safety, tolerability and pharmacokinetics of MMJ's product.
Results were extremely positive and showed:
Demonstrable safety and tolerability profile with no significant side effects;
Higher bioavailability of active compounds in comparison to GW Pharmaceuticals oromucosal spray – Sativex;
Very rapid onset; and
8 hours exposure time in the blood.
The results demonstrated that the MMJ product achieved more rapid absorption and higher level of bioavailability than GW's oral-mucosal spray. Further, blood serum levels remained higher for longer. The results indicate the potential that MMJ's capsules may offer a quicker uptake time and less frequent dosing for the patient. It is also believed that an oral dosing option would be favoured by the patient.
MMJ is now gearing up for Phase II trials in the second half of 2016 to assess the efficacy of oral capsules in treating pain and spasticity amongst multiple sclerosis sufferers, with results expected in 2017.
Another milestone that can only add to MMJ's inherent value.
At the same time, a successful investment in MMJ is no guarantee – this is a speculative stock. Seek professional financial advice if considering for your portfolio.
What's next for MMJ PhytoTech?
With the green light from Health Canada to begin the cultivation process at MMJ's Duncan Facility – and with Lucky Lake earmarked to follow – the company is now preparing to hit the market and also bolstering its supply chain for the development of MC Pharmaceuticals.
In the meantime, MMJ is receiving early revenues from its Satipharm subsidiary, which is helping it de-risk the overall business model.
Further sales and revenues are also expected after a letter of intent with two strategic partners was signed to dispense MMJ's existing products into the Australian market place.
However, it is the license to grow granted to MMJ, which really unlocks value in the near term.
MMJ can now take its first real steps to unlocking the entire medical cannabis value chain and has clearly started tapping into a $140+ billion and growing market.
---