MMJ Set to Unlock Value in Bullish Canadian Cannabis Market
PUBLISHED: 10-11-2016 09:50 a.m.
If you hadn't already heard, cannabis is currently undergoing a breath-taking liberation across the globe as doctors, clinics and government departments all gradually realise its medicinal and commercial endowments.
Whereas some medical cannabis companies are only committed to bringing the non-psychoactive CBD elements of cannabis to market via a pharmaceutical focus, MMJ PhytoTech (ASX:MMJ) has set its sights on also becoming a large-scale cannabis producer targeting supply to what is already a very large recreational market across North America.
California, Nevada and Massachusetts all voted to legalise recreational cannabis yesterday, paving the way for increased commercial expansion there.
This all sits well for MMJ, whose growing operations are situated in Canada, a country on course to legalise cannabis in all its forms over the next 2-3 years, which means access to a Lost World of potential for any companies able to get state-of-the-art growing and processing operations ready at an early stage.
MMJ certainly fits this bill and is placing itself in a first-mover advantage position in a country where the recreational market alone is estimated to have a value of up to $5BN a year.
In fact the potential Canadian market is so big and supply/demand is so dynamic that MMJ could be producing in a US$8-9BN a year industry.
To put this in context, total alcohol sales in Canada were $21.5BN in 2015, so the medical and recreational marijuana industries have some catching up to do, but by the looks of it, it's tracking in the right direction.
Of course how much market traction MMJ can gather remains to be seen. This company is in its early stages. So seek professional financial advice before making an investment decision in this stock.
Certainly when compared with its peers such as Aphria and Aurora, which have both seen large revaluations (we'll look at that later) MMJ compares very favourably in all key areas.
It makes sense then that MMJ has pulled the trigger on an acquisition deal for its Satipharm and United Greeneries subsidiaries to list on the TSX Venture Exchange (TSX-V) , in a move designed to fast track the growth of its core cannabis brands by directly accessing the red hot Canadian cannabis capital markets.
This corporate restructuring is set to unlock significant value by providing MMJ shareholders strategic exposure to the rapidly growing Canadian cannabis market and robust demand for cannabis-focused equities.
The plan is for MMJ's subsidiaries United Greeneries Holdings Ltd and Satipharm will list on the TSX-V via a $42M CAD acquisition of TSX-V-listed shell company Harvest One (TSX-V NEX: WON.H ).
The deal will establish a well-financed, growth-driven cannabis company with two distinct operating brands focused on supplying burgeoning Canadian and international markets.
Post deal, MMJ will own 70% of Harvest One and 100% of Phytotech Therapeutics.
The deal highlights the growing interest in MMJ's assets, after it fielded, but recently rejected, a similar reverse takeover offer by TSX listed Top Strike Resources .
It is expected that following the deal, MMJ could be strategically well positioned to tap into the Canadian equities markets where circa CAD$200M has been raised.
Interestingly, the principals behind Harvest One will provide MMJ with access to an extensive network within Canadian capital markets, having formerly been the principals of Potash One, which sold for C$430M in 2011.
Additionally, one of the principals was behind the original TSX-V listing and concurrent $7.6M equity financing of one of the early companies licensed to produce medical marijuana under Canada's Marihuana for Medical Purposes regulations back in 2014.
With access to this much larger and more developed funding pool, MMJ wants to rapidly supply recreational and medical cannabis not only in Canada, but further abroad.
It is now focused on major expansion opportunities in Canadian medical and future recreational markets, estimated to grow to C$8-$9BN per annum by 2024.
MMJ's ambitions in this area will also be helped along after the company recently raised $4M AUD in an oversubscribed share placement which was strongly supported by a number of well-regarded institutional backers.
With that funding in place – which adds to the funding the company is expected to receive via the TSX listing – MMJ is well positioned to grow and reap its first crop next year.
MMJ has ticked a number of boxes, and is on the verge of rolling out its aggressive expansion plan to capture a major share of the booming cannabis markets in Canada.
In addition, MMJ's Satipharm subsidiary is set to start a campaign to drive sales of its CBD capsules this month, with a focus on Germany and Poland before entry into other EU countries in April 2017.
So with strong funding in place and a TSX listing on the cards that will give it better access to what could be a very lucrative domestic Canadian market, now could be a good time to put MMJ on the Medical Cannabis radar, just as the industry is set to fly high.
Keeping your attention on: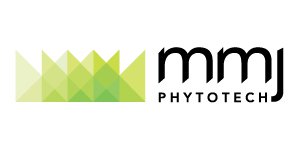 For our readers, the story behind MMJ Phytotech (ASX:MMJ) goes back to mid-2015 when we first covered this stock in the article: ASX Company to Disrupt $916BN Big Pharma Industry?
That seems an eon ago now, when MMJ was the first medical cannabis company to be listed on the ASX.
Since then, the company has come a long way, and we've been closely tracking MMJ's progress along with the rapidly evolving cannabis markets globally led by the pioneering Canadian market.
MMJ has been advancing towards becoming a vertically integrated cannabis grower, processor and seller of high-grade medical cannabis for supply to both medical and recreational markets globally.
Here is our MMJ coverage summarised: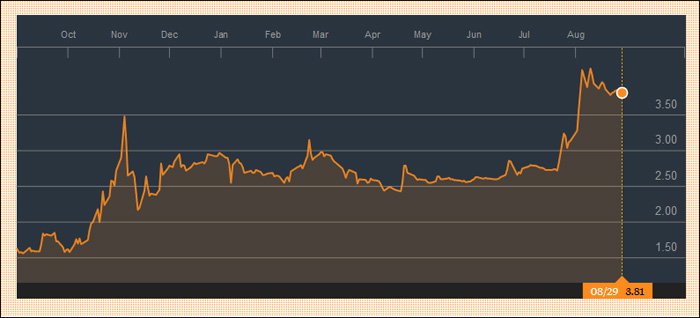 During this time, MMJ has persevered towards getting cultivation facilities up and running in Canada via its cannabis cultivation brand — United Greeneries.
Simultaneously, MMJ is also growing sales of its cannabis based health products in Europe via its other key brand — Satipharm.
The unsolicited offer made by Harvest One to acquire United Greeneries Holdings Ltd and Satipharm AG will allow the company to accelerate the growth of its core cannabis brands by becoming a first mover in a pioneering market in order to drive its near-term growth, streamline its focus and put it front and centre of Canadian investors who have seen a whole series of successful medical cannabis companies thrive on the TSX.
MMJ will own 100% of PhytoTech Therapeutics and 70% of Harvest One, which once the deal is complete will change its name to reflect its change of business, and hold United Greeneries and Satipharm.
The deal will see Harvest One paying C$40M in equity and C$2M in cash to MMJ, leaving MMJ in control of ongoing operations and business decisions.
If we now take a look at the growers already doing their thing in Canada, it's clear MMJ has some catching up to do in the valuation stakes... which spells 'opportunity' for ASX investors in MMJ.
Certainly the interest in MMJ's assets and the two acquisition bids, already demonstrates hungry investor interest.
With its growing facilities on the cusp of going live, MMJ may not be waiting long to move itself further up this chart: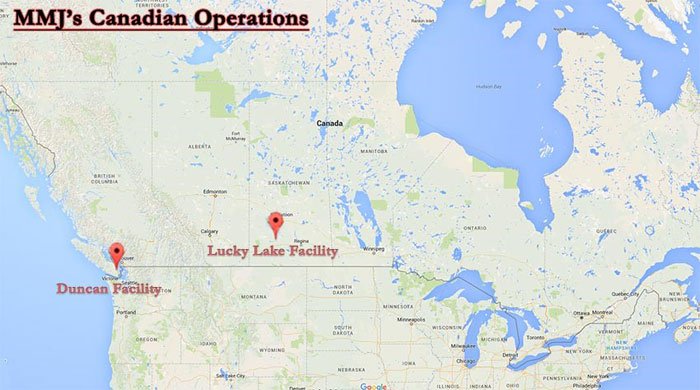 Canada's capital markets have seen over CAD$200M raised since March 1 st , 2016 by MMJ's peers...
Canada is currently the most active and commercially-friendly cannabis market, so if you're a cannabis grower planning on selling in bulk, Canada is the place to be right now because of the rapid legalisation of both medicinal and recreational cannabis use.
Of the 34 approved companies operating under the current regulatory conditions, only 10 are publicly listed in Canada, which indicates that MMJ is walking into an industry still in its infancy and with plenty of room to grow.
All of which puts the Harvest One acquisition into perspective, especially as it is one of 10 Public Licensed Producers.
Access to capital will be the biggest factor limiting or allowing for production capacity expansion.
Again MMJ through the Harvest One acquisition would be in the box seat here.
At the same time, this industry is still in the early stages of development, and MMJ's success is no guarantee. Investors should consider their own personal circumstances and risk profile before choosing to invest.
Currently, an average of 5,000 new patients are treated with medicinal cannabis each month, with a total of 75,000 patients already enrolled. Various estimates suggest the medical cannabis market in Canada could grow to C$3 billion in annual sales by 2024.
The Canadian recreational market has a conservative estimate value of around C$5 billion per annum by 2024.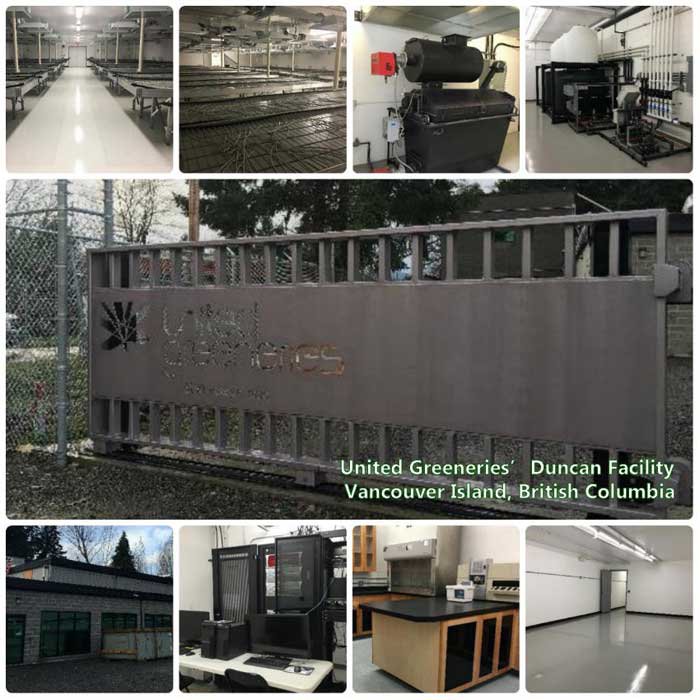 Commercially high on high-grade supply
Not only will MMJ grow high-grade cannabis in Canada — measured by the tonne — this commercial-gardener is targeting supply to the untapped recreational market as well...
Legalisation of cannabis for recreational use is gaining serious momentum in Canada, and is set to be legislated into law as early as 2017.
Health Canada is currently doing the rounds on the legislation, and a loose framework could be in place this month to allow restricted recreational use ahead of the potential full legalisation coming into play next year.
Take a look at this Quartz article confirming Canada's spearhead status when it comes to cannabis legalisation.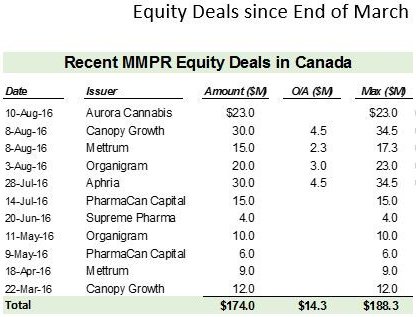 If there's a hotspot for cannabis right now, it's Canada.
And it's largely down to the crumbling of the prevailing stereotype that only hippies smoke pot...
...with the ascending view that cannabis has far more applications than just getting high.
It would seem that cannabis is finally shedding its negative stereotypes for all the right commercial reasons, and therefore provided a much larger ocean of market opportunity, first in Canada, and then beyond.
Canadian operations summary
To compete in larger oceans, it helps to have a bigger boat.
Currently MMJ's Duncan Facility is undergoing extensive expansion with a plan to increase capacity to 60,000kg per year in four years.
This is a three phase plan at a total estimated cost of $60M, proving the company truly believes in what it is doing.
Targeting operating costs of $1 per gram, the expanded capacity is expected to produce significant high-margin cash flow.
Here's a look at the three phases:

Combined with its Lucky Lake facility, with a capacity of 12,000kg a year, MMJ could be producing well over 70,000kg per year to international markets.
MMJ's Duncan and Lucky Lake growing facilities are located in central and western Canada and together produce high-grade cannabis, positioning MMJ as one of the largest licensed producers in Canada. Here are MMJ's Canadian growing operations on the map: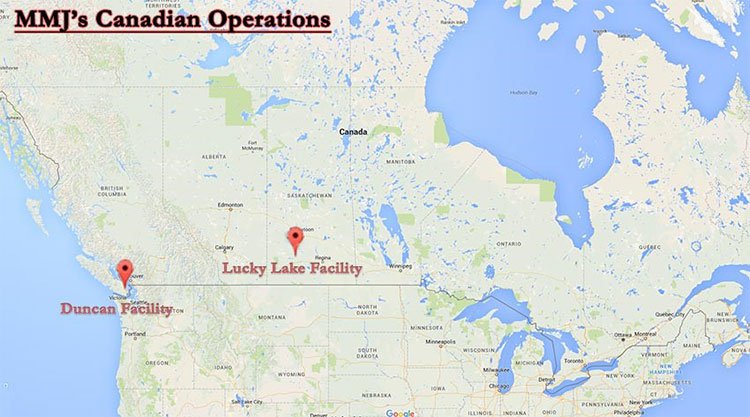 The timing of its production is very synchronistic because by the time global government officials have worked out how they want to deal with cannabis (note Canadian growers already supply the medical cannabis market), MMJ should have significant annual production ready for sale in either North America, Australia or Europe – all burgeoning markets tipped for high rates of growth.
The two growing facilities in MMJ's possession are state-of-the-art and are able to produce high-grade cannabis that can also be processed, stored and refined to achieve higher grades that eventually lead to higher sale prices.
Here is a sneak behind-the-scenes-peak at the Duncan Facility which has a low cost highly scalable production capacity: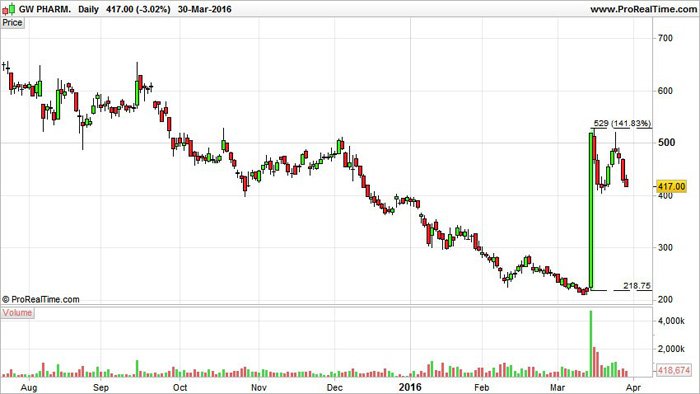 With its Canadian operations looking well-tuned, let's take a look at MMJ's Swiss operations under subsidiary Satipharm
Based in Switzerland, Satipharm is a pioneer in the development and distribution of medical cannabis based pharmaceutical, nutraceutical and cosmetics products.
Satipharm has developed the 'first and only' product on the market with a pharmaceutical grade GMP (Good Manufacturing Product) production – unique GelPell Microgel Capsules.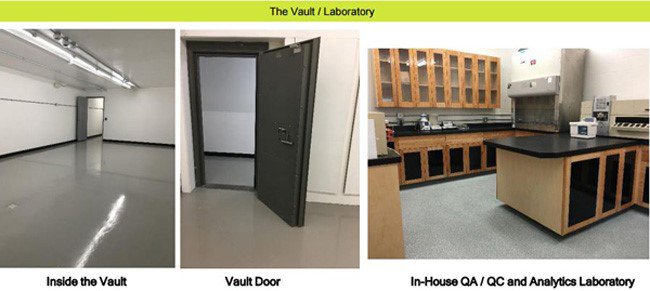 Satipharm's vision is to become a global leader in the development and commercialisation of its cannabidiol (CBD) based products.
Satipharm commenced production of its Gelpell Microgel Capsules in May 2016 and is now actively driving sales of its flagship product throughout regulated markets globally.
Satipharm is currently preparing a significant marketing campaign to drive sales of 10 MG and 50 MG capsules commencing this month focusing first on Germany and Poland followed by entry into 10 additional EU countries in April 2017.
Further expansion plans include the introduction of a medical purposes food supplement product and a dermatology product in select EU countries commencing in May 2017.
Global cannabis demand is on the rise
It's all well and good having a bumper grade and bulk-yielding crop — but is there a market for it?
Will MMJ be able to sell everything it grows and produces?
If we have a butcher's at how the cannabis market is performing on a macro scale, it's clear that not only will MMJ's estimated output of 38,000kg be sold relatively easily — the level of macro demand is outstripping supply by a factor of 3:1 — and growing into an increasing demand shortage as we get to the 2020s.

From a state of almost non-existence in 2014, the supply of cannabis currently stands at around 0.02 million kg.
This number is expected to ramp up by 5,600% to 1.14 million kg within the next decade.
Now THAT is what is otherwise known as a commodity boom, or a 'rush'. In the case of cannabis, it has been dubbed the ' The Green Gold Rush' ...
Medical cannabis macro market – 'The Green Gold Rush'
Medical cannabis has come such a long way, in such a short time, that some market analysts have been getting a case of commodity-flutters.
This is what Ackrell Capital's latest market report on medical cannabis had to say: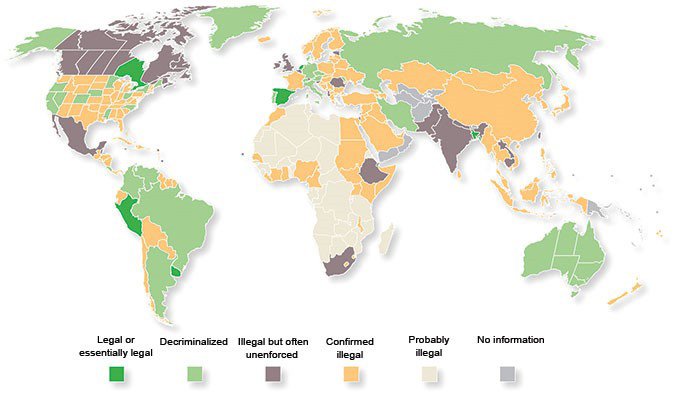 So with the green-rush now on, the rush for green now begins....
Both in terms of growing high quality cannabis strains, and growing commercial revenues.
If we take another look at MMJ's peers, and compare its performance against a basket of other licensed Canadian growers, it would seem MMJ is lagging in the valuation stakes.
But this could change rather quickly over the coming months as MMJ begins cultivation and production in Canada and continues to raise its CBD pills sales through affiliates and distributors.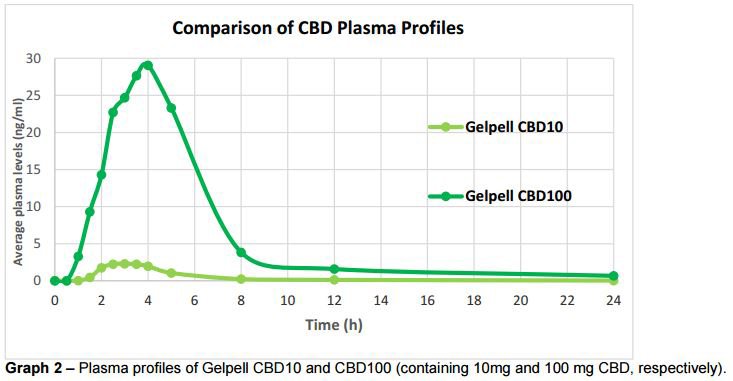 The past performance of this product is not and should not be taken as an indication of future performance. Caution should be exercised in assessing past performance. This product, like all other financial products, is subject to market forces and unpredictable events that may adversely affect future performance.
If we analyse the performance of the current global market leader— GW Pharmaceuticals — it's clear that medical cannabis caught the attention of investors already back in 2013, as the first rumblings of cannabis-liberation were being made.
Three years on in 2016, GW has grown into a £2.7BN (A$4.5BN) powerhouse
GW has seen its share price rise from around £10 per share to over £85 today — that's a gain of 750%.

The past performance of this product is not and should not be taken as an indication of future performance. Caution should be exercised in assessing past performance. This product, like all other financial products, is subject to market forces and unpredictable events that may adversely affect future performance.
If MMJ can emulate anywhere near this type of performance over the coming three years, investors would be happy campers .
Green shoots on the horizon
With its acquisition deal with Harvest One now announced and a binding term sheet signed — the next step is to see this transaction through to completion and open the doors of its growing facilities in Canada.
It is worth remembering that this acquisition is still in its early stages and a lot can happen. Investors should seek professional financial advice if considering this stock for their portfolio.
Canadian legislators are already bursting at the seams to pass the necessary laws to allow cannabis cultivation and sales to become a fully legalised enterprise that could eventually see cannabis sold as freely as tea bags.
Even before full-blown legalisation has come into effect, already Canada's cannabis industry is being catapulted into a much larger and deeper commercial ocean with fewer restrictions and barriers.
It's the worst kept secret in the whole of Canada: The Canadian government is quietly conjuring up plans to implement a full-blown legalisation policy to include both medical and recreational uses.
The companies able to take a hint and the stones to take mitigated risks at the right time — are seeing their valuations rise as investors back the front-runners and early stakeholders.
Sowing for a commercial market reaping
The market for medical cannabis is gradually moving out of the wilderness and onto government radars.
The once forgotten medicine is currently being re-evaluated and reclassified in North America, Australia and Europe as its positive effect on a range of ailments is finally being rediscovered and legalized by governments across the globe, keen to join the tax-revenue bandwagon and appease the millions of people now clamoring for the legalization of cannabis.
It is becoming increasingly likely that Canada will become the first G7 nation to legalise cannabis on a national basis, potentially including the recreational psychoactive THC element.
Not only has the Canadian government publicly admitted to harbouring plans for full-blown legalisation, but it is also facing the prospect of having to rework its entire MMPR medical cannabis licensing scheme following a recent court judgement that said the scheme was effectively unconstitutional.
The perception of how cannabis is seen, used and sold is changing.
The tide has turned from cannabis being seen as a harmful substance requiring restrictions, to a beneficial natural substance that requires more study and better licensing.
The use of cannabis is changing from being a recreational escape for hippies, to becoming a serious tool in fighting disease and illness for all age groups.
And finally, how cannabis is sold is changing from black-market illicit sales with dubious quality, to being sold as a premium high-quality product with quality control packed as standard.
With the world changing before our very eyes, age old substances like cannabis are making a belated comeback into doctor toolkits, government pigeon holes and investor portfolios — meanwhile, MMJ has done its sowing at exactly the right time in anticipation of a market reap in 2017.
Lights on.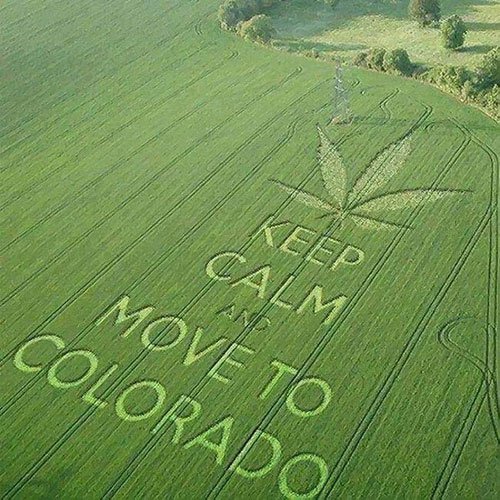 ---