MMJ's Medical Cannabis Pill Performs Better than A$1.2BN Capped Competitor
PUBLISHED: 11-02-2016 20:31 p.m.
Medical cannabis is grabbing all the headlines.
Earlier this week, barnstorming legislation changes introduced by the Australian Federal Government left big pharmaceutical companies scrambling.
Proposed amendments to laws would allow for cultivation, processing and distribution of cannabis for medical purposes through a national licensing and permit scheme.
Plucky epitomes of entrepreneurship otherwise known as medical cannabis growers/suppliers are now clamoring for a piece of the industry...
MMJ Phytotech (ASX:MMJ) has put themselves at the front of the queue to start commercialising medical cannabis as and when government officials give the green light.
Currently, MMJ is a medical grade cannabis company that captures value from the entire 'Farm to Pharma' value chain – from cultivation and processing through to pharmaceutical development.
The good news for MMJ is that while medical cannabis friendly legislation is being worked on, it already has a growing operation in Canada on the verge of opening its doors later this year .
MMJ's Duncan facility in Canada recently played host to pre-license inspectors, in the final stage towards license approval.
The only outstanding part of the equation is a high quality product that's approved by regulators...
...but that's exactly what MMJ has just achieved .
Phase 1 clinical trials have just completed indicating MMJ's "formulations are the same or even higher performance level compared to GW Pharmaceutical's product".
GW Pharmaceuticals (LON:GWP) just happens to be a £622MN (A$1.2BN) giant that's currently the only company to have its medical cannabis product approved by the US Food & Drug Administration (FDA)...
This is a positive sign as any that the product MMJ is looking to produce is of the highest global standards.
Remember, however, that MMJ is still a junior player in an emerging market, and success for the company is speculative. Investment caution is advised.
With its product standing shoulder-to-shoulder with the industry's best, the A$38MN-capped MMJ now has all the pieces to deliver on its 'farm-to-pharma' strategy and become a dominant medical cannabis industry player.
Checking in on: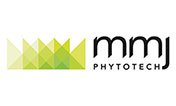 The pleasing news for MMJ PhytoTech (ASX:MMJ) investors over the past few months is that medical cannabis continues to develop into a lucrative biotech niche, backed by legislative change in the US, Europe and Australia. Investors should also be pleased that MMJ's own internal operations are progressing well.
We have followed the MMJ story every step of the way since mid-2015, and you can dig into our previous articles here:
Now, we're here to update you about MMJ's latest catalyst: confirmation of successful Phase 1 clinical trials – which means MMJ is walking the right path to becoming a profitable medical cannabis company.
The business end of commercialisation
MMJ is pursuing a 'farm to pharma' strategy, creating a vertically integrated, paddock-to-plate company that captures the entire supply chain – and its value.
Currently, the ASX only has a handful of companies operating in the medical cannabis space – and all of them offer slightly different products based on CBD.
MMJ is already selling a its proprietary GelPell CBD capsules and has a portfolio of delivery technologies to enhance its product offering.
In terms of competition, there is very little out there given the infancy of medical cannabis as a commercial industry.
It's likely that those who move first will be best positioned as other hopefuls join the party later down the track.
This is the premise behind MMJ's rapid move into becoming a vertically integrated supplier. It means not having to share the spoils with other entities when sales commence and revenues come in.
Here's how MMJ is structured as a company: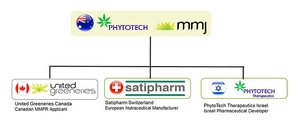 In recent weeks, MMJ has seen all three of its subsidiaries receive some very positive news, therefore substantiating MMJ's ambitions to become a powerhouse in full vertical integration medical cannabis from growing the plant through to undertaking clinical trials and R&D.
PhytoTech Therapeutics
As we mentioned in our previous article, " Is a Cannabis Cultivation License Now Just Days Away for MMJ? ", MMJ was in the middle of Phase 1 trials when we published the article last month.
MMJ was in the process of developing oral capsules containing a standardised combination of Tetrahydrocannabinol (THC) and Cannabidiol (CBD) for various clinical indications.
The Phase 1 trial results are now in, and the great news for MMJ is that they outperform the current market leader GW Pharmaceuticals on a series of comparisons, including efficacy and cost.
Below are two charts illustrating the comparison.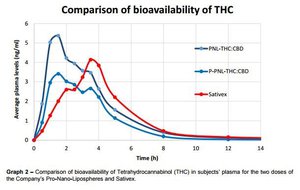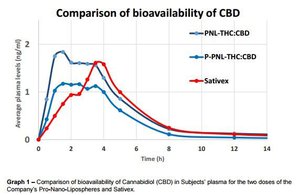 MMJ's two products (shown as blue lines) were deemed to have a "demonstrable safety and tolerability profile with no significant side effects".
MMJ's capsules also had a "higher bioavailability of active compounds in comparison to Sativex, a rival nasal spray CBD product made by GW Pharmaceuticals.
MMJ was able to show superlative results in comparison to GW's product in both the CBD and THC variants which indicates that once MMJ develops THC-based formulas sometime in the future; they too will be highly effective and competitive within the industry.
An important thing to note here is that MMJ's studies are designed to fulfil all regulatory requirements necessary for the New Drug Application (NDA) to the Food Drug Administration, so that when ready it can hit the market running.
MMJ will move to commence Phase 2 trials testing for efficacy in relieving pain and spasticity from Multiple Sclerosis (MS) later this year.
In the meantime, Australian authorities are conducting clinical trials of their own, coinciding nicely with MMJ's timetable.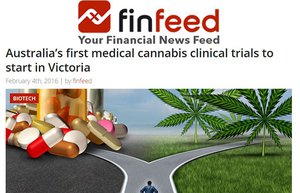 Trial by analysis
One of the key benefits for both patients and MMJ's commercial ambitions is that medical cannabis treatments that come in capsule form tend to be superior to nasal sprays (like GW's) for a variety of reasons:
Easy administration with faster relief
Faster uptake into the blood
No side effects during delivery
Extended shelf life
Ability to store at room temperature and transport easily
Lower cost compared to all other methods
Phase 1 results indicate that MMJ's product is faster-acting than the industry leader, has no side effects and is simpler to administer.
Those are all great advantages that put MMJ's product above the competition.
And when it comes to competition, MMJ aims to emulate the current market leader – GW Pharmaceuticals.
GW's Sativex nasal spray is now approved in 28 countries for the treatment of multiple sclerosis spasticity and is the world's first plant-derived cannabinoid prescription drug.
Over the past five years, sales of GW's flagship product Sativex have grown from under 50,000 vials per year to almost 200,000 last year.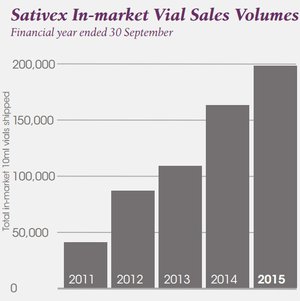 Source: GW Pharmaceuticals annual report, September 2015
The reason behind such strong growth is because medical cannabis is becoming more acceptable as a genuine medicinal tool, approved by doctors, parents and regulators alike.
GW has been operating for several years and with legislation now softening, new market participants are ready to supply alternatives to GW's monopoly.
Having listed on the LSE in 2013, here's how the GW share price has performed over the past few years – that's a pretty impressive result for early stage investors: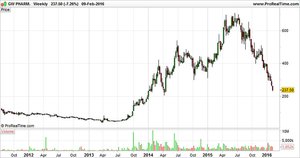 The past performance of this product is not and should not be taken as an indication of future performance. Caution should be exercised in assessing past performance. This product, like all other financial products, is subject to market forces and unpredictable events that may adversely affect future performance.
MMJ is hoping to see its own share price surge over the coming months as all the key components to its success gradually fall into line.
Of course there are no guarantees this will actually happen – MMJ is a speculative stock, and this industry is in its infancy.
Considering GW was able to significantly increase its sales volumes and valuation over the past five years, could MMJ repeat the feat with its own oral pill product?
Its chances of emulating GW are growing in proportion to how quickly MMJ can get its formulations approved and ready for sale.
One of the brightest aspects for MMJ's future is that its first clinical trial has yielded a product already superior to the rest of the market, despite being at an early stage of development.
United Greeneries
In order to get traction with its wheel-spin, MMJ has set up a subsidiary in Canada called United Greeneries (UG).
United Greeneries has two state-of-the-art growing facilities on its books, with one close to receiving regulatory approval to start growing 1000kg of high grade medicinal cannabis each year.
MMJ will conduct its growing at the Duncan facility on Vancouver Island in British Columbia, where a Pre-License inspection was just recently completed by Health Canada . Once a license is obtained, MMJ/UG can commence growing operations with an expected harvest possible by the end of 2016.
Here's a sneak peek of the Duncan facility: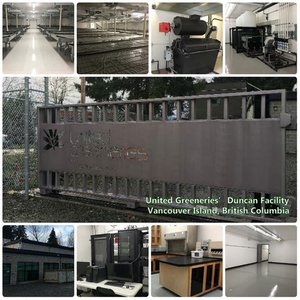 Longer term, MMJ has plans to become a significant supplier of 'Active Pharmaceutical Ingredients' (API) extracted from the cannabis plant so that it can execute its overarching mission: to become a 'farm to pharma' company that maximises its commercial margins by keeping everything in-house.
API's are the most premium medical cannabis product which can fetch as much as US$350,000 per kilo.
At such prices, medical cannabis (and its key components CBD/THC) become an incredibly valuable and high margin commodity that MMJ is racing to commercialise.
Satipharm sales up and running
MMJ has already kick-started sales of its CBD capsules via Swiss subsidiary Satipharm.
In August Last year, Satipharm generated its first revenues and continues to generate sales to this day: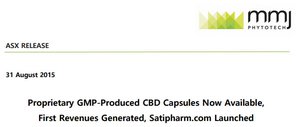 And just recently Prima Sport, a UK based online retailer and distributor, agreed to stock MMJ's capsules as part of a broader wholesale agreement that could potentially generate sales for years to come. The first initial deal was for A$225,000, allowing Prima Sport to distribute the product across its range of retail outlets and online stores.
With commercial sales gradually picking up steam, MMJ's longer-term goals come into view.
The longer-term play for MMJ is for its current sales of its CBD capsules to underpin R&D funding for PhytoTech Therapeutics – MMJ's Israel-based R&D hub.
From Green to Black
Medical cannabis is a jewel in the biotechnology crown and MMJ wants to be at the forefront of commercialising the new uptake of this medicine.
And what a crown it could turn out to be...
Medical cannabis as a sector could potentially be worth billions in its own right as well as overlap into the gargantuan US$900BN pharmaceuticals industry.
With a state-of-the-art growing facility on the verge of approval, existing retail and bulk sales already coming in and superb processing facilities at its disposal ensuring high grade product with each harvest...
...MMJ has the capability to make serious inroads and grab significant market share within this infancy-stage industry.
Phase 1 trials are now complete indicating MMJ's product stacks up well with industry peers which leaves MMJ with a clear path and with a lot of work still to do.
Investment caution is advised though – this is a speculative stock, and there are no guarantees it will be successful. It's always a good idea to seek personal advice when considering an investment.
With all types of cannabis previously remaining illegal for decades in the majority of the developed world, the tide is slowly turning as the non-psychoactive CBD element becomes widely accepted and decriminalised around the globe.
Cannabis is slowly moving from bogeyman status to becoming a wonder-drug of modern times...
...and MMJ wants to dominate given its first mover advantage, high grade product and international operations.
---