New ASX Listing: $15M Capped Stock with Phase II Trialled Cancer Drug
PUBLISHED: 19-07-2016 10:22 a.m.
One of the latest stocks to list on the ASX happens to have a very small market cap, but a very advanced oncology drug with early sales potential.
This $15M capped stock just raised $4M as part of its entry to the ASX, and its inherent value is in a niche cancer drug named Bisantrene that was 'lost' in the 1990s – buried under the weight of so-called billion-dollar blockbuster drugs that better suit Big Pharma's margins.
Bisantrene was subjected to over 40 clinical trials throughout the 1980s with $100M to $200M spent on the drug during this time.
It was previously in Phase III clinical trials for breast cancer in the US, and was approved for use in France for treating acute myeloid leukaemia (AML).
Following a series of mergers and acquisitions amongst US pharma companies, Bisantrene disappeared in a sea of Big Pharma drug assets...
Now, this ASX stock's vastly experienced team has 'rediscovered' Bisantrene, and is preparing it for regulatory approval from the Food and Drug Administration (FDA) in the USA and near term sales in Europe via a Named Patient Program (NPP) for people suffering with this acute type of leukaemia who have failed all other treatments.
Named patient programs provide controlled, pre-approval access to drugs in response to requests by physicians on behalf of specific, or "named", patients before those medicines are licensed in the patient's home country – which means this tiny biotech company already has a pathway to near term sales.
With patient trials indicating a ~1-in-2 chance of success (a high rate for someone with little hope of survival), this company's drug could be in demand in Europe before the FDA's Phase III trials even commence.
This company's oncological roots and focus on leukaemia means it is likely to be approved for a NPP programme in several European countries in the next 18 months, thereby allowing it to distribute its 'long-forgotten orphan' drug to potentially dozens of cancer sufferers.
Taking long-forgotten drugs public is part of the company's overall commercial strategy.
Essentially this means finding orphan drugs that showed early promise in the past, but were forgotten in time due to industry consolidation and focus on treating diseases that promised blockbuster sales.
Developed in the 1980s, Bisantrene is far from being a young whippersnapper, it's more of a mature man-child in need of a guardian in the commercial landscape of today's biotech sector. In other words it is a late stage niche drug.
As a niche drug it may not be the billion dollar blockbuster that Big Pharma is after, however for a small $15M capped ASX company, the potential to generate tens of millions of dollars through a NPP in the near term, and hundreds of millions of dollars in revenue over the long term is something that could be of serious value.
At the same time, this is a small biotech stock and a speculative investment – revenues are not guaranteed. This should not be the sole influence of your investment decision in this stock. Seek professional financial advice for further information.
Both short and long-term revenue is exactly what this company hopes to achieve through Bisantrene for which it owns two patent applications.
It is also important to note this company is not discounting deal making with Big Pharma in its overall plans. In fact it hopes to collaborate with Big Pharma down the track to expand Bisantrene from its current AML-only treatment status, to include other cancers.
The good news here is that one of Bisantrene's original founders — Dr Bill Garner — is already on-board as Chairman of this company.
Dr Garner has been through a company growth model similar to this ASX stock before – as a founder of DelMar Pharmaceuticals (NASDAQ: DMPI), which now commands a $94M market cap and has quadrupled in value in the last year.
Furthermore, this ASX company's CEO, Peter Molloy, also has an impressive track record in Big Pharma drug marketing and as an ASX CEO.
In three and a half years as CEO of Biota Holdings he turned a struggling $30m stock into a $300m junior...
The past performance of these products are not and should not be taken as an indication of future performance. Caution should be exercised in assessing past performance. These products, like all other financial products, are subject to market forces and unpredictable events that may adversely affect future performance.
This company has the pedigree and also crucially a potentially lucrative niche drug. Before the wider market catches onto it, it's time we screened: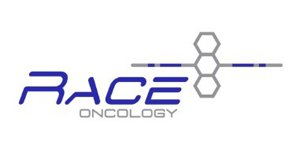 The Biotech industry has been one of the higher-growth sectors in the world over the past decade or so. Compared to other sectors such as mining, finance, commodities, retail and IT, Biotech stands far and above all others in terms of pure growth numbers recently. As a sector, it has grown by more than 500% peak-to-trough since 2007.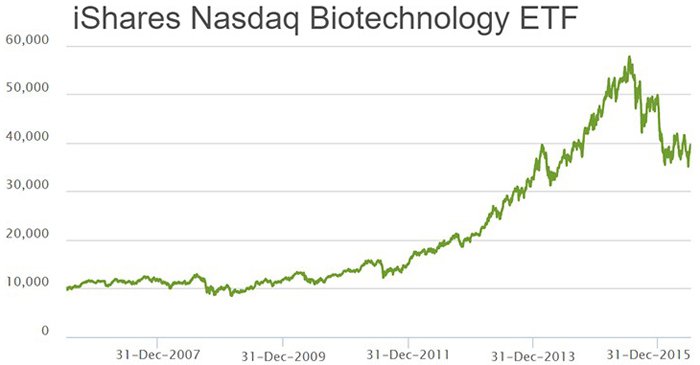 The past performance of this product is not and should not be taken as an indication of future performance. Caution should be exercised in assessing past performance. This product, like all other financial products, is subject to market forces and unpredictable events that may adversely affect future performance.
A large part of the reason why biotech companies have flourished is because of the spearhead-status their various technologies are taking in fighting the world's most debilitating diseases.
As an investor, becoming involved in biotech at the early-stage of a company has the potential to deliver strong returns over the long-term – although of course, there is no guarantee this will occur in any one particular stock.
RAC represents this early stage potential following its recent ASX listing.
Interestingly, RAC sees itself more as a marketing company for late stage drugs in the biotech space, rather than a biotech company trying to prove up a drug from scratch.
In the first instance for RAC, the late stage drug is Bisantrene and as long as RAC can substantiate the efficacy of this cancer drug, it will have a strong chance to advance its market strategies.
Let's take a good look at just what RAC has cooked up for the ASX
RAC listed on the ASX on the 14 th of July 2016, after completing an RTO deal with Coronado Resources on July 1 st .
As part of its listing, RAC raised $4.3M in an oversubscribed capital raising.
Here is a rough guideline of what RAC is planning to bring to the table for investors over the coming months: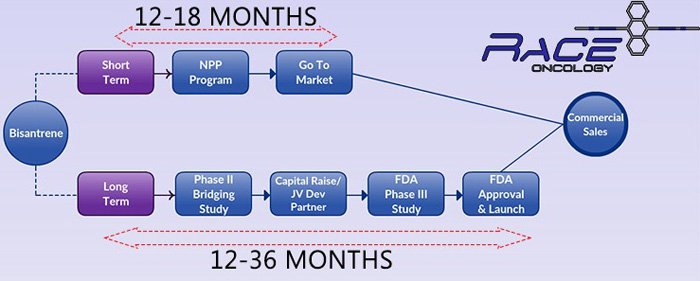 RAC is putting together a dual marketing plan for Bisantrene, its flagship anticancer drug.
In the short-term, RAC hopes to sell Bisantrene under a Named Patient Program (NPP) in Europe in order to generate early revenues – that's the top line in the graphic above.
Getting to these first sales could take 18 months, which could mean RAC's Bisantrene is offered to patients prior to completing Phase III trials with the FDA.
Here is RAC's Chief Scientific Officer (CSO) Dr John Rothman (more on Dr Rothman later), to explain a little further about the background of the drug: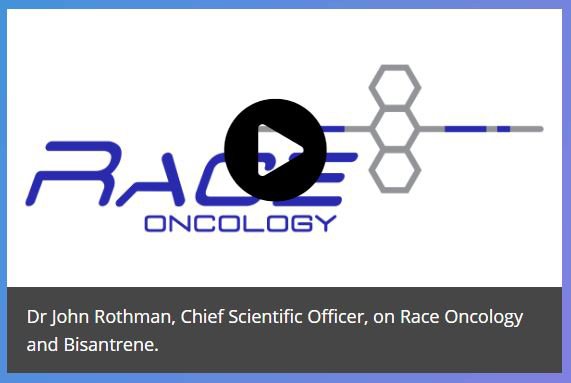 Does RAC have the stamina for the race to commercial drug sales?
As any seasoned biotech investor will know, it all comes down to drug efficacy and funding when evaluating a company's chances.
At RAC, its oversubscribed $4.3M cap raise as part of its ASX-listing means the funding side of proceedings is resolved over the near term.
So what about the efficacy?
Bisantrene previously underwent more than 40 clinical studies during the 1980s and it looks like RAC will only need limited further clinical development to gain FDA approval – quite an advanced stage given RAC's small market cap.
Furthermore, Bisantrene was approved in France back in the 1990s, for the treatment of AML, especially in relapsed/refractory AML where sadly, patients have no real hope. Bisantrene can give them hope.
It's important to understand that RAC's Bisantrene drug is aimed at advanced leukaemia sufferers that have very sombre prognoses and that have already tried a range of anticancer drugs as part of chemotherapy treatment.
It is these patients — that have essentially tried all else and failed — that RAC is trying to treat.
Taking a look at some clinical results
As we mentioned, Bisantrene already has over 40 clinical studies available that analyse its efficacy, and which cost previous patent holders in excess of $100M as part of Phase II trials by Lederle and the US National Cancer Institute.
RAC gets to leverage all this data free of charge and immediately jumps to being a late-stage drug.
Here is a summary of previous AML Phase II trials, showing response rates to Bisantrene: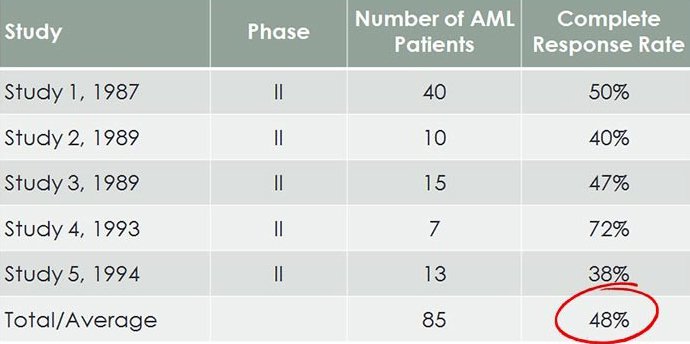 Remember, this is in relapse/refractory AML, where all else has failed.
For a longer reading list of clinical studies, click here . Some of the wording in these studies is very technical, but nevertheless, their conclusions are clearly expressed in their abstracts and summaries.
The loose pattern seen across all 40 clinical trials, is that on average, Bisantrene has a 1-in-2 chance of significantly improving the health of an existing AML sufferer who has exhausted all other treatments.
Bisantrene is considered a comparatively low toxicity chemotherapy drug that patients can still use after the more toxic ones have been utilised. This is especially important in AML where most patients are old and frail, and cannot tolerate the more toxic drug treatments.
Developing Bisantrene
To understand the value opportunity that RAC and its drug Bisantrene represents, it's important to take a quick historical road trip...
Bisantrene was first developed by Big Pharma company Lederle in the 1980s for the general treatment of cancer, but with comparatively low toxicity compared to other anticancer drugs.
In 1990, Bisantrene was approved in France and remains approved to this day.
However, due to a string of haphazard mergers across the pharma sector in the 1990s, the IP to Bisantrene was thrown in with the rest of the furniture, but left off the asset register list as Lederle was first merged with Immunex and then sold to AHP/Wyeth in 1999, and sold again to Pfizer in 2009.
In 2013, the orphan drug Bisantrene was 're-discovered' and adopted by Dr Bill Garner after being completely forgotten by its biological parents.
Bill Garner is RAC's Chairman and a non-executive director and along with RAC's Chief Scientific Officer, Dr John Rothman, filed new patent applications on Bisantrene to give it a new lease of life (its original patents had long expired).
Bill asked former ASX CEO and Big Pharma marketing exec, Peter Molloy, to help him list RAC and manage the company as full-time CEO. Molloy was instrumental at Pharmacia (now Pfizer) and managed four pharmaceutical marketing divisions including the oncology business.
This is now the team committed to deliver on the promise for Bisantrene.
As for Dr Garner, it's not the first time he has created a company around a re-discovered, late stage asset.
RAC's Chairman Dr Bill Garner also co-founded DelMar Pharmaceuticals (NASDAQ:DMPI) and its valuation has quadrupled in a very short time, and is currently capped at $95M USD.
The past performance of this product is not and should not be taken as an indication of future performance. Caution should be exercised in assessing past performance. This product, like all other financial products, is subject to market forces and unpredictable events that may adversely affect future performance.

RAC Chief Scientific Officer Dr John Rothman's achievements are also noteworthy. Dr Rothman's work on interferon-α in AIDS-related Kaposi's Sarcoma (a type of cancer) resulted in the approval of first recombinant drug and AIDS treatment in the 1980s, called Roferon-A.
RAC still has work to do to see its valuation grow, but the important thing to note, is that the amount of work has been greatly reduced by RAC's underlying business strategy.
Market opportunity
The potential market opportunity for RAC is already large, and expected to continue growing.

According to the World Health Organisation (WHO), Acute Myeloid Leukaemia (AML) is expected to be more prominent in the developed world due to genetic and environmental factors, and radiation exposure is the primary cause of all the types of AML.
Global incidence of AML was 49,539 in 2008 with the developing countries. A total 62,226 new cases were recorded in 2010 with 95,211 and 129,837 as the predicted new cases for 2015 and 2020.
As it stands, cancer drug treatments generate over US$100 billion per year, in treating the gamut of cancers out there.
For RAC, its Bisantrene drug is initially aimed at a niche AML segment of the market which sees about 4 in 10,000 new cases each year.
That's a very small rate of incidence but, the Bisantrene chemo treatment could generate around $40,000 per patient for RAC.
RAC is not aiming to net billions in revenue from Bisantrene.
It's looking for a much more conservative $30-$40 million over the next 2-3 years, before moving up to around $300-$400 million in potential sales after its long-term strategy of going through Phase III FDA trials is completed.
Of course we should stress that these future potential revenue numbers are pure speculation on our part – and there is absolutely no guarantee that they will come to fruition. So seek professional financial advice if considering an investment in this stock.
At Phase III clinical trials, there is also the possibility of collaborating with a Big Pharma company to expand the range of applications for Bisantrene — from its current AML-only treatment, to also include breast and other cancers.
If this eventuates, it could mean RAC's revenue targets expand further, given the additional addressable markets.
One last aspect in terms of RAC's addressable market is demographics
As with so many other market sectors and themes, it seems demographics affects everything.
For RAC investors, a significant trend towards societies becoming older creates an organically improving market climate without any input from the company.
The shocking and sad truth is that the world is ageing rapidly and leading to more ailments and suffering from disease.
This particular demographics issue is creating more customers for the pharmaceuticals industry, regardless of which type of disease.
Other examples could include Actinogen Medical (ASX:ACW) , a company developing a treatment for Alzheimer's, or Cellmid (ASX:CDY) , currently selling the latest technology in hair loss treatment.
A quick word about catalysts
Having listed on the ASX just a few days ago, RAC is now at full-throttle to complete the short-term aspect of its business strategy.
Over the coming 12 months, RAC's goal is to obtain IND ( Investigational New Drug ) status from the FDA. An IND is a request for Food and Drug Administration (FDA) authorisation to administer an 'experimental' drug to humans before a marketing application for the drug has been approved.
Given the past history and available data on Bisantrene, we think there is a strong chance of there being no hiccups in RAC's application.
Assuming all goes to plan, RAC has a reasonably high chance of serving up a few price catalysts for investors because its news flow is likely to be fairly busy going forward.
Racing towards commercial sales in biotech
RAC has stitched together an attractive proposition for early commercial success.
There are of course risks to any new biotech start up, and so too here with RAC, so apply caution to your investment decision.
What gives us more than just hope here at The Next Biotech , is that RAC is essentially 'rolling out new tyres' rather than reinventing the wheel.
RAC's expert team including Dr Bill Garner, Dr John Rothman and Peter Molloy have cherry-picked one of the best possible types of orphan drugs – one that needs minimal amount of approvals and is very close to the 'FDA approved' finish line.
All RAC needs to do now is shepherd Bisantrene through the final stages of development for a successful market launch.
RAC has de-risked some of the typical market risks including funding availability and R&D expenditure by having one foot in the NPP program, an early-marketing opportunity that could generate early sales to help fund the longer term FDA strategy.
Cancer is a horrible disease which needs more research and more treatments because unfortunately, its prevalence is increasing due to an ageing population and unhealthy living habits amongst many developed countries.
RAC is stepping forth aiming to take a chunk out of this growing market.
Indeed RAC may have just the right tools to succeed in its strategy to tap the oncology sector with a late stage, currently niche drug that could have serious health benefits...
...whilst building vital revenues.
---