New ASX Listing to Turbo Charge Treatment in $100BN Oncology Market
PUBLISHED: 09-08-2016 09:24 a.m.
The weird and wonderful world of Biotechnology has a lot going for it — an industry working at the sharp-end of breakthrough medical research, Biotech is also one of the more enticing investment landscapes of modern times.
In how many other industries are companies literally striving to save lives?
All biotech companies have their particular quirks, but their fundamental goals are the same — to develop useful treatments for a range of diseases in order to improve the quality of life.
If we take a look at the sector as a whole, it has outperformed most others including most benchmarks over the past few years.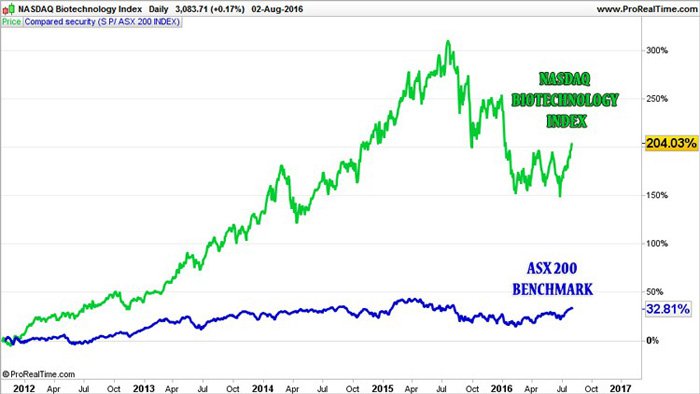 The past performance of this sector is not and should not be taken as an indication of future performance. Caution should be exercised in assessing past performance. This sector is subject to market forces and unpredictable events that may adversely affect future performance.
One ASX company that we have been alerted to has just completed its x2 oversubscribed IPO — the investment community snapped this one up very quickly indeed.
Instead of developing a drug focusing on treating a particular branch of the cancer tree, this company is developing a drug product that mitigates the toxicity of other cancer drugs when they are combined.
This is rather different, and it could be a potentially more lucrative approach, because the aim is not to target the cancer directly — but to empower other drugs to become less toxic and more effective.
In many ways, it's the equivalent of an additive that once added to a patient's treatment schedule, is able to galvanise a much stronger destruction rate of cancer cells compared to before.
This company is ready to come into the clinic right away.
No lengthy testing – just straight into human trials, commencing with a Phase I trial. And there are plenty of early signs (as you'll read below) that this drug has the legs to go all the way through to market.
This ASX stock is plotting a course to supplement the current fight against cancer that's already being conducted by dozens of pharma and biotech businesses, as part of an industry worth over US$100 billion per year .
As all biotech investors will know, investing in a potentially effective cancer treatment is a delicate mix of heart and mind — it is not wise to rely too much on one or the other, and it is important to seek professional financial advice if considering this stock for your portfolio.
The drug product being developed by this company is reported to be the best in its class, while being without toxicity, two outstanding early signs.
This drug is also looking like it can be used across almost all forms of cancer, not just one or two types. So assuming the drug passes clinical trials and regulatory hurdles, it could be available for mass-distribution to millions of cancer sufferers where it could grab a significant slice of that $100B market.
Here at The Next Biotech , anytime we see flexible, open-ended and undervalued early plays with a chance of grabbing a big chunk of a market, we tend to sit up and notice.
So too will many other investors as this company gets comfortable on the ASX as of today .
Unveiling: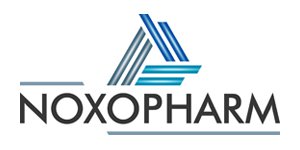 Noxopharm (ASX:NOX) is developing a treatment that can help patients overcome drug-resistance to cytotoxic (toxic to living cells) chemotherapy, known as NOX66.
NOX believes its first pipeline product, NOX66, will make standard, frontline chemotherapy work for more people in a stronger way, and with lower, safer dosages.
NOX has taken the opposite approach to just about every other biotech in the cancer space.
The sorts of drugs that 95% of cancer patients rely on have changed very little over the past 40 years. Nor have those drugs changed the outcome for most patients – sadly, many still pass away from cancer once it spreads.
The oncology industry knows this, and a range of companies are out there looking for different ways to treat cancer – however none have yet made a lot of difference.
NOX believes treatment lies in making current drugs work better, and that is what NOX66 is designed to do.
If successful, NOX66 could revamp the entire chemotherapy landscape by improving the response to treatment of cancers like pancreatic cancer and lung cancer. Furthermore, patients considered too old or too sick to be treated, now have the option of being treated.
Progress in cancer treatment has been mixed
Overall, more people are living longer with cancer than they did 40 years ago, but the odds are still stacked against us.
For some cancers including pancreas, lung, bladder, ovary and stomach, there has been virtually no improvement in survival statistics in 20 years. The other alarming statistic is that once a cancer spreads, it is a matter of when you die, not if.
One of NOX's goals through its NOX66 product is to improve the statistics and the safety record of existing cytotoxic chemo drugs, and expand their availability.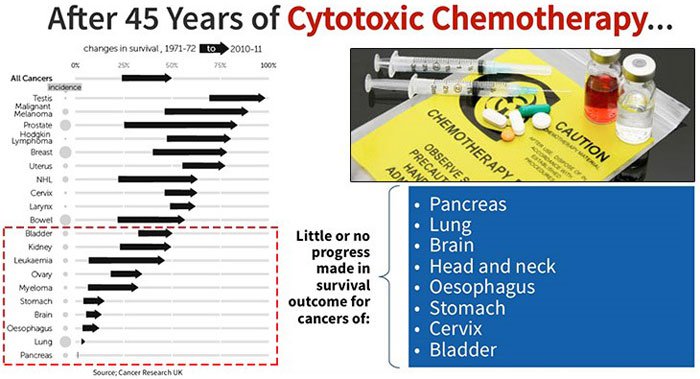 NOX wants to improve the applications of chemotherapy, and believes that NOX66 is the key to making this goal a reality.
Cytotoxic treatments are a double-edged sword — they're good at killing cancer cells, but they also kill healthy cells too. This means patients must be given a strict regimen that's capped at a level that's acceptable to the human body. Elderly or immune-deficient patients are therefore much less likely to be given chemotherapy treatment.
NOX66 blunts one of the edges and sharpens the other.
NOX66 makes standard chemotherapy drugs work better, but also safer.
NOX66 works by weakening the cancer cells' defences to allow cytotoxic drugs to become more effective. NOX66 delivers the body punch and standard chemotherapy drugs then deliver the knockout blow.
The benefits of NOX66 are twofold:
The response rate should increase for most cancers, including those like pancreatic and lung cancer where current response rates are dismal.
It allows the dosage of current toxic chemotherapy drugs to be lowered so that elderly patients, children and people with weakened immune systems should be able to receive safer levels of chemotherapy.
The key behind NOX66 is Idronoxil
NOX66 is an innovative way of delivering Idronoxil – one of the best prospects for overcoming drug resistance mechanisms in cancer cells.
Idronoxil is the drug – NOX66 is the delivery form.
Now, Idronoxil is not a new drug. It also actually has a chequered history, including having failed a Phase III clinical study known as OVATURE that saw it being put back on the shelf and forgotten about.
Here's the full, somewhat potted history behind Idronoxil: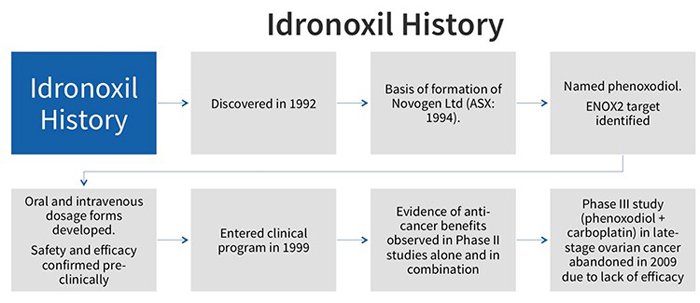 At this point you may be wondering why NOX have chosen to pursue a treatment method with Idronoxil...
Well firstly, it is worth noting that about 95% of anti-cancer drugs that are tested in humans never make it to market. So Idronoxil wasn't alone in failing.
In most cases, the reason for a drug's clinical failure remains a mystery.
But in the case of Idronoxil, NOX believes it has solved the mystery and is now in a position to make it work.
Idronoxil worked dramatically in the test-tube and in animals, making cancer cells that normally would require massive and lethal doses of drugs to kill them respond to tiny amounts of chemotherapy drugs – amounts so low they would not be expected to work at all.
The problem was that it wasn't possible to reproduce that effect in humans.
NOX believes that the problem comes down to the way the human body responded to Idronoxil.
The human body converted Idronoxil into a form that made it easy to get rid of in urine, but in the process, blocked the ability of the drug to work.
Having thus worked out the problem, NOX then had to come up with the solution, and that is what it did with NOX66.
NOX66 contains Idronoxil in a form that the body is unable to change, so that it reaches the cancer cell in a form that works. This could be the delivery method that Idronoxil needed for it to be truly effective in cancer patients.
Key to drug resistance is Sphingosine-1-Phosphate
In effect, Sphingosine-1-Phosphate is the mechanism that NOX believes will generate strong commercial returns as and when NOX66 is progressed. Have a look at NOX CEO Graham Kelly breaking down how it works in this presentation .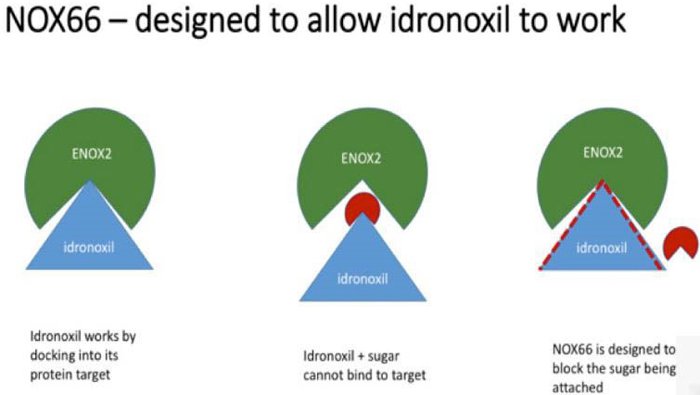 The two key players in the Idronoxil story are sphingosine-1-Phosphate (S-1-P) and ENOX.
S-1-P is the master switch that our cells need to stay alive. So it's a good thing. The problem with cancer cells is that they have too much of a good thing – they make far too much S-1-P. They over-produce S-1-P so that all of their survival mechanisms are overactive, including dividing too much and never dying when they should.
Cancer cells are like normal cells with ADHD – and one of these ADHD-like responses is the ability to resist all attempts to kill it by chemotherapy and radiotherapy.
ENOX comes into the story because it is the protein that regulates the pump that moves waste hydrogen ions (protons) out of the cell. Stopping the proton pump is like putting a tennis ball in a car's exhaust pipe – gas builds up and blows up the motor. Blocking the proton pump causes hydrogen ions to build up in the cell with one of the first effects of this being to shut down the production of S-1-P.
No S-1-P = withdrawal of survival mechanisms = no ability to resist chemotherapy drugs.
ENOX is what Idronoxil targets and shuts down. So, if all cells, good or bad, need an active proton pump, then why doesn't Idronoxil damage all cells in the body?
The answer lies in the fact that cancer cells make a different form of ENOX to normal cells. In normal cells it is called ENOX1; in cancer cells it is called ENOX2. Almost identical proteins, but just a tiny difference in their stricture. It is that tiny difference that Idronoxil binds to, only hitting ENOX2 and completely sparing ENOX1. All forms of cancer express ENOX2 which is why Idronoxil could work across all forms of cancer and only affects cancer cells.
Going back to our car analogy, a healthy cell is like a car with a large diameter exhaust pipe...the tennis ball is just blown out as soon as the car starts. A cancer cell is a car with a small diameter exhaust pipe where the tennis ball fits perfectly.
NOX 66 is what makes the Idronoxil in the tennis ball fit perfectly into the exhaust pipe.
Let's take a look at the broader market NOX hopes to pierce over the next few years
When looking at the target market, NOX will be pitching NOX66 into the $100 billion oncology market that is thriving on the back of ageing demographics and unhealthy lifestyle choices.
Although it is difficult to gauge just how much of this market NOX will be able to capture, so it is prudent to seek professional financial advice when considering this stock for your portfolio.
The unfortunate reality of cancer sufferers is that 90%+ of chemotherapy is largely ineffective and fails to cure the underlying disease.

NOX wants to shake-up chemotherapy efficacy by developing the first drug product that correctly differentiates between cancerous and healthy cells.
Existing chemotherapy treatments are very toxic and are therefore limited in how much they can be used. NOX66 is able to mitigate the effect of that toxicity significantly enough to improve the effect of existing cancer drugs and treatment.
Here is a chart of the expected growth in global oncology: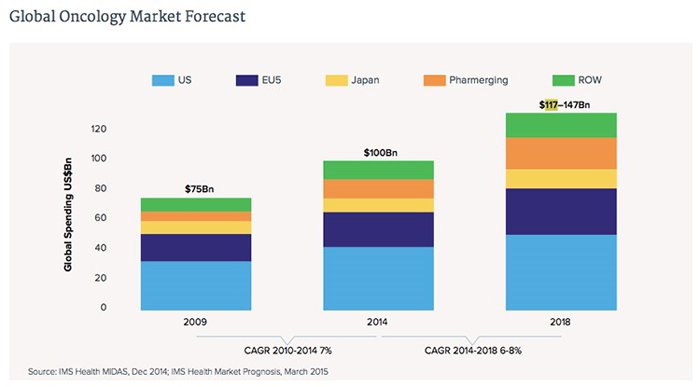 If drilling down further, the United States is the biggest spender on anti-cancer drugs, with the largest annual growth coming from the UK.
Globally, Western countries tend to have larger cancer diagnosis rates but as developing countries pursue rapid industrialisation, they too are seeing their cancer rates creep up.
This means that future spending on anti-cancer treatments is likely to remain high, as China and India in particular, raise their levels of economic wealth.
NOX Management
One of the key aspects behind any potential investment consideration is Management.
Does NOX have the right jockey taking the reins?
The answer is a resounding yes — because it just so happens that current CEO Graham Kelly has already progressed another ASX biotech hopeful from paddock to plate back between 1996 and 2006.
Graham Kelly shepherded Novogen (ASX:NRT) to a valuation of over $800 million when it first started to work with Idronoxil.
Here is Novogen's performance during the time Kelly had the reins – from a sub 40 cent share price all the way up to almost $9.00 a share at its peak: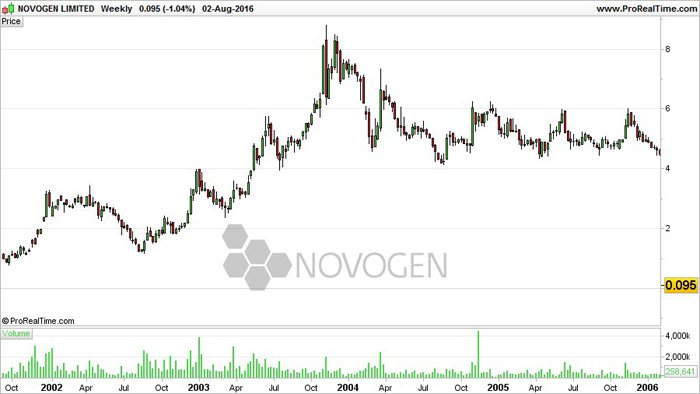 The past performance of this product is not and should not be taken as an indication of future performance. Caution should be exercised in assessing past performance. This product, like all other financial products, is subject to market forces and unpredictable events that may adversely affect future performance.
Then he repeated the process in 2012. Having been away from Novogen for 6 years, the Company slid into bad times, transferring all its assets to a US subsidiary company in 2011 and leaving just a shell that was in danger of being de-listed.
Out of dismay at this turn of events, Kelly engineered an RTO, starting with a company with a valuation of $2 million and no assets, and within 2 years restoring its IP assets, delivered a peak market cap of $145 million , and leaving it in a sound financial position with $45 million in the bank when he again left it in mid-2015.
The past performance of this product is not and should not be taken as an indication of future performance. Caution should be exercised in assessing past performance. This product, like all other financial products, is subject to market forces and unpredictable events that may adversely affect future performance.
Can he repeat his success with NOX? Investors are certainly hoping so.
Milestones on the path to commercialisation
NOX has completed its IPO by raising $6M in a heavily oversubscribed raising and is now listed on the ASX.
The next steps are already being taken with respect to progressing NOX to raising its valuation on the back of clinical trials and providing investors with more detail regarding its unique drug-resistance strategy.
Here is an indicative timeline of NOX's immediate future — investors take note and keep those catalyst-catcher gloves ready.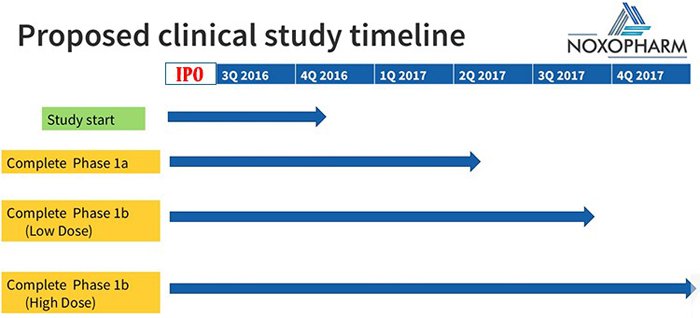 With the IPO out of the way and the champers depleted, NOX has some work ahead of it. Step 1 will be to kick off the clinical program.
Phase 1 Trial commencing in Q4 2016
NOX's first clinical study is going to take place in Georgia... not the Georgia that Ray Charles sings about, but the Georgia that used to belong to Russia.
It is an independent, stable country now, with an advanced healthcare system that is developing a reputation for the go-to place if you want a clinical study done.
The FDA recently audited clinical data coming out of Georgia and gave it the tick of approval. NOX is going there first up because they believe that they can start and finish a study there much sooner than in Australia. All the controls will be based in Australia... just the patients in Georgia.
NOX is conducting a study using a design called 'adaptive design' that we haven't seen before and that we believe reflects the entrepreneurial approach of this Company.
NOX is essentially doing 3 studies in the one – a Phase 1a, Phase 1b and Phase 2a, thus saving a lot of time and a lot of money.
The Phase 1 part of the study involves 15 patients, all with late-stage cancers that have failed standard treatments. These will be patients with no remaining treatment options.
The Phase 1a arm is NOX66 on its own: the aim here is to ensure that NOX66 is as safe as NOX believes it will be.
Then onto the Phase 1b arm where NOX66 will be used in combination with a powerful chemotherapy drug called carboplatin. Patients will start off with a low dose of carboplatin for 3 months and then go onto a normal dose of carboplatin. The aim here is to see if NOX66 plus the low dose of carboplatin can shrink the tumours without any toxicity.
If NOX can achieve that, then it would be a world-first and would open up enormous market opportunities.
Phase 2a kicks in if the company sees some good responses in the Phase 1b arm.
It's a fast-track way of providing evidence that NOX66 works in specific types of cancer.
Here is a detailed summary of the Phase 1a/1b arms commencing in Q4 2016: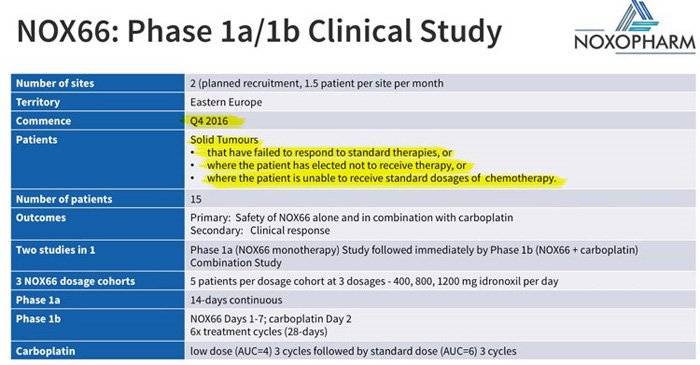 Pharming for a slice of Biotech
The biotech sector has true potential to transform society.
The level of technological progress in chemotherapy over the same period has been a diametric opposite i.e. there has been a dearth of any improvement in how chemotherapy is used.
What the world of medicine needs is courageous oncologists with forward-thinking ideas that are able to change people's lives for the better.
NOX has potentially discovered a direct path to market courtesy of its NOX66 drug product. Of course, it is still early days and clinical trials are crucial...
...but already, the early signs are that NOX has everything it needs to succeed.
Here is a summary of NOX and why we think it has more than just a chance of success.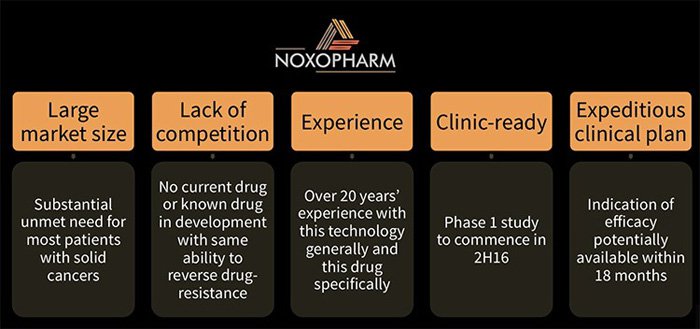 Fingers crossed that NOX will deliver the necessary clinical results over the coming year. If the trials are successful, NOX66 has the potential to become a staple chemotherapy supplement that is routinely prescribed to chemotherapy patients because of its ability to weaken cancer cells and tumours to the point where other chemo drugs can skittle them very easily, with lower dosages, and with greater efficacy.
Considering that ~95% of cancer patients tend to require chemotherapy at some stage in their treatment, NOX is aiming for the biggest addressable market it possibly can.
When adding in the growing rates of cancer diagnosis globally, NOX is focusing on making current frontline chemotherapy more effective, in more cancers, in more people, for longer periods and with more safety.
That's a long laundry list of benefits and improvements – and the good news is that NOX could have a realistic chance of achieving it given its business plan and the team working on it.
The answer to defeating late-stage cancers and tumours may lie in combining a previously overlooked drug (Idronoxil) with a newly developed combat method (NOX66).
If NOX proves its revolutionary anti-cancer method in the clinic, combining NOX66 with other anti-cancer drugs could suddenly raise the effectiveness of chemotherapy for all cancer sufferers, not just those from a particular subset such as ovarian cancer.
NOX has developed a delivery system that should ensure that 100% of the drug in the body is able to seek out cancer cells, compared to the less than 5% when Idronoxil was used previously.
The bottom line for any investors considering NOX is that this is a small, early-stage biotech company with a huge addressable market that's still growing.
However, while it is still in trial phase it is difficult to gauge how much, if any, of this addressable market will be available to NOX. If considering this stock for your portfolio take all factors into account and seek professional financial advice.
NOX is not looking to compete with chemotherapy drugs — quite the opposite — it wants to turbo-charge them.
As long as clinical trials are navigated successfully, this little micro-capped brawler could be delivering a significant blow to the bane of cancer and the anguish of chemotherapy for millions of people worldwide.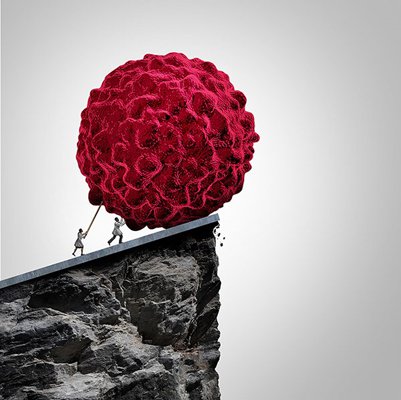 ---