RSH on verge of commercialisation: on track to complete next-generation AirSonea
PUBLISHED: 23-02-2018 10:00 a.m.
Nearly two-thirds of people with asthma are not receiving the basic care they need to manage the condition, says a recent report by Asthma UK.
Unfortunately, the consequences of this lack of provision can be fatal.
Globally, over 300 million people are living with asthma. And that number will grow in coming years, fuelled by rising indoor and outdoor causative agents like pollution, allergens and dust, which in turn drive the need for critical asthma therapeutics.
Thunderstorm-triggered and springtime asthma epidemics also have been on the rise in Australia, where one in nine people suffer from the potentially deadly condition — that's around 2.5 million people.
In Australia alone, asthma causes around 400 deaths and 39,500 hospitalisations per year.
It also disproportionately affects children. More than half of these hospitalisations are for children under 14 years old.
Given all of this, the global market for asthma and chronic obstructive pulmonary disease (COPD) was estimated at US$47 billion last year.
Considering also that outdated, difficult-to-use instruments for lung function testing such a speak flow meters are still industry mainstays, there's clearly an expansive, addressable market for transformative solutions in asthma monitoring and management.
This a space where ASX med-tech innovator, Respiri Limited (ASX:RSH), is hoping to make a real difference.
On the cusp of commercialisation,this ASX junior is already getting noticed as a leader in developing innovative devices and mobile health apps to improve management of chronic and often costly respiratory disorders like asthma and COPD.
Building on wide-reaching experience in delivering cutting-edge clinical products for hospitals, RSH has a razor-sharp first-mover edge in providing broad access to its proprietary acoustic-based clinical solutions for remote monitoring with a suite of over-the-counter connected devices.
RSH's products have been cleared for use by the US FDA, the European Union, Australia's TGA, and an approval process for Asian markets has also begun.
RSH's central focus is its next-generation wheeze detection and monitoring device, AirSonea Generation II, with a prototype upgrade set for completion in the second quarter of the year.
The AirSonea breath sensor is a digital self-management tool that enables users to seamlessly track and share their wheeze triggers and medication use for better asthma control and,ultimately, improved quality of life.
This is the first of several major milestones that will be signposting RSH's year as it forges a direct pathway to commercialisation.
Although it should be noted that this remains a speculative stock and investors should seek professional financial advice if considering this stock for their portfolio.
All of RSH's resources are being channelled into this central priority, and it's working closely alongside two capable partners — Grey Innovation and Two Bulls — to deliver the new and improved sensor, combined with state-of-the-art real-time smart app capabilities.
The next-generation sensor will feature a new creative design and superior ergonomics — opportunities for improvement that were identified during RSH's successful research study at the University of Chicago.
Importantly, development of the functional prototype will enable RSH to tangibly demonstrate the innovation it's bringing to market for both investors and potential commercialisation partners alike.
Which means that it may not be long before shareholders cotton on to this $30.3 million-capped quiet achiever.
Once this step is complete, RSH will then undertake further 'pressure testing' and refinement, and expects to have a quality medical device prototype design complete during the third quarter of the year. The fully functional finished product will then be ready for a limited production run.
From there, RSH will look to significant milestones and inflection points, including design updates and verification, and handover to manufacturing partners in the fourth quarter.
All in all, this amounts to a full calendar indeed for one modestly sized med-tech stock, with a lot to keep RSH busy as the year unfolds.
Given that, let's cut straight to the chase and catch up with: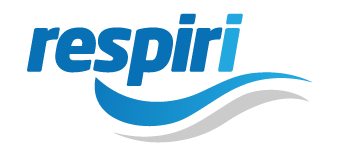 Respiri Limited
ASX:RSH
One of the reasons the biotech and med-tech space can be so enticing to forward-focused investors is the potential to tangibly contribute to something that can drastically affect or even save lives.
This lies at the heart of what Respiri (ASX:RSH) does. RSH is leading the way in new technologies to better manage asthma, a chronic disease affecting more than 330 million worldwide. This company has created the world's first clinically proven digital wheeze detection technology, which we'll look at in more detail shortly.
For those of you who are new to the RSH story, here's a quick look at what the company does:
RSH's wireless technology has two components: a breath sensor handset to capture and transmit breath sounds to the app, and a real time app as part of a sophisticated and scalable IT platform with an acoustic respiratory monitoring algorithm boosted by machine-learning technology...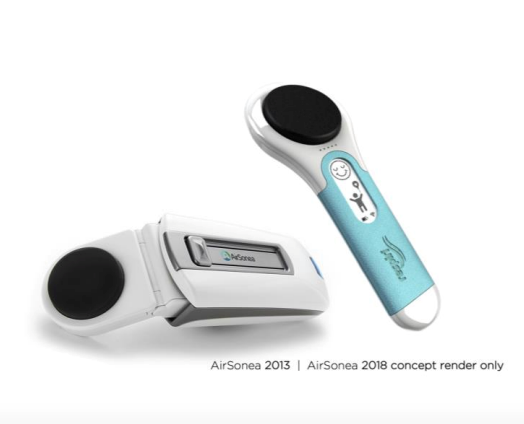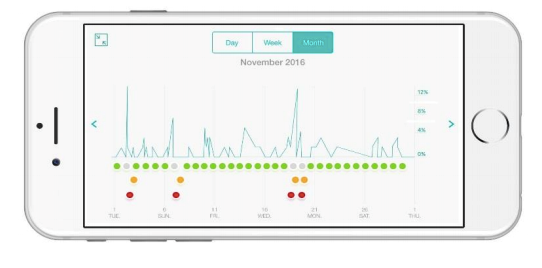 Together, RSH's Acoustic Respiratory Monitoring (ARM) technology and AirSonea device offers a comprehensive, non-invasive monitoring and management system that measures a patient's wheezing — a narrowing of the airways that typically indicates some difficulty breathing.
And there's clearly a captive audience for these kinds of products. Health authorities universally agree that mHealth (mobile health) solutions can transform asthma care, and health-conscious consumers are rapidly embracing patient self-management devices with the aid of smartphones and app-centric digital culture.
It's also worth noting that the global mHealth market itself was estimated to be worth US$23 billion (A$29.5B) in 2017, and is expected to grow at a compound annual growth rate (CAGR) of more than 35% over the next three years.
Bearing that in mind, here's what the revenue streams from RSH's mHealth platform look like: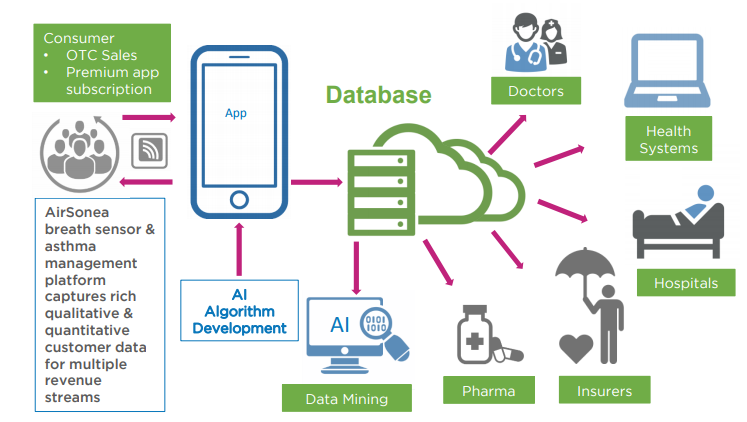 With the addition of new products also in development, including a connected device for nocturnal monitoring, RSH has a receptive global market of parents and carers of young children who can't perform lung function tests themselves.
Although it is difficult to determine how much of the market RSH will be able to capture, so investors should maintain a cautious approach to any decision made with regard to this stock.
Substantial achievements over the past 18 months place RSH in a lower risk position — and on the verge of commercialisation — when compared to the vast majority of medical device and biotech companies.
These achievements include:
A successful independent clinical research study at the University of Chicago, clinically proving AirSonea's ability to detect and measure wheeze

Beginning to rebuild the AirSonea product from scratch

Development of global collaborative opportunities and relationships, including with leading clinicians, health care professionals and peak asthma bodies

Receipt of global regulatory approvals

Appointment of new CEO, Mario Gattino, who has held senior leadership roles at Pfizer – timed to the tune of the 2018 global launch of AirSonea

A decision to internally fund the upgrade to the 2018 breath sensor device

RSH's development milestone timeline so far: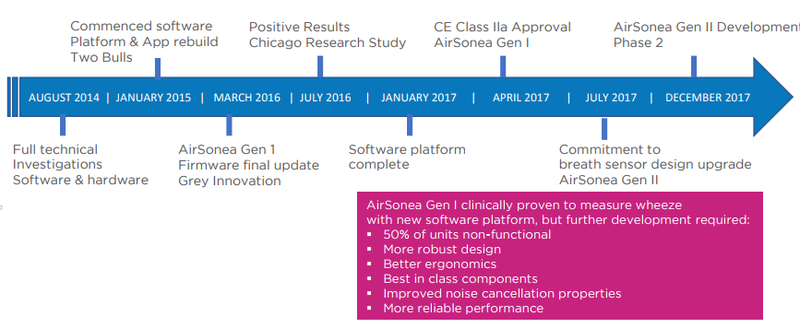 This brings us to the most immediate milestone on RSH's 2018 calendar: AirSonea Generation II...
The next generation: creating a functional marketing prototype
As we've mentioned, AirSonea is an easy-to-use device that connects via Bluetooth with a sophisticated smartphone app to detect and measure wheeze.
The app features asthma management diary features, medication usage and reminders, and symptoms and triggers to help asthmatics understand how their condition affects them and to better adhere to their treatment plans. Further features in the works include weather conditions and pollen count.
The short video below explains how the device works and what it can do for asthmatics:
As we've mentioned, RSH is replacing its 2013 AirSonea breath sensor with a brand new 2018 next-generation device.This will ensure compatibility between the breath sensor and RSH's recently launched software platform housing its wheeze RATE algorithm.
Better ergonomics will deliver a more user-friendly device, making it easier to grip and place in the optimum position on the user's neck for recording breath sounds. Updated components and highly skilled engineering will also improve the quality of the sound files being transmitted to the AirSonea app for accurate analysis.
As the primary market for this product is children and young people, an important consideration here in the design of the new breath sensor is its internal and external robustness.
RSH is working closely with its two key partners to deliver the finished product. These are Grey Innovation, a leading technology commercialisation company, and Two Bulls, a creative software development firm based in Melbourne.
All up, RSH's breath sensor will take a minimum of six months to develop, and is on track for completion in the second quarter of the year.
Delivering a functional marketing prototype is an essential frontier for the future-focused RSH — it's the final step to commercialisation, so it's critical for the company to get this pitch-perfect.
Although there is still some way to go for RSH, so investors should seek professional financial advice for further information if considering this stock for their portfolio.
Once delivered, the functional prototype will enable both investors and potential commercialisation partners to understand precisely what RSH is bringing to market, showing them what the product can do and how it will address major unmet needs in asthma self-management.
With this pivotal milestone looming in the not-so-distant future —potentially a major catalyst for this ASX med-tech small-cap — let's take a look at what the rest of the year will hold for RSH...
The road ahead: A cluster of milestones and inflection points
Here's an idea of what RSH's plan for AirSonea Generation II looks like in the months to come: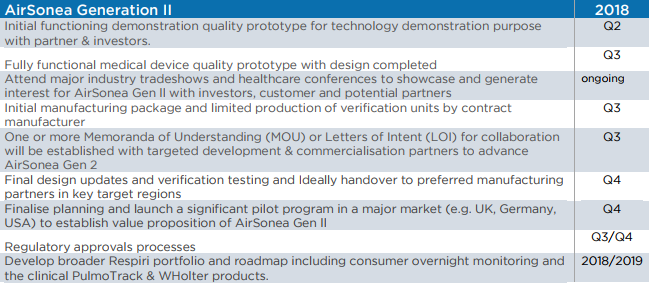 RSH has also been receiving ongoing interest from potential industry partners for some time now, so it could also be sealing some salient deals in the coming days.
All of these upcoming inflection points and milestones translate into regular news flow for RSH, not to mention share price catalysts.
The path to market
Honing the technology to develop a robust and innovative medical product for over-the-counter sales requires a world-class team of scientists, engineers and software developers, with hefty commitment to a rigorous product development process.
This takes time and there are no shortcuts. There's no way around it; biotech is a long-term proposition.
However, there are clear, tangible rewards to be reaped from the successful launch of a cutting-edge product that could have a very real effect on people's lives.
RSH is making sound progress with its final step to commercialisation –its breath sensor prototype – and is potentially looking at a series of major catalysts in the coming months.
If RSH can manage to maintain its focus and continue ticking off critical milestones throughout the year, this $30.3 million-capped ASX med-tech company could soon leave its small cap days far behind.
---