IMU's Latest Cancer Treatment Acquisition Could Have Big Pharma Knocking
PUBLISHED: 25-07-2019 09:48 a.m.
Merck, Boehringer Ingelheim and Janssen are three of the largest pharma companies in the world. They understand that in the fight against cancer, a major weapon is required.
In light of that, each acquired immuno-oncology interests totalling over $1 billion in 2018.
In the case of Merck, it acquired Australian group Viralytics for A$502 million.
The reason for the acquisition was Viralytic's investigational oncolytic immunotherapy, Cavatak, which is based on its proprietary formulation of an oncolytic virus that has been shown to preferentially infect and kill cancer cells.
If you haven't heard of oncolytic virotherapy (OV), it is the leader in the field of immunotherapy and it does exactly as stated above — it infects and kills cancer cells.
In other words, it is a major weapon in the fight against cancer.
Imugene Limited (ASX:IMU) is another Australian company working in the field of cancer immunotherapies and it could be adding an exclusive worldwide license to a promising OV.
The clinical stage immuno-oncology company is already developing a range of new and novel immunotherapies that seek to activate the immune system of cancer patients to treat and eradicate tumours.
To date it has been developing a pipeline of novel B-cell vaccines; two of these therapies, HER-Vaxx and B-Vaxx, are already in Phase 2 studies and there are several catalysts to come throughout the rest of 2019 as these therapies are developed further.
B-cell cancer vaccines are IMU's bread and butter.
However, IMU is set to add another potential cancer killing weapon to its arsenal.
The company has recently been presented with the opportunity to break into the OV space, after negotiating to acquire a worldwide exclusive license to a promising OV developed at LA's City of Hope Hospital.
City of Hope is an acclaimed cancer research centre. Its chair of the dept. of surgery, Professor Yuman Fong, is the inventor of this new OV, known as CF33, which in pre-clinical trials has shown to be more efficacious than most OVs, including, potentially, Cavatak. It shrinks injected tumours with very low doses, whilst also shrinking non-injected distant tumours.
Importantly, CF33 has a long life patent through to 2037 protecting it from any copycats until that time. Its potential application also spans many cancer types.
Big things are expected of CF33 when it goes into Phase 1 clinical trials in 2020.
We will take a more in depth look at the science shortly, but essentially should this acquisition move ahead as expected, it could put IMU in a similar position to Viralytics.
IMU already has an association with Viralytics. Former Viralytics chair, Paul Hopper — who was behind the half-billion dollar sale to Merck — is currently the executive chair of Imugene. In addition, the highly experienced Viralytics OV team will join IMU to further boost the $68.5 million capped company's OV research and trials ­— certainly good news for IMU and its shareholders.
Combined with its immunotherapy trials, the acquisition of this OV could provide a major catalyst for IMU and a significant boost to its share price.
Let's catch up with...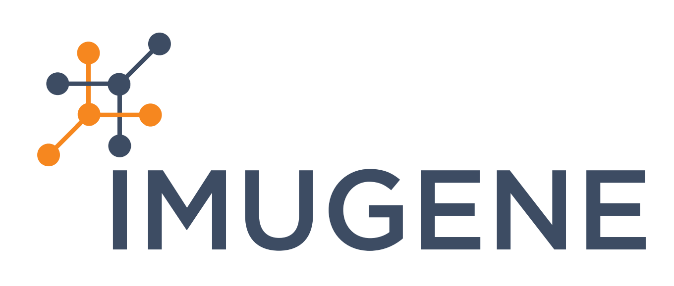 Share price: $0.019
Market Cap: $68.59
Here's why I like Imugene...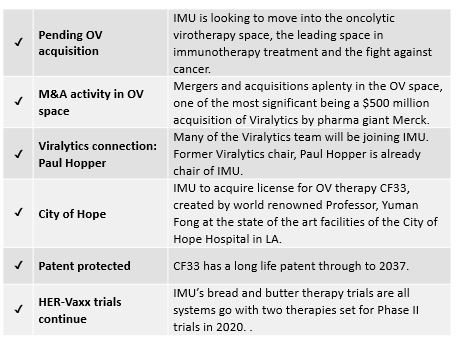 The Onco express
In her most recent newsletter to shareholders, Imugene (ASX:IMU) CEO and MD Leslie Chong said, "The Onco express has left the station. I hope you're aboard".
Given the recent M&A activity in the Oncolytic Virotherapy space, it would be difficult to find a reason not to jump on this train.
I have already noted the A$502 million Viralytics acquisition...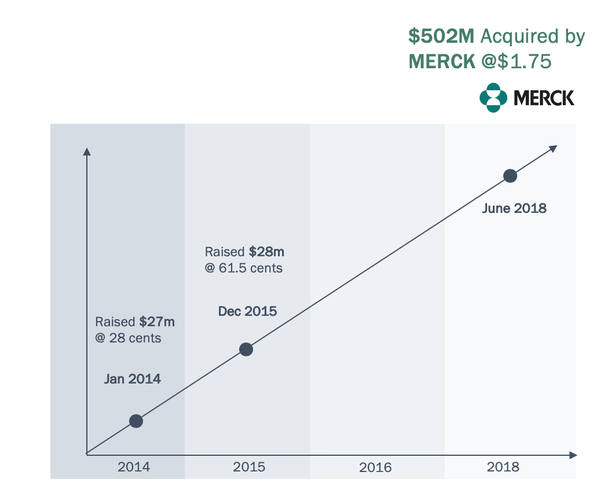 ... here are other acquisitions in the space in recent times.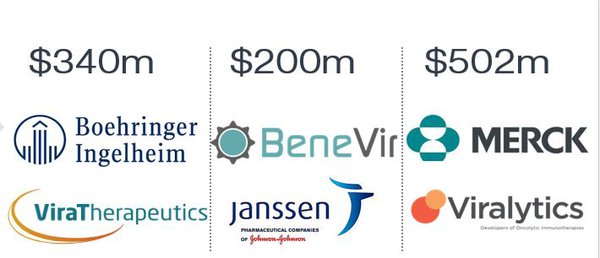 Yet, this is just a small sample of activity.
Other big pharmaceuticals to get involved in the OV space include AstraZeneca, which has teamed up with Transgene to develop oncolytic virus candidates. It is paying US$10 million upfront to get Transgene to apply its oncolytic virus expertise and technologies to the development of five assets.
Private equity firm Ampersand acquired German CDMO Vibalogics in June this year and BMS offered PsiOxus Therapeutics €850 million (A$1.3B) for exclusive rights of an oncolytic virus that could outperform the promising CAR-T therapies.
The table below is an overview of some of the biggest or most newsworthy deals in the OV space since 2011.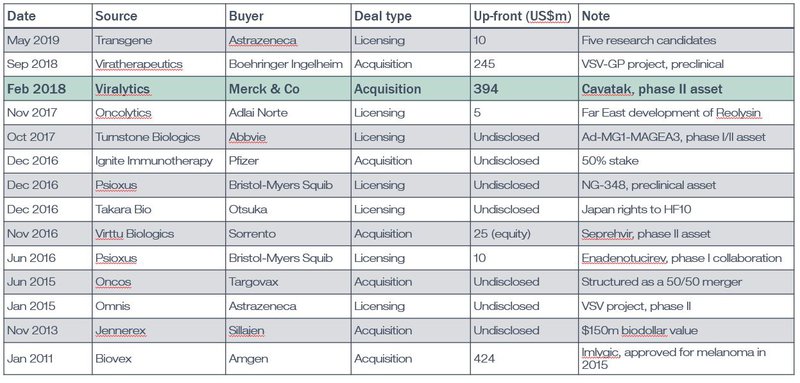 For IMU, the acquisition of this OV license from City of Hope presents four clear opportunities: acquisition of IMU by big pharma, partnership with big pharma, the potentially lucrative licensing of a target disease, or it continues to go it alone to reap all the rewards that a breakthrough in this space would bring.
News of the acquisition had an immediate effect with shareholders: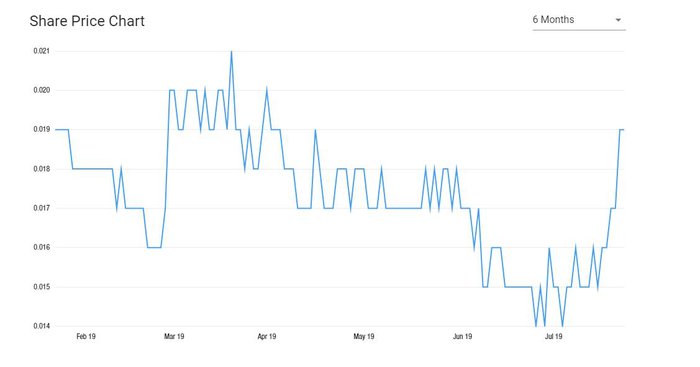 The value pathway looks like this:

There are numerous potential partners that IMU can tap into and this acquisition opens up several doors that may have been a little slower to open based only on the very good work it is doing in the HER-Vaxx space, particularly with gastric cancer treatments.
An OV asset could see IMU playing with the big boys sooner rather than later, especially as a Phase 1 clinical trial in 30 patients with advanced solid tumours is expected to commence in 2020 across a number of US cancer centres.
Hope comes to IMU
Not that IMU needed hope per se. It was travelling very nicely with its HER-Vaxx trials.
The type of hope we are talking about comes straight out of the City of Angels, in the form of a brand new asset.
IMU announced on 15 July that it would acquire a worldwide exclusive license to a new and highly promising oncolytic virus technology, known as CF33.
CF33 is a chimeric vaccinia poxvirus created by Professor Yuman Fong, Chair of Surgery at City of Hope, a world-renowned independent research and treatment centre for cancer, diabetes and other life-threatening diseases.
Professor Fong is a noted expert in the OV field.
OVs are designed to selectively kill tumour cells and activate the immune system against cancer cells, with the potential to improve clinical response and survival. OVs have the potential to transform oncology by directly causing tumour cell death, and also by delivering a potent payload in a targeted fashion that activates the immune system.
Oncolytic virotherapy is leading the field of immunotherapy because, as a body of clinical research suggests, when used in combination with checkpoint inhibitors, it can improve the efficacy of cancer treatment without increasing toxicity.
Essentially, OVs infect, replicate in and eventually kill cancer cells while leaving healthy cells unharmed.
To give you a better understanding, here's Professor Fong explaining the potential of oncolytic virus applications, in particular CF33 and how it differs from Viralytics' Cavatak:
The following diagram explains how a virus kills a cell and CF33's method of action:

CF33 has numerous benefits.
Preclinical data has demonstrated that CF33 is more efficacious than all parental viruses and some viruses in clinical trials.
CF33 can shrink multiple types of cancer at an extremely low dose (1000 PFU).
Importantly, CF33 shrinks not only injected tumors, but also non-injected distant tumors (abscopal effect).
CF33 can be made in high titres.
CF33 can be used in multiple doses without complete neutralization by host immune system.
For a more detailed explanation of CF33, see IMU's latest acquisition proposal presentation.
Details of the acquisition
IMU CEO, Ms Leslie Chong said "we are delighted to be able to licence such a promising next generation oncolytic virus in a competitive marketplace where big pharma companies are actively seeking OV technologies. CF33 comes with robust intellectual property and long patent life, compelling pre-clinical efficacy and safety, and is anticipated to enter a Phase 1 clinical trial in 2020."
Under the terms of the licence agreement, IMU is set to acquire the exclusive worldwide rights to develop and commercialise the CF33 OV.
IMU will pay City of Hope license fees comprising an upfront fee, annual maintenance fees — which are creditable against future royalty payments, performance based consideration linked to the achievement of certain value — inflection development milestones and commercial outcomes, as well as net sales based royalty payments, and sub-licencing fees.
All upfront cash payments under the Licence Agreement will be funded through IMU's existing cash reserves.
As part of the licence agreement, IMU will also acquire Vaxinia, whose team members had direct involvement in two of the largest OV transactions in biotech history: Amgen's acquisition of Biovex for US$950 million and Merck's acquisition of Viralytics for A$502 million.
As with any acquisition, completion is subject to shareholder approval.
The transaction, includes an up-front cash payment of $462,500 and the issue of ordinary fully paid Imugene shares valued at $1.619 million based on the seven day VWAP prior to 15 July.
Vaxinia shareholders which include Paul Hopper and Professor Fong, will be eligible for further payments in equity on the achievement of performance-related milestones including granting of the Investigational New Drug (IND) by the FDA, dosing the first patient in a Phase 1 clinical trial, and the Phase 1 clinical trial demonstrating safety.
It should be noted that Hopper recused himself from the decision to acquire Vaxinia.
The completion date for the transaction is expected to be in early September2019.
A powerful combination of immunotherapy treatments
The CF33 licence will be a potent complement to IMU's HER-Vaxx cancer vaccine.
You can read more about HER-Vaxx in our previous articles:
IMU's HER-Vaxx is a B-cell peptide cancer vaccine designed to treat tumours that over-express the HER-2/neu receptor, such as gastric, breast, ovarian, lung and pancreatic cancers.
The immunotherapy is constructed from several B cell epitopes derived from the extracellular domain of HER-2/neu. It has been shown in pre-clinical studies and now in Phase I studies to stimulate a potent polyclonal antibody response to HER-2/neu, a well-known and validated cancer target.
Here's CEO Leslie Chong speaking with Proactive Investors about the progress being made with the HER-Vaxx Cancer Vaccine trial data.
In the video above, Chong references new data on the Phase lb study of IMU's HER-Vaxx cancer vaccine showing cancer fighting antibody and clinical response rates continue to be positive in patients receiving the optimal biological dose of vaccine.
Patients have maintained strong and high levels of HER-2 targeting antibodies indicating a durable response is present with no resistance developed.
In cohort 3 patients that are receiving the optimal biological dose, and selected Phase 2 dose, one patient has seen a total tumour reduction of almost 80% from baseline CT scan with one out of four of their lesions becoming unmeasurable by RESIST criteria at Day 266 visit.
Chong said of the results, "This latest presentation from the HER-Vaxx Phase 1b study further reinforces the very good early results and ongoing interest among the international oncology community in our potentially promising B-cell platform cancer vaccine and clinical development strategy."
The Phase 2 study began enrolment in March 2019 and is scheduled to complete in 2020.
Brokers onside
Following the announcement of the CF33 acquisition, Independent Investment Research (IRR) delivered comprehensive and mostly positive coverage of the stock.
You can see the report here.
Edison also released coverage. Edison maintained its valuation of $159 million or 4.4 cents per share, however this does not yet take into account the acquisition. One would expect the valuation to increase once the CF33 transaction is completed.
It should be noted, of course, that broker valuations, are speculative and investors should seek professional financial advice if considering this stock for their portfolio.
The year so far
It has been a big year already for IMU and it looks like it will be even bigger in the back half of 2019, leading into 2020.
It began with the appointment of renowned cancer scientist Michael Caliguiri, and included the dosing of the first patient in a 68 patient randomised Phase 2 HER-Vaxx cancer trial.
It also saw, Imugene's team meet with a seven member panel of the FDA Division of Regulatory Project Management Office of Tissues and Advanced Therapies in Washington DC on 8 February 2019.
The purpose of the meeting was to obtain regulatory guidance and agreement of the preclinical, chemistry, manufacturing and controls and clinical development plan to be included in an IND for Imugene's PD-1 targeting PD1-Vaxx immunotherapy.
This was a major step in providing clarity for IMU moving forward. With clarity comes better, faster and more tailored execution, which could lead to game-changing catalysts.
The final word
Speaking of catalysts, IMU's latest news could be a big catalyst for change.
The acquisition of a worldwide exclusive licence to an OV treatment that is comparable if not better than Viralytic's Cavatak, could very well see big pharma come knocking on IMU's door.
There is a lot to draw big pharma to IMU, not least the Paul Hopper connection. Hopper is Imugene's executive chairman and shareholders as well as interested pharmacuetical companies will be looking very closely at whether he can do with Imugence what he did with Viralytics.
As the executive chairman providing over the $502 million sale to Merck, Hopper has form and the question now is whether he can lead IMU down the same path.
Many in the industry quietly believe that he can.
Along with Hopper, throw in one of the strongest teams ever assembled for a biotech company, that can make quick decisions without being burdened by the red tape faced by big pharma and there is a lot for shareholders to like about IMU's immediate future.
---